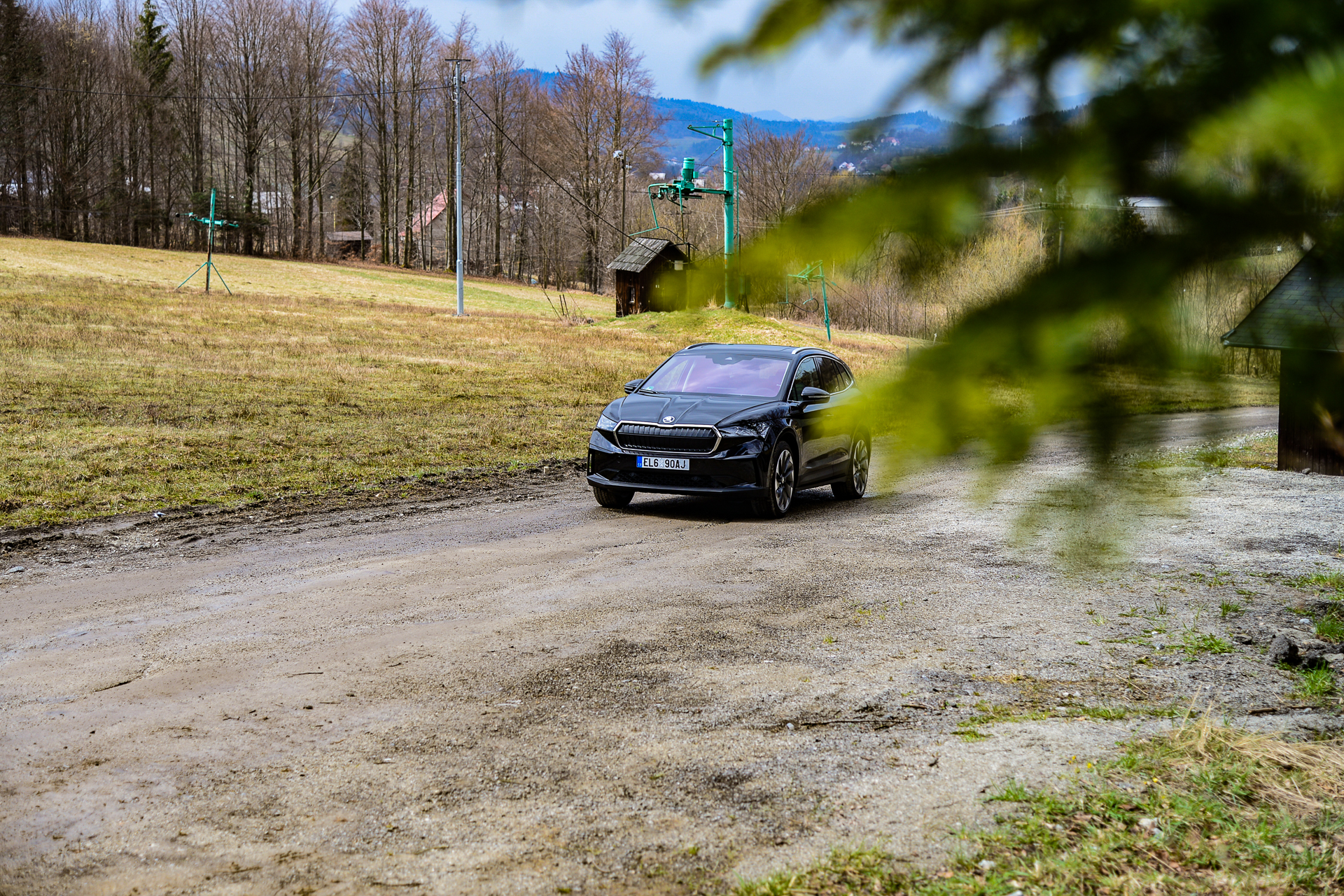 Škoda Enyaq iV 80 je veľmi pohodlné, priestranné a kvalitne zhotovené auto.
Škoda Enyaq prichádza ako nová vlajková loď českej značky. Toto na prvý pohľad veľké SUV je postavené na platforme MEB, ktorú zdieľa s koncernovými súrodencami VW iD.4 a novým Audi Q4. Aspoň na výšku však stojac pri ňom taký masívny rozhodne nie.
V rámci prvých jázd sme dostali na skúšku vrcholnú verziu iV 80 s tým "najluxusnejším" interiérom k dispozícii. Pretože Enyaq, znie po niekoľkých mestských elektromobiloch, ako schopné auto aj na dlhšie trasy, rozhodli sme sa to, a ďalšie veci vyskúšať.
Už pri pohľade na dizajn možno rozoznať, že je to Škodovka. Ostré, no elegantne sa tváriace línie. Nám sa najviac páčil pohľad na zadnú časť vozidla, s klesajúcou vizuálne akoby nekončiacou líniou a tvarmi svetiel, dodávajúcou zadnej časti tajuplný pocit.
Technika
Verzia iV 80 má poháňané zadné kolesá jedným elektromotorom, ktorý na ne prenáša výkon 204 koní, roztáča ich silou 310 Nm. Energiu pohonu dodáva vcelku veľká 82 kWh batéria, vďaka alebo kvôli ktorej je Enyaq s hmotnosťou prevyšujúcou 2 200 kilogramov poriadnym kusom auta.
Na zvládanie tejto masy v pohybe slúži nezávislé zavesenie McPherson s vinutými pružinami a stabilizátorom vpredu, zadná náprava využíva viacprvok, podobne s vinutými pružinami aj stabilizátorom. Keďže elektrické vozidlá brzdia zvyčajne pomocou pedálu len zriedka, z tohto dôvodu má Škoda (no aj jej koncernoví bratia) zadné bubnové brzdy, s prednými vnútorne vetranými kotúčmi.
Naše vozidlo bolo vybavené najväčšími (a najkrajšími) 21-palcovými diskami kolies, s obutím 235/45 R21. Obuté boli letné pneumatiky Bridgestone Potenza Eco. Auto taktiež obsahovalo adaptívny podvozok (Dynamic Chassis Control). Ten ponúka 5 jazdných módov: Eco, Comfort, Normal, Sport a Individual.
Prvé dojmy z jazdy
Najčastejším počas testovacieho dňa bol Comfort. A nechal nás prekvapených, ako aj auto na obrovských 21-palcových diskoch dokáže byť príjemné. Po ceste plachtiť, a ani od kolies cez volant vodič nedostáva výrazné rázy. Bol veľmi príjemný, samozrejme v krízových situáciách môže byť jeho mäkkosť nevýhodou.
Režim Normal je skutočne vyvážením medzi Comfort a Sport. Vodič pociťuje viac o povrchu cesty, stále však auto po zoskočení na nerovnom povrchu jemne dosadne a pri prípadnom vyhýbacom manévri sa celkom nakláňa. Oproti tomu, režim Sport je už výrazne tuhší. Aby sme to opísali prirovnaním, auto stuhne skoro tak, ako jazdí BMW na podvozku s klasickými pasívnymi tlmičmi, stále je však jemne mäkkší, pohodlnejší.
Dynamika a dojazd
Výkon 204 koní s váhou cez 2 200 kilogramov, znamená zrýchlenie na stovku za 8.5 sekundy. Samozrejme, to je čas, ktorý zvládne napríklad Octavia s motorom 1.5 TSI. Podľa nás je dynamika (pokým nie je v režime Eco) dostatočná, aj na predbiehanie. Nie je to však silové trhanie telom, ako by niektorí od elektromobilu očakávali. Maximálna rýchlosť je obmedzená na 164 km/h. Na naše cesty je to aj pri ponáhľaní sa rýchlosť dostatočná, určite však z ohľadu dojazdu nie je vhodná. Klasických diaľničných 130-145 km/h však ešte energiu príliš výrazne neuberá.
Energia je dopĺňaná z väčšej 82 kWh batérie (iV 60 má 62 kWh). Udávaný dojazd 82 kWh batérie je 399 – 538 kilometrov na jedno nabitie. Síce sme počas dňa spravili trasy na dlhú vzdialenosť, presnú hodnovernosť sme vyskúšať nestihli. Auto sme dostali s dojazdom 327 kilometrov. Pri diaľničných 140 km/h sme sa po ceste z Bratislavy priebežne dobili v Trenčíne, kam sme prišli s kapacitou 46%.
Horšia už bola cesta naspäť, najmä kvôli nedostatočnej infraštruktúre nabíjacích staníc. A aj v prípade dostupnosti sú nabíjacie rýchlosti na moderné elektromobily už nie dostatočné, ak sa človek ponáhľa. Pri 50 kW nabíjaní, auto oznámilo, že treba čakať viac ako 75 minút. Aj vďaka tomuto národnému defektu sme vrátili vozidlo ako poslední. Spotreba dosahovala 25.1 kWh, pričom marginálna časť 85% viedla po diaľnici.
Vozidlo sa nabíja prostredníctvom DC/CCS2 konektoru, a je schopné prijať až výkon do 125 kW. Dĺžku nabíjania sme taktiež nestihli naplno otestovať. Avšak aspoň z pamäte pri zhone sa vozidlo dobilo za približne 30 minút z 10 na 42 %.
Interiér
Interiér okamžite preukáže, pod ktorý koncern patrí. Páči sa nám jeho spracovanie, aj použité materiály. Zopár plôch s lacnejšími plastami sa nájde, nie však vo veľkej miere. Trochu nám prekážala pridlhá prístrojová doska, vďaka ktorej bol pri najnižšie nastavenom sedadle horší výhľad z vozidla pri manévrovaní.
Druhou, všeobecne kritickou vecou je ovládanie prakticky všetkého potrebného cez veľký displej. Displej je nádherný, kvalitný, aj keď nie je do prístrojovej dosky zasadený, ale skôr "prilepený". Aj grafika a užívateľské rozhranie sa snaží byť prehľadné. Žiaľ prvkov na ovládanie cez jeden displej je jednoducho priveľa, a aj napriek skratkám je to niekedy hľadanie za jazdy. Taktiež naštve nemožnosť trvalo vypnúť niektoré otravy ako Lane Assist, takže po každom zapnutí vozidla, ich treba individuálne vypnúť.
Sedadlo vodiča je ovládané elektricky v 6 smeroch, má tri pamäte polôh a disponuje aj prifukovateľnou bedrovou opierkou. Spolujazdec už všetko ovláda manuálne. Inak sú pekne vyvážené medzi mäkkosťou no pevnosťou. Ich bočná opora, samozrejme nie je ako v športovom aute, ale je dostatočná. Trojramenný športový volant je vskutku výborný, veľkostne, aj materiálovo. Riadenie ponúka dobrý váhový kompromis, je jemnejšie, ako napríklad pri Octavii, čo sa nám páčilo.
V prednej časti ešte zaujmú dve odkladacie podložky na bezdrôtové nabíjanie telefónov, ako aj skrytý priestor pod stredovou konzolou. Pod stredovou opierkou sa zase ukrýva hlboká čierna diera, tak pozor na ňu.
Priestorové podmienky
Zadní pasažieri majú k dispozícii vyhrievanie zadného radu sedadiel aj nastaviteľnú tretiu zónu klimatizácie. Miesto vzadu nám prišlo prekvapivo priestranné vo všetkých smeroch. Nechýbajú ani USB-C konektory (škoda že nezostali aspoň nejaké USB-A). Kufor ponúka v základnom usporiadaní 585 odkladacích litrov, Simply Clever sieťky, háčiky aj 12V zásuvku. Pod jeho dnom je taštička s nabíjacím káblom, aj bežovými látkovými rukavičkami dodávajúcimi eleganciu a čistotu pri práci s káblom.
Spomenieme ešte ďalšie výbavové prvky ako kvalitný head-up displej, elektricky otvárateľné panoramatické strešné okno aj dvere kufra, alebo Škoda Crystal Lighting svietenie. Naše auto so všetkými prvkami vyjde zákazníka na 61 499 EUR s DPH. S dotáciou 8 000 by to bolo 53 499 EUR, čo je blízke vysoko vybavenému Superbu.
Toľko prvé dojmy z jazdy, viac ohľadom jazdných vlastností keď sa rovinka diaľnic skončí, ako aj ďalšie podstatné veci Vám prinesieme v domácom teste.