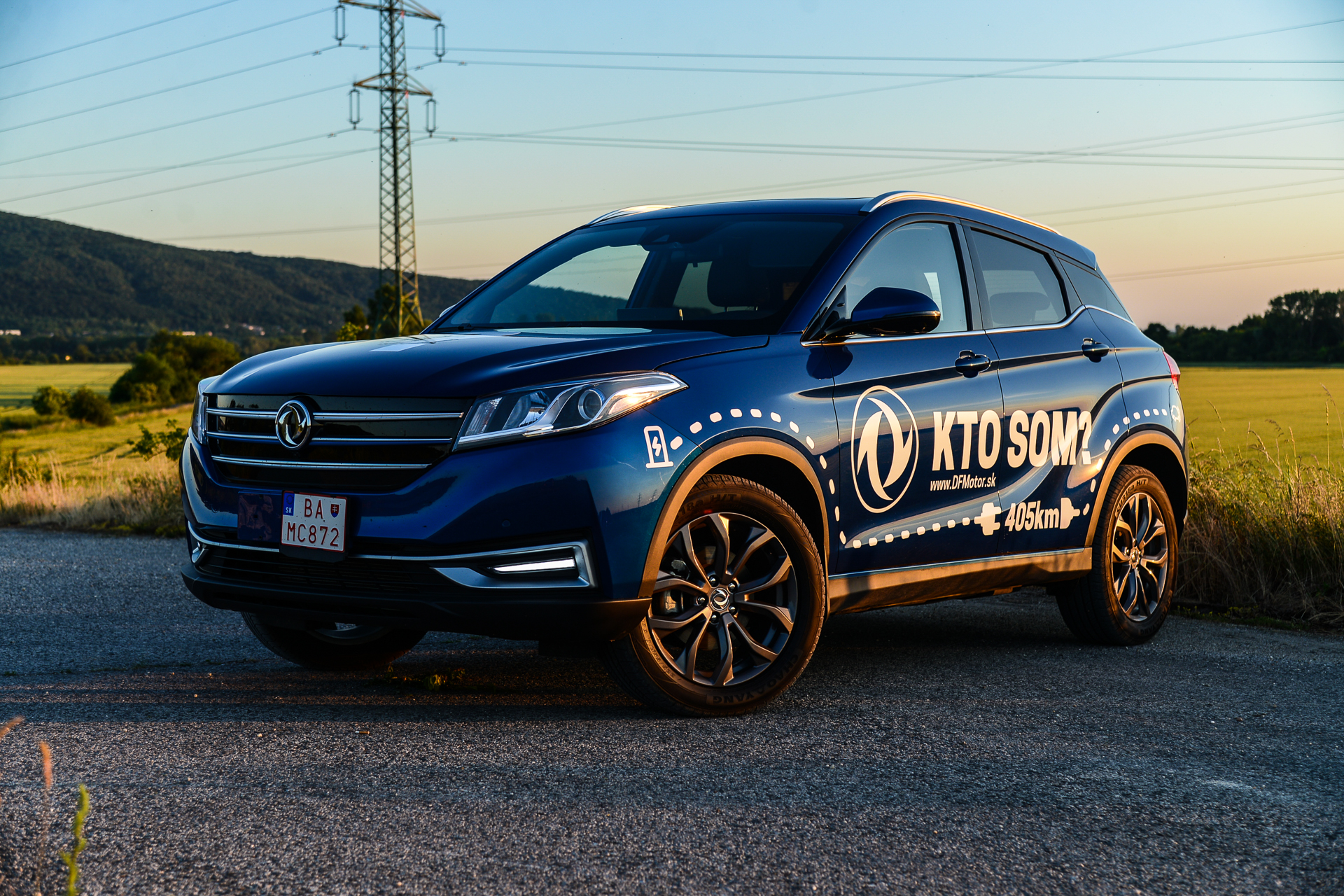 Dong Feng Fengon Seres 3 je jednou z niekoľkých modelov novej značky prichádzajúcej na Slovenský trh. K dispozícii bude aj spaľovacia verzia Glory 500, ktorá môže svojim skvelým pomerom ceny/pocitu kvality vylákať niekoľko zákazníkov Dacie Duster.
UPSHIFTER RATING: 6.5/10
+ príjemný pocit z kvality a zhotovenia interiéru, pohodlný podvozok, spätná väzba riadenia, miesto vzadu, rýchlosť nabíjania
– nevhodnosť podvozka na dynamickú jazdu, dočasné chybičky užívateľského rozhrania, strata plného výkonu pri nižšej kapacite batérie
Znie Vám meno Dong Feng neznámo? To je v poriadku, pretože v Európe sú relatívne noví. Dong Feng, ktorý patrí medzi 500 najväčších značiek sveta si povedal, že to chce skúsiť aj na náročnom, síce v poslednej dobe už len náročnejšom Európskom trhu. Pretože v európe, a najmä na Slovensku SUV fičia, bolo by hlúpe nesnažiť sa prísť na trh s priamou konkurenciou.
A prvý model z niekoľkých, ktoré je možné nájsť na stránke dfmotor.sk je čisto elektrické, stredne veľké SUV Seres 3. Hej, názov môže u nás byť problémom tohto modelu nakoľko nemá ďaleko od pravidelnej fyziologickej činnosti človeka. Ale keď si niekto myslí, že číňania nie sú schopní vyrobiť kvalitné produkty, toto auto sa snaží ukázať, že celkom to tak nie je.
Seres 3 je v prvom rade elektrické auto, z ktorého však čoskoro vzíde aj čisto spaľovacia verzia, ktorá bude stáť okolo 20 000 EUR, čím by mohla konkurovať napríklad Dacii Duster. Citeľný rozdiel medzi týmito vozidlami je najmä v interiéri.
Prvé pocity z auta
Prístrojová doska už na prvý pohľad pôsobí kreatívnejšie, športovejšie či aktuálnejšie ako tá v Dacii. Sú tu použité kvalitnejšie, čím myslíme mäkkšie materiály. Rovnako kvalitnejšie vyzerá aj širokouhlý stredový displej, či pekne tvarovaný, na spodku zrezaný volant. Šofér sa usadí do sedadiel zo syntetickej kože, ktoré predsa pôsobia prémiovejšie, ako látkové (aj keď v lete sa samozrejme vedia krásne rozpáliť).
Taktiež, keďže číňania milujú veľký priestor na zadných sedadlách (nevieme síce prečo), s rázovorom 2655 mm je miesta v Dong Fengu ako na rozdávanie aj pre zadného 1.9 m urasteného Slováčiska. V zadnom rade nechýba ani sklápateľná lakťová opierka, či výduchy klimatizácie, pod ktorými je umiestnená 12V zásuvka (síce konektory USB by sa hodili viac).
Na tento rozmerný akt priestoru vzadu však, aspoň na pohľad trpí batožinový priestor. Ku konkrétnemu údaju sme sa nedopátrali, stále by sme ho však ohodnotili ako dostatočný. Pod jeho podlahou sa nachádza aj 17-palcová rezerva.
Pri parkovaní vedľa Mazdy CX-5 vyzerá auto rozmerovo zhodné, a tento výrok veru nemá ďaleko od pravdy. Mazda má však širší rozchod kolies, a Dong Feng je zase o pár milimetrov nižším autom. Jeho dizajn možno subjektívne zhodnotiť ako pekný, najviac sa nám páčil zo zadu. Pekný tvar aj svetelný podpis zadných LED svetiel prepojený nápisom Fengon. Pri pohľade z diaľky, nám však prišli na myseľ dve veci. Auto vyzerá o dosť kompaktnejšie, akým pri jazdení je, a druhou je istá disproporčnosť pri letmom pohľade navodzujúca pocit alebo otázku ako bude vozidlo jazdiť.
Základné údaje
Tak sme sa šli previezť s vedomím niektorých základných informácií. Poháňané sú predné kolesá, a to prostredníctvom jedného elektromotoru s výkonom 160 koní a 300 Nm krútiaceho momentu. Hmotnosť vozidla je neznáma, ale keďže je to elektro a SUV tipli by sme cca 2 tony. Jazdí na 18-palcových diskoch kolies grafitovej farby s pneumatikami rozmeru 225/55 R18. Pri pohľade na ne, v nás vyvolal zvedavosť ich pôvod a teda aj nevedomosť o kvalite použitých pneumatík Chao Yang SU318a H/T. Nastúpili sme teda dovnútra, kde treba na pomery SUV pochváliť skutočne nízku možnosť posedu, a výborný volant.
Pohodlie na prvom mieste
Počas testovacej jazdy auto hneď a jasne preukázalo svoju najmä pohodlnú charakteristiku podvozku. Ten výborne filtruje malé nerovnosti, cez veľké zlomy a vlny na ceste sa zase ponáša nosom vpred ako anglický byrokrat, alebo DCC Škody Superb nastavené na režim Comfort. Teda loď, ktorá neponára nos do povrchu cesty, ale proste sa tak nesie. Ku komfortu určite prispievajú aj pneumatiky s profilom 55.
Jedinou stránkou, po ktorej nie je tak pohodlný ako konkurenti je zvukový komfort. Ten sa prejavuje najmä na diaľnici v miestach A-stĺpiku a od kolies, pri horšom povrchu. Stále je však dostatočný pre vedenie pokojnej konverzácie.
To hlavné
Po týchto zisteniach sme váhali, či aj vozidlo prehnať, pretože z jazdnej charakteristiky možno vyčítať, že na dynamickú jazdu, aj napriek možnosti prepnúť pohon do režimu Sport stavané nie je. Nakoľko u nás je práve toto základ, zapli sme Sport a stlačili pedál na podlahu. V tomto móde vozidlo využije všetkých 160 konských síl, a pri plne nabitej batérii je jeho akcelerácia vskutku slušná. Rovnako sa však nedá povedať o identickej situácii, v prípade nižšieho stavu batérie (+- 50%), kedy sme aj v móde Sport pri predbiehaní mali pocit, že autu sa nejak nechce.
Podvozok sa s prepnutím módu nemení, takže aj pri rýchlej jazde filtruje nerovnosti parádne. A teda človek nemá pocit veľký spojenia s cestou, ani prostredníctvom spätnej väzby cez sedadlá. Auto sa pri preťažení v každom smere nakláňa a je cítiť prenos hmotnosti. Na brzdách si kľaká, pri zrýchlení čupí. Toto môže navodiť pocit neistoty v krízovej situácii, avšak auto má na výber aj športové nastavenie stabilizačného systému, a ten rieši veci vskutku prísne. Prehodí väčšinu brzdenia na predné vonkajšie koleso a výrazne spomalí.
Zadná náprava, aj keď má viacprvkové zavesenie kolies, čo treba pochváliť, nepôsobila excelentne a sem tam na zlomoch ustrelila zadoček. Súvisí to najmä s vizuálnou disproporčnosťou, ktorú sme spomenuli vyššie, rázvor kolies nám ku výške vozidla prišiel tak nejak krátky, už z čoho sme predvídali možnosť tohto typu správania.
Pri ovládaní auta zvnútra sme cítili, že predok auta nereaguje ostro, ani jeho riadenie také pocitovo nebolo. Malo príjemné vyváženie, no chýbal väčší pocit, že máme auto v rukách. Na druhej strane bolo jediným prvkom poskytujúcim vyššiu úroveň toku informácií o povrchu, za čo ho chceme pochváliť. Sedenie samozrejme nie je určené pre rýchlu jazdu, no podpora stačí.
Pneumatiky Chao Yang SU318a H/T sa vyznačovali skorším a hlbšie znejúcim zvukom pískania pri dochádzaní priľnavosti. Podpisovali sa na dobrej spätnej väzbe cez volant. Na klasické alebo jemne dynamické jazdenie stačia, otázna je však ich výkonnosť v daždi, ktorú sme nemali možnosť vyskúšať si. My by sme Dong Feng prezuli do prémiových Continental PremiumContact 6, s ktorými by malo auto najmä ostrejšie reakcie, aj celkovo lepšiu priľnavosť.
Umiestnenie pedálov a nastavenie toho brzdového nám však nevyhovovalo. Testovací jazdec ovláda brzdu ľavou nohou, a tá bola príliš blízko akcelerátoru a zároveň začiatočná poloha bola vyššia, čo nebola zrovna najvhodnejšia pozícia. Brzdový pedál taktiež pôsobil mäkko, bolo ho treba stláčať hlbšie, čo pri rýchlej jazde nie je najideálnejšie, a vcelku príjemné to nebolo ani v klasickej premávke.
Vozidlo je však vybavené kotúčovými brzdami vpredu aj vzadu, čo pri európskych elektromobiloch s bubnami vzadu nebýva časté. Maximálna brzdná sila je aj voči sťažnostiam na pedále dostatočná.
Batéria a dojazd
Vráťme sa späť ku každodennému jazdeniu s autom. To zabezpečuje 52.56 kWh LiFePO4 batéria. Táto batéria si zaslúži niekoľko slov, nakoľko je to iný typ, aký je pri elektromobiloch zvyčajne používaný. LiFePO4 rozložene znamená Lítium-Ferofosfátovú batériu. Výhodou tejto batérie je nižší obsah konfliktných kovov, čo je lepšie pre prostredie aj bezpečnosť v prípade havárie, výborná je aj jej životnosť. Nevýhodou je nižšia energetická hustota (okolo 100 Wh) v porovnaní s Lítium-Polymérovou batériou.
Vďaka tomuto akumulátoru sme mali pri plnom dobití dojazd 350 kilometrov (405 km nalepených na aute je podľa metodiky NEDC, teda nie tej európskej). Čuduj sa svetu, ale aj s nie tak veľkým číslom bol Dong Feng slušným spoločníkom na každý deň. V meste si pýtal 17.8 kWh/100 km, na diaľnici 22 kWh/100 km. A keď sme spomenuli diaľnicu, aj na nej bol slušný, na rozdiel od väčšiny elektromobilov, ktoré nám prešli rukami.
Nielenže netrpí problémom obmedzenej rýchlosti, keďže dokáže maximálne jazdiť 172 km/h. Ale pri odchode z Bratislavského Auparku s kapacitou nabitia na 90% zvládol prísť po diaľnici tempom 110 po Trnavu, a 145 po Beladice, kde je nabíjačka, so zostávajúcou kapacitou 51%, čo je skvelý výsledok.
Automobil sa aktuálne nabíja rýchlosťou najviac 55 kW, pretože 150 kW nabíjanie sa ešte testuje. Aj napriek tomu nám prišlo nabíjanie fakt rýchle. Z 50 percent takmer doplna len za 30 minút. Tak si predstavte čo to bude so 150 kW nabíjaním. Pecka. Pri nabíjaní AC káblom, ktorý je v kufri sa nabíja rýchlosťou 6 kW, a, no, to už tak rýchle nie je, 8 hodín času. Aspoň sa však stihne nabiť doma počas spánku.
Má aj základ to terénu
Okrem toho vozidlo disponuje možnosťou vypnúť trakčnú kontrolu, čo sa hodí v teréne, keďže je to SUV. Prakvapilo však aj vyslovene terénnou funkciou, ktorou je okrem pomocníka rozjazdu do kopca aj asistent zjazdu z kopca. Toho sme si vyskúšali, spoľahlivo udržuje auto v rýchlosti 10-11 km/h. Samotná jazda v teréne je obmedzená pohonom predných kolies, trakčný systém však po chvíli a malých kúskoch dokáže autom pohnúť vpred aj pri ťažších výjazdoch, len treba nechať pedál pár sekúnd na podlahe a presvedčiť ho, že to kríženie do výjazdu nie je myslené ako prank.
Iné veci týkajúce sa života s ním
Poďme si ešte pripomenúť vsuvku do čínskeho kopírovania a niektoré muchy, aj keď zaručene dočasného typu na tomto vozidle. Tak napríklad, volič prevodových stupňov je otočný, pri zapnutí/vypnutí vozidla sa skryje. Nám pripomína staršie Jaguáry. Výduchy ventilácie zase svojou konštrukciou aj výzorom dosť pripomínajú základné Mercedesy, samozrejme chýbajú im čačky-mačky ako chróm a podsvietenie.
Malé chybičky
Medzi dočasné chyby patria nasledovné. Pri prepínaní nastavení na prístrojovom štíte a zvolení ukazovania navigácie ukáže nedostupnosť tejto funkcie. Vstavanému systému v ňom by sa taktiež zišli hodiny Angličtiny, pretože fráza DC charging is being neznie úplne správne, no nám to prišlo milé, a úsmevné.
Pri pripojení telefónu cez kábel neexistuje Apple CarPlay ani Android Auto, naopak telefón (iPhone) nám vyhodil hlásenie čí má dôverovať tomuto počítaču, a chcel aj potvrdenie heslom, čo sa nám ešte v živote nestalo, samozrejme sme to potvrdili. Taktiež, pri bezdrôtovom nabíjaní občas displej vypísal, že nabíja neznáme zariadenie a navigácia TurboDog 8, o ktorej sme si po prvom spustení mysleli že sa jedná o reklamu zatiaľ neobsahuje Slovensko…
Inak chceme ale systém infotainmentu pochváliť. Bol prehľadný, intuitívny, a zlá nebola ani jeho odozva. Obsahuje taktiež niekoľko výborných funkcií.
Keď už sa človek rozhodne dôverovať počítaču a poskytnúť mu pripojenie na Wi-Fi, je možné na stredový displej prezdieľať obrazovku telefónu, a pri nabíjaní pozerať napríklad filmy alebo UEFA EURO 2020, ktoré je v roku 2021. Pri parkovaní sme ocenili výbornú kvalitu obrazu cúvacej kamery spolu s 360-stupňovou kamerou, ktorú možno zapnúť jednoducho stlačením tlačidla. Má aj režim 3D, v ktorom sme sa mohli ťahom prsta poobzerať navôkol vozidla. Neposledne ponúka aj systém podobný ako Drive Recorder v BMW. Vozidlo teda nahráva prednou kamerou každú jazdu, a záznam je možné si aj stiahnuť.
Ďalšia výbava zahŕňala panoramatické strešné okno ktoré funguje inak ako u európskych značiek (samostatne sa otvorí krátkym stlačením, nie podržaním), a relatívne tiché je do 75 km/h. Chýbať nesmie vyhrievanie sedadiel či americky silná klimatizácia, ktorá pri nastavení 20 stupňov pocitovo vypúšťala jesenný 15-stupňový chlad.
Hlavné predné svetlá by nemali mať technológiu LED, nakoľko svietia žltým odtieňom, ich svietivosť je však výborná a výborne osvecujú aj okraje vozovky, čo pomohlo nemenovanému králikovi. Inak sú vpredu len malé LED pásiky denného svietenia. Zadné svetlá disponujú funckiou LED a v noci pri brzdení svietia skutočne žiarivo, to aj smerom dovnútra.
Ceny a rivali
Nakoniec treba uviesť ceny. Výbavy sú dve, L2 a L4. Za Seres 3 vo verzii L2 by ste si mali pripraviť 32 990 EUR, L4 obsahujúca najmä komfortnejšie prvky výbavy ako strešné okno stojí 34 990 EUR. Snáď jediným elektro-konkurentom je Mercedes-Benz EQA, ten je však prémiovým vozidlom s diametrálne odlišnou cenovkou a ešte vyššou kvalitou spracovania.
Tak ale, má Dong Feng šancu? No bude to ťažké, nakoľko my Slováci sme národ s dosť častými predsudkami, aspoň čo sa automobilov týka. No pre zaujímavosť, Dong Feng bude ponúkať aj takmer 700 koňové elektrické SUV kupé SF5, a to znie super. Bolo by zaujímavé vyskúšať aj ostatné modely značky, ako sa popasujú so svojimi triednymi konkurentmi.
Čo sa však elektromobilu Seres 3 týka, myslíme si že určite má čo ponúknuť, a je to viac ako konkurencieschopný elektromobil. Myslíme si však že podobne ako ďalšie elektromobily nebude trhať predajné čísla. Zato vo svojej spaľovacej verzii, ktorá sa volá Glory 500 a po príchode na náš trh má byť jedným z najlacnejších SUV na Slovensku bude určite veľkým konkurentom s výborným pomerom ceny a úžitku. A ak si zachová viacprvkové uloženie vzadu, bude to paráda. Len sa treba odvážiť.
Dílerov aj servisných miest bude dostatok, všetky sú uvedené na stránke dfmotor.sk.