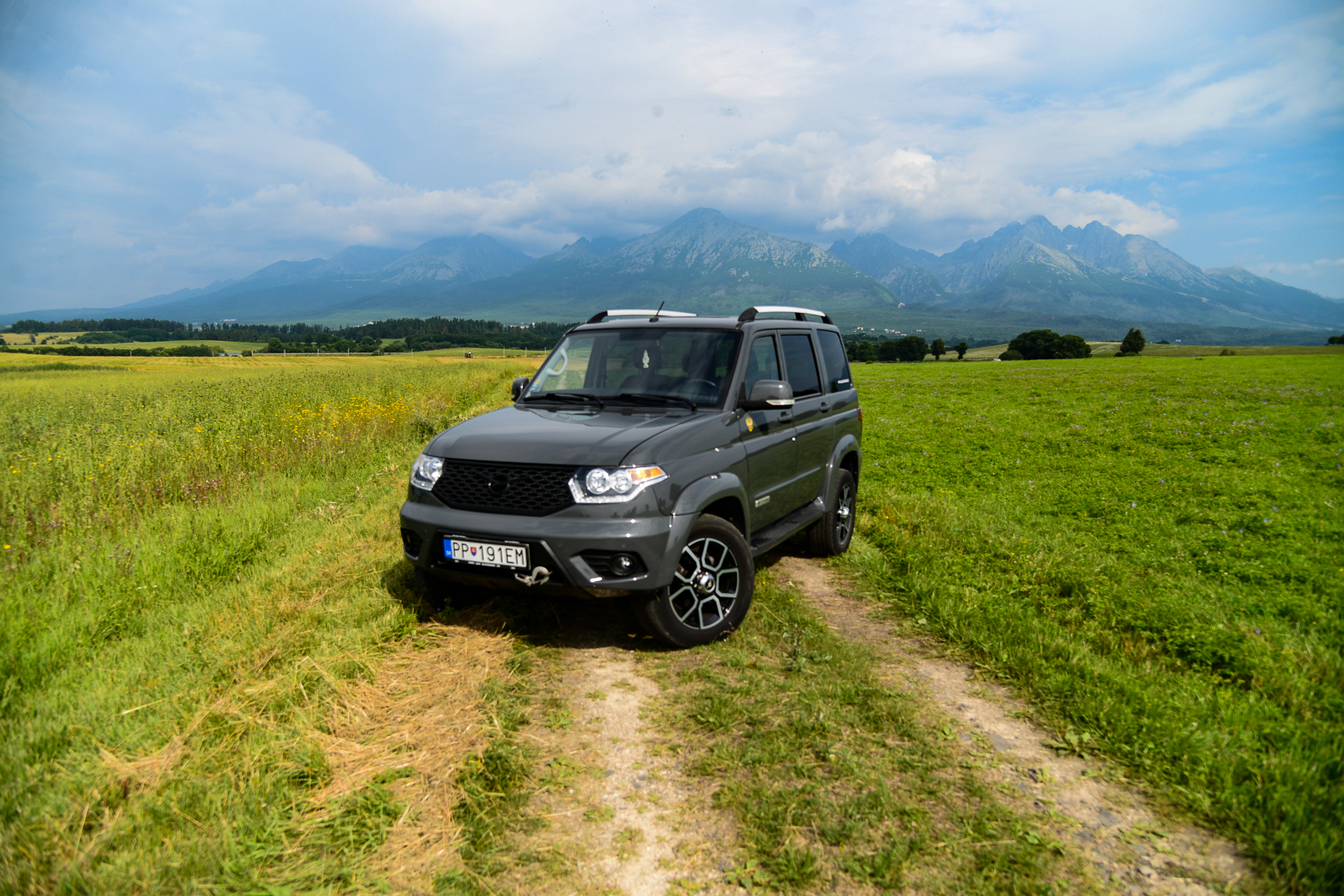 UAZ Patriot je u nás nezvyčajným autom, preto kade chodí, tam budí pozornosť. Keďže je Ruskej výroby pôsobí poctivo a pevne ako kus železa, nehovoriac o jeho výnimočných schopnostiach tam, kde cesta neexistuje.
Keď sme sa dozvedeli, že na Slovensku pôsobí aj Ruská značka UAZ, neváhali sme a hneď sme si skúsili na test vyskúšať jedno z vozidiel tejto značky, keďže sú to poriadne terénne "mashiny" a to sa nám veľmi páči. Na vyskúšanie sme dostali aktuálnu "vlajkovú loď", ktorou je UAZ Patriot.
Pri porovnaní s európskymi výrobcami nedisponuje síce prehnaným luxusom ani luxusnými materiálmi, UAZ je však o odolnosti, jednoduchosti a výnimočnej priechodnosti v ťažkom teréne, čo človek pochopí, keď sleduje ruské off-road videá. Patriot však ponúka aj komfortné prvky výbavy, ktoré ho robia viac skutočne použiteľným na každý deň.
Komfort na každý deň
Dostali sme verziu limitovanú edíciu, ktorá ma vnútri sedadlá potiahnuté hnedou kožou. Vyhrievané boli predné aj zadné sedadlá či volant. Ku komfortu na každý deň prispieva aj multifunkčný volant, na ktorom sa ovláda tempomat či motor spriahnutý so 6-stupňovou automatickou prevodovkou. Použitú prevodovku možno nájsť vo vozidlách Cadillac alebo starších BMW.
Radí hladko a krémová je aj pri rozbehoch vozidla. Pri rozjazdoch podrží otáčky na rovnakej hodnote, a až po ich následnom zvýšení je možné preradiť, čo sa hodí vedieť pri jej používaní v manuálnom móde. V ňom je možné zlepšiť priemernú spotrebu, keďže v meste prevodovka využíva vyššie otáčky ako by auto reálne potrebovalo.
Poriadny motor
Prevodovka je spojená s 2.7-litrovým štvorvalcovým benzínovým motorom. Ten dodáva v základnom režime na zadnú nápravu 150 koní a 235 Nm dostupných pri 2650 ot./min. Motor to je jednoduchý a veľmi robustný, to znamená že veľmi veľa vydrží. Výkon 150 koní v pomere k hmotnosti 2170 kilogramov neznie veľmi dynamicky, v skutočnosti je však auto schopné držať sa premávky. Problém mu môžu narobiť len prudšie diaľničné stúpania, kedy si treba na udržanie rýchlosti podradiť.
Motor má silu najmä už v nízkych otáčkach, čo sa hodí do terénu. Pri zrýchľovaní tiež ale opätovne ožije, a to v poslednej tretine pásma dostupných otáčok. Palubný počítač nedisponoval informáciou o spotrebe vozidla. Podľa oficiálnych údajov si však na 100 kilometrov cucne priemerne 13 l/100km zo svojej 68 litrovej nádrže, čo je zo skúsenosti pravdepodobný údaj. Pre zníženie počtov návštevy čerpacích staníc je možné si vozidlo priamo zakúpiť s dvojicou nádrží na LPG, ktoré ponúkajú dokopy kapacitu ďalších 70 litrov pre pohonné hmoty.
Podvozok a jazda na ceste
Jazdné vlastnosti na ceste sú určené podvozkom, ktorý využíva rebrinový rám, tuhé zavesenie s vinutými pružinami vpredu a jednoduché listové vzpery vzadu. Je to teda vintage set-up ako stvorený do ťažkých podmienok. Na klasických cestných komunikáciách je Patriot pohodlný, respektíve jeho pohodlie rastie rovnomerne s rýchlosťou. Kým vpredu je všetko super, zadní pasažieri si to pri nižších rýchlostiach cez spomaľovače a zákruty "užijú", ale tak to už pri daných technických parametroch funguje a nie je to zase niečo nepríjemné.
Riadenie malo charakteristické jemné vôle na začiatku zatočenia, pripomenulo starý dobrý pocit z ovládania vozidla. Pochváliť však treba spätnú väzbu, ktorá bola na pomery auta dostatočná, a to už ako od riadenia, tak cez sedadlo vodiča. Maximálna rýchlosť vozidla je 130 km/h, čo na klasické jazdenie úplne postačuje.
Výhodou tejto jednoduchšej konštrukcie je práve jej robustnosť a ekonomická výhodnosť, keď niektorý z dielov odíde. Pevnejší rebrinový rám zase znamená vysokú ťažnú silu a ochranu pri zrážke. Na diaľnici ho inak okrem jazdného pohodlia musíme pochváliť aj za to akustické. Pri prvom pohľade na hranatejší tvar vozidla, prudké čelné okno a veľké spätné zrkadlá by sme povedali že bude počuť kopec aerodynamického šumu, v realite sme však boli veľmi príjemne prekvapení.
Vo svojom živle
UAZ Patriot však ukáže svoje skutočné prednosti v momente keď sa cesta stratí a pred autom sú len objemy hliny, blata a nerovností v povrchu, toto je domov UAZ-u. Oooo a ako dobre tu funguje, aj výrazné kríženia, či výjazdy na mokrej tráve alebo blatku prechádza s málo vídanou istotou a ľahkosťou, pričom ani nevyzerá, že by sa šiel zapotiť. Prekážky možno prechádzať pomaly s minimálnym využitím otáčok.
Naše vozidlo síce nebolo obuté do terénu, (jazdilo na celoročných pneumatikách Continental CrossContact LX Sport s rozmerom 245/60 R18, pričom jedna sa nám už v prvý deň nešťastne prerezala), no aj na nich prešiel prekážkami, ktoré sme mu nastavili bez jediného zaváhania. Človek sa v takomto aute cíti Nezastaviteľný ako Rytmus vo svojej pesničke s rovnomenným názvom.
Mimo cesty vozidlu pomáha otočný ovládač, ktorým sa volí medzi rozvrhnutím výkonu na jednotlivé nápravy a kolesá. Otočením ovládača možno vozidlo jednoducho zmeniť z dvojkolky na 4 kolku. Ak to v danej situácii nestačí, možno ju prepnúť do módu 4 LOCK. V tých najťažších situáciach sa v prípade zvoleného príplatku dá ešte použiť uzávierku zadného diferenciálu v dvoch režimoch. Pre sledovanie povrchu sa hodí v multimediálnom systéme vstavaný gyroskop.
Patriot dokáže štandardne brodiť vodný tok hlboký 500 milimetrov, v prípade drsnejšieho terénu ho možno za príplatok vybaviť zvýšeným nasavaním ("šnorchlom") a môže sa ísť aj do metrovej rieky. Ďalšie terénne príplatky obsahujú dodatočnú ochranu tyčí riadenia, expedičnú záhradku na streche s rebríkom, navijak s ťažnou silou 5.4 t, terénne pneumatiky alebo prídavné svietenie vpredu aj vzadu. Aktuálne ceny všetkých týchto príplatkov sú zverejnené TU.
Použiteľný aj ako dodávka
Čo sa praktickosti týka. Sedenie vzadu je extrémne rozľahlé a to vo všetkých smeroch. Stredné sedadlo disponuje aj integrovanou lakťovou opierkou s držiakmi na nápoje. Masívne a dlhé dvere kufra sa otvárajú v smere zľava do prava. Ich otvorením odkrývajú výborne dostupný 650 litrový batožinový priestor. V prípade sklopenia zadných operadiel vznikne v podstate dodávka s 2415 litrami úložného miesta.
UAZ Patriot vo výbave LUX Premium AT vyjde na 26 791 EUR s DPH. Testované vozidlo aj s vybranými príplatkovými doplnkami vyjde na niečo okolo 30 500 EUR, čo je za tak priestranné a výnimočne schopné vozidlo v teréne výborná cenovka. Patriot je tvrďas, ktorý toho vydrží aj utiahne veľa, no je príjemný aj na každodenné použitie.
Jeho kompletný cenník aj s cenníkom doplnkov je možné nájsť na webe UAZ Slovensko.
Video: