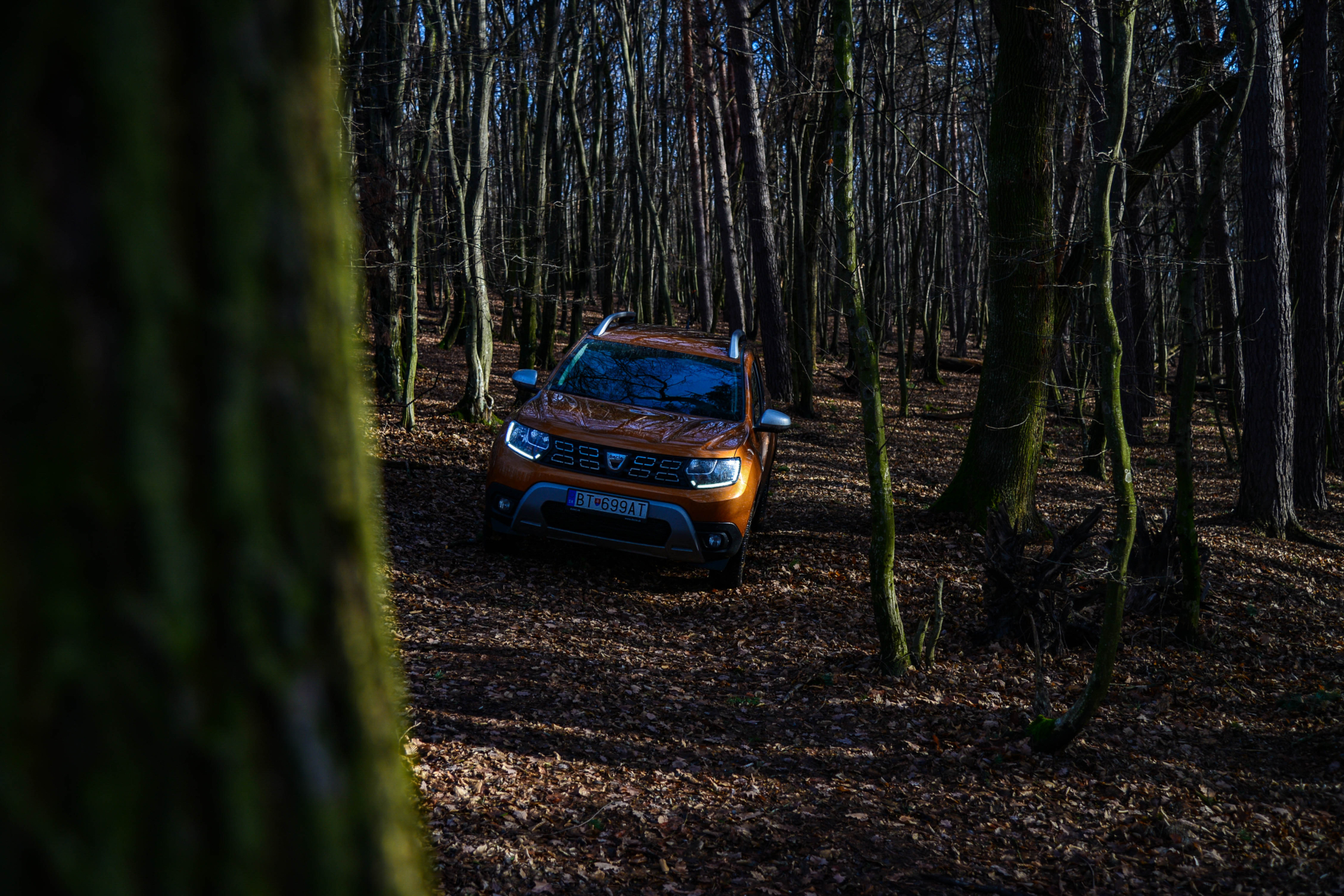 "Dacia Duster s LPG plní sen o nízkych nákladoch a vysokom dojazde, ktorý niektorí ľudia hľadajú."
UPSHIFT RATING: 6/10
+ famózny dojazd
– chýbajúci ukazovateľ spotreby, len pohon 4×2
Daciu Duster sme už testovali v niekoľkých motorizáciách. Po 1.6SCe 4×4, 1.0TCe 4×2 sa nám do rúk dostal "hybridný" Duster, schopný jazdiť na LPG. Ako jazdí Dacia Duster s plynom?
---
Motor, prevodovka a dynamika
Motorizácia TCe 100 je v Dacii Duster základnou variantou. Nedávno Dacia zmenila označenie a dosť pravdepodobne aj výkon na TCe 90, táto zmena sa však verzie s dodatočným pohonom na LPG nezmenila. Motor produkuje výkon 101 koní pri 5000 ot/min a disponuje krútiacim momentom 170Nm dostupným od 2000 ot/min.
Testovaný bol sprevodovaný s 5-stupňovým manuálom. Medzičasom však nastala zmena aj v tomto aspekte, a aktuálne je už ponúkaný so 6-stupňovou manuálnou prevodovkou.
Po dynamickej stránke možno povedať, že 100-koňový turbomotor je pre Duster vo zvyčajných každodenných situáciách dostatočný. Maximálna výrobcom uvádzaná rýchlosť je 173 km/h, my sme Duster aj s vetrom v chrbte rozbehli na 195 km/h, čo je postačujúce.
---
Podvozok a kolesá
Set-up podvozku Dacie Duster je samozrejme nezmenený, so zavesením McPherson, vinutými pružinami a priečnym stabilizátorom vpredu, kým zadná náprava sa spolieha na nezávislé krížne ramená s vinutými pružinami. Testovaný model jazdil na pneu s rozmerom 215/60 R17. O zastavenie vozidla sa vpredu stará kotúč s veľkosťou 280mm, zadné kolesá sú vybavené bubnovými brzdami.
---
Jazdné vlastnosti a terén
Duster sa prirodzene nakláňa, ponára pri brzdení a kľaká pri zrýchľovaní. Človek by od neho čakal, že bude komfortný, no to sa povedať nedá. Malé diery síce aj vďaka hrubým pneu filtruje pekne, pri väčších vlnách a zlomoch to však posádka pocíti viac ako je želané. Jazdné vlastnosti nie sú sebaisté, a preto vcelku zábavné. Zadná náprava na zlomoch v zákrutách rada odskočí, pri vlhkej ceste hodí auto do šmyku, ktorý treba zvládnuť svojpomocne aj napriek zásahu stabilizačnej kontroly, ktorú nemožno vypnúť.
Riadeniu chýba tuhosť, aj spätná väzba by mohla byť lepšia. Je ľahké, nastavené skôr na mesto alebo prejazd terénom. Štvorramenný volant je potiahnutý umelou kožou.
Posed je pochopiteľne nešportový. Vodič sedí aj pri najnižšej pozícii vysoko, nad cestou. Prevodová páka je umiestnená hlboko, takže celkový posed pôsobí tak pozvoľne, ako na stoličke.
Brzdový pedál je pocitovo mäkší, ale pre auto v poriadku. Samotná sila bŕzd je na 1300 kilogramov vážiace SUV na hranici medzi dostatočným a chcelo by to viac.
Mimo spevnenej cesty, na ktorú je Duster predurčený je okamžite cítiť absenciu pohonu všetkých kolies, ktorý ku verzii LPG nie je dostupný. Prejazd terénom je aj napriek tomu vďaka prejazdovým uhlom dobrý. V tuhších situáciách chýba možnosť vypnúť trakčnú kontrolu, a aj trakčnou kontrolou krotený výkon 100 koní nie je na preplynovanie často dostatočný.
---
Spotreba
Najväčšou devízou tejto plyn spaľovacej verzie je šetrenie financií majiteľa a úžasný dojazd. Auto je vybavené dvoma nádržami. Nádrž na benzín disponuje objemom 50 litrov, nádrž na skvapalnený ropný plyn umožňuje doplniť ďalších 34 litrov tejto pohonnej hmoty. Nádrž na LPG je uložená pod priestorom kufru, takže pod podlahou nie je žiadne iné miesto.
Testovaná Dacia Duster prekvapivo aj vo vyššej výbave Prestige nedisponovala ukazovateľom priemernej spotreby na palubnom počítači, čo je skutočne nepríjemné. Avšak počas testovacieho týždňa, s približne 900 najazdenými kilometrami sme spotrebovali ¾ nádrže na plyn, z benzínovej nádrže ubudla len jedna palička. Je to naozaj výborný výsledok na tak veľké a neaerodynamické auto. S plnými nádržami je isto možné otočiť trasu Bratislava-Košice bez dotankovania.
---
Priestor a interiér
Priestorové vlastnosti zostali nezmenené. Vzadu sa sedí v poriadku, nechýbajú úchyty ISOFIX na krajných sedadlách a jedna 12V zásuvka nad pravým operadlom. Kufor má kapacitu 445 litrov. Zdvihák je upevnený jeho ľavej stene.
Interiér pôsobí typicky účelne, chladne a tmavo. Z výbavy zaujme najmä 360 stupňová kamera, tempomat, infotainment s Apple CarPlay, vyhrievané predné sedadlá, automatická klimatizácia a bezkľúčové odomykanie pomocou karty. To je z komfortnej výbavy všetko zásadné.
Ukazovateľ objemu nádrže/ spínač na zapnutie pohonu LPG sa nachádza naľavo od volantu. Zdieľa miesto spolu s elektrickým nastavím zrkadiel. Človek by čakal premyslenejšiu implementáciu, toto riešenie pôsobí trochu
---
Cena
Nami testovaná Dacia vo výbave Prestige vyšla na 16 799€. Výhodou plynu je hlavne dojazd, nevýhodou nemožnosť vstupu do podzemných garáží, ktorých je aspoň v Bratislave požehnane, no vyhnúť sa im dá. Otázka je či za toto vyhnutie sa im Duster stojí, no v prípade kúpy verzie pohonom 4×2 je názor taký, že Duster LPG je lepšou voľbou ako klasický benzín. Radikálne vyšší dojazd za toto úsilie stojí.
Svoj Duster LPG si môžete zostaviť tu:
Konfigurátor | Duster | Dacia Slovensko