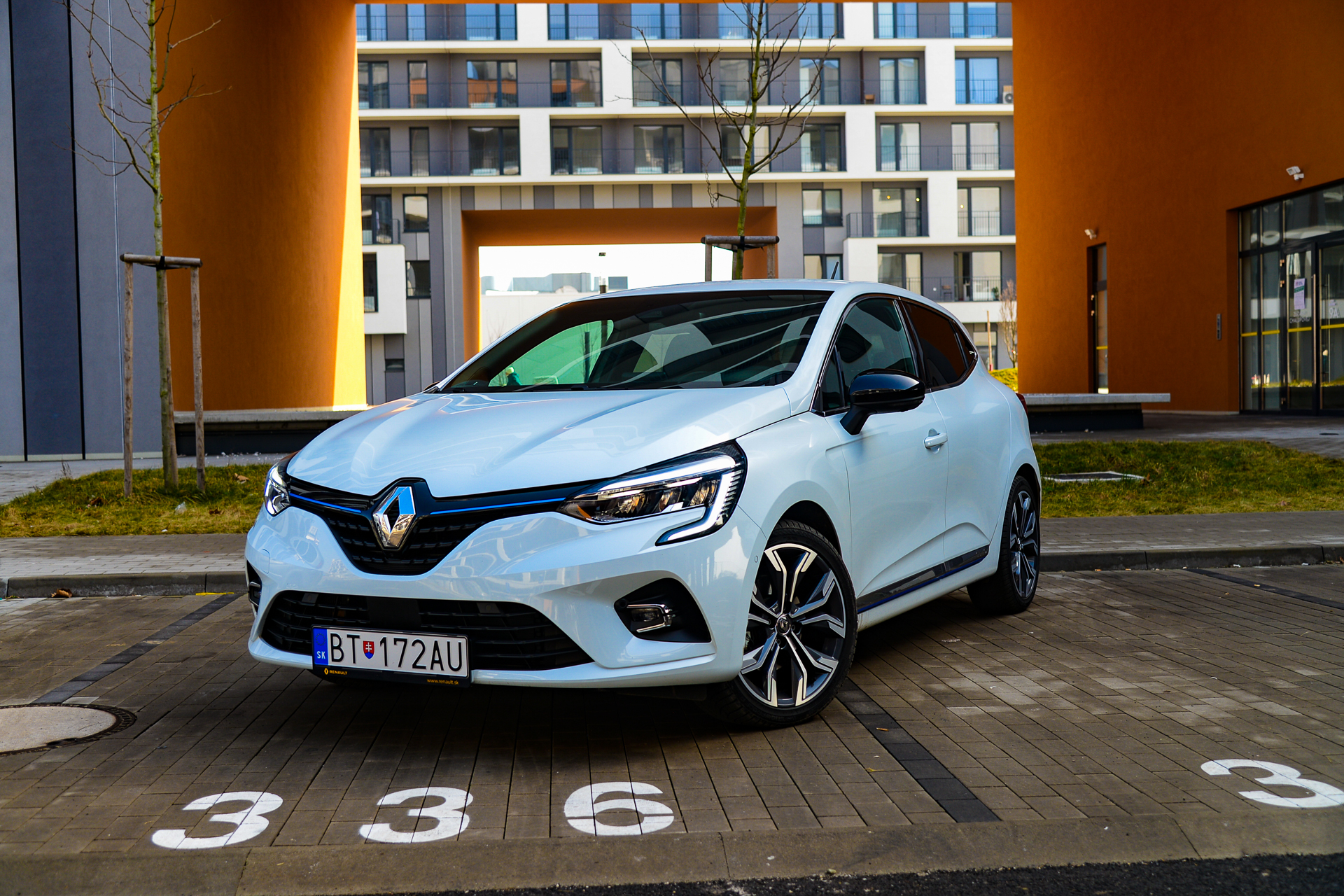 "Renault Clio nás zaujalo najmä jazdnými vlastnosťami a originálnym hybridným systémom. Nie je však bezchybný. Inak je to výborné, vlastne prémiovo pôsobiace malé štýlové auto, ktoré v súkromí voláme mini-BMW."
---
UPSHIFT RATING: 7.5/10
+ priame a presné riadenie, spätná väzba od podvozku, jeho dobré vyváženie medzi pohodlím a športovosťou, štrukturálna tuhosť, decentná dynamika, interiér ako z vyššej triedy
– treba si zvyknúť na fungovanie pohonu, so stratou klasického automatu aj strata pádiel ako prvku dodávajúceho pocit zapojenia šoféra do jazdy
---
Najsilnejšia motorizácia ku Renault Clio 5. generácie bola benzínová 1.3TCe so 130 koňmi. Táto motorizácia sa už ale objednať nedá, pretože vrchol ponuky nahradilo nové, hybridné pohonné ústrojenstvo, E-Tech
---
Technika
Motor a prevodovka
Hybridné ústrojenstvo sa skladá z dvoch elektromotorov. Väčší poháňa poháňa vozidlo a taktiež regeneruje energiu pri brzdení alebo plachtení. Druhý menší elektromotor, ktorým je integrovaný štartér-generátor(HSG) má na starosti činnosti ako pripájanie benzínovej pohonnej jednotky, synchronizáciu zmeny prevodových stupňov multimódovej prevodovke, ako aj ukladanie energie z decelárie naspäť do batérií.
Hlavný elektromotor a benzínový agregát spája spomenutá multimódová prevodovka bez spojky, takže v podstate možno povedať, že je sprevodovaný aj elektromotor. Tento systém čerpá inšpiráciu z Formule 1, v ktorej Renault dlhoročne účinkuje.
Spaľovací motor, ktorý je súčasťou tohto systému je už odídená 1.6SCe, avšak výraznejšie upravená a prispôsobená hybridnému systému, aj častým krátkym štartom. Jeho výkon je 91 koní. Motor dodáva energiu batérii, kým nie je jej kapacita dostatočná alebo sa do akcie pridáva v režime jazdy Sport.
Celkový výkon sústavy je 140 koní a 249Nm. Elektromotor má krútiaci moment 205Nm, spaľovací motor samostatne poskytuje 144Nm.
Pod dnom kufra je uložená batéria s kapacitou 1.2kWh, vďaka ktorej dokáže auto po dobu 80% jazdy v mestskej premávke jazdiť na elektrický pohon.
Fungovanie hybridného pohonu bolo nasledovné: V zimných podmienkach sa motor zapína vcelku často. Motor samotný má za účel zapnúť sa, keď je kapacita batérie nízka, má ju dobiť na dostatočnú úroveň, kedy sa odpojí. Počas jazdy však stále priebežne zapína a vypína, dodáva tak potrebnú šťavu batérii.
Auto dokáže stlačením tlačidla jazdiť aj na čisto elektrický pohon. Vzdialenosť je však nízkou kapacitou batérie obmedzená na približne 2 kilometre.
Multimódová prevodovka niekedy vytáča motor do vyšších otáčok, najmä v prípade potreby akcelerovať práve v situácii, keď je kapacita batérie nízka. Na odlišnú charakteristiku si treba zvyknúť. Jazdenie po meste je plynulejšie a hladšie, ako s klasickým automatom.
Prevodovka radí jednotlivé módy podľa kombinácie rýchlosti a zošliapnutia pedálu akcelerátoru. V niekoľkých príležitostiach som chcel, aby preradila skôr, preto bolo treba jemne zrýchliť.
---
Zrýchlenie a maximálna rýchlosť
Keď sa však jedná o dynamiku ústrojenstvo funguje vcelku dobre. Reakcia na plyn v móde MySense alebo Sport je dobrá. V športovom móde, zrýchli na stovku za 9.9 sekundy. Tento výsledok je pomalší ako pri TCe 130. Avšak pri akcelerácii z ustálenej rýchlosti pôsobí aj vďaka okamžitému záberu elektromotora živšie. Maximálna rýchlosť 186km/h uvádzaná v oficiálnych údajoch je výrazne nižšia od reality, v ktorej nie je problém sa dostať za 200km/h.
V športovom režime možno skritizovať, že po vybití batérie stratí auto zo svojho dynamického úderu. Nie je tak živé.
---
Podvozok
V oblasti podvozku, zodpovedného za priľnavosť k ceste, ovládateľnosti a jazdného komfortu využíva aktuálne Clio vpredu nezávislú prednú nápravu McPherson s vinutými pružinami a priečnym stabilizátorom. Jeho zadná náprava je na pomery B-segmentu lepšia v porovnaní s konkurenciou. Vzadu sa Clio spolieha na polo-nazávislé zavesenie kolies s vinutými pružinami a taktiež priečnym stabilizátorom.
Pri benzínovej TCe 130 bola väčšina váhy na prednej náprave. Clio s hybridným ústrojenstvom má však vzadu umiestnenú batériu, ktorá prirodzene zlepšuje priľnavosť zadnej nápravy ako aj zlepšuje celkové hmotnostné vyváženie vozidla.
---
Kolesá a pneumatiky
Auto jazdilo na štýlových 17-palcových diskoch so zimnými pneumatikami rozmeru 205/45 R17. Obuté boli pneumatiky Nokian WR Snowproof P. V lete sú ideálnym obutím Michelin Pilot Sport 4, respektíve GoodYear Eagle F1 Assymetric 5 s cenami okolo 100€ za kus. Pre maximálnu priľnavosť na suchom povrchu ciest alebo okruhu možno siahnuť aj po plášti Pirelli P Zero Corsa, ktoreho jeden kus vyjde na 200€.
---
Jazda
Renault robil v modeloch Clio vždy zábavne naladený podvozok, ktorý si dokázal človek pri dynamickej jazde získať. Pri tejto 5 generácii z Clia vymizla mäkkosť. Nemožno povedať, že by bolo nepohodlné. Avšak jeho je z neho cítiť štrukturálnu tuhosť a športovosť.
To aký dobrý ma Clio podvozok človek rozozná pri rýchlej jazde. Podobnú úroveň istoty, podávania informácií o povrchu vozovky a správaní sa vozidla v tejto triede neponúka veľa vozidiel. Šofér dostáva výbornú dávku informácií, ktorú je možno cítiť telom. Aj pri prehnanej nájazdovej rýchlosti dokáže Clio prekvapiť množstvom mechanického gripu, ktorý má.
Výborný jazdný zážitok dopĺňa aj riadenie, ktoré je jednoducho krásne. Také, aké človek pri dynamickom jazdení vyžaduje. Znova treba vyzdvihnúť aj spätnú väzbu poskytujúcu šoférovi, výborná je aj jeho priamosť a ostrosť. Volant má hrubý veniec, kožený poťah a veľmi dobre padne do rúk.
Posed v aute je nízky, čo je dobre. A vďaka dobrej dĺžke možnosti pozdĺžneho nastavenia volantu sa tu v poriadku usadia aj vysoké osoby.
Jazdné vlastnosti sú jednou z hlavných vecí, ktorými si Clio dokáže človeka získať. Sú naozaj výborné. Nie je to síce čistokrvné RS, ale len RS Line, no dokáže vodičovi poskytnúť naozaj výborný čas za volantom. Vytknúť možno trakčný systém, ktorý nemožno vypnúť.
---
Spotreba
Renault sľubuje výbornú spotrebu tohto hybridného systému, priemer len 4.3l/100km. V našich testovacích podmienkach, teda zima, z toho dôvodu viac studených štartov a častejšie pripájanie spaľovacieho agregátu sme jazdili priemerne za 6.9l/100km. Tento údaj má ďaleko od uvádzanej hodnoty, podobnú spotrebu by však dosiahol aj starší benzínový vrchol. Taktiež jazdné vlastnosti auta dodávajú chuť k dynamickejšej jazde. V najmä teplotovo ideálnejších podmienkach však nepochybujeme o možnom dosiahnutí uvádzanej, respektíve hodnote blízko výrobcom uvádzanej spotreby.
---
Priestor
Priestorové podmienky sú ďalšou devízou, v ktorej Clio pôsobí ako ideálne auto pre každodenný život. Aj napriek batérii umiestnenej vzadu zostali nezmenené. Sedenie vzadu je síce trochu nepohodlné kvôli pevnému pokrytiu zadnej strany predných sedadiel. Miesto vzadu taktiež nie je pre zrovna urastené osoby. Sú tu však nabíjacie konektory a dostatočne veľký odkladací priestor pre fľašky vo dverách.
Batožinový priestor klesol z triedy vedúcich 390 litrov, na obvyklejších no stále dostatočných 301 litrov. Pod jeho dnom sa nachádza dojazdová rezerva s náradím.
---
Interiér a výbava
Renault Clio 5 disponuje interiérom, ktorý je kvalitovo ako z vozidiel o triedu vyšších. Použitie mäkčených plastov, príjemných farieb a decentného ambientného podsvietenia mu dodáva pocit hodnoty a kvality. Prístrojovej doske šéfuje 9.3-palcový vertikálny displej a 7-palcový prístrojový štít.
Systém EasyLink možno vyzdvihnúť pre dobrú orientáciu v ňom, aj pre funkciu ukazovania aktuálnych a pravdivých údajoch o cene benzínu. Prístrojový štít je konfigurovateľný, avšak potešilo by, keby dokáže zobraziť aj live navigáciu, tak ako napríklad konkurenčný Peugeot 208.
Výbava je na malé auto bohatá. Automatické LED svietenie, klimatizácia, aj stierače (tie však niekedy zaspali). Ďalej vyhrievané sedadlá nastaviteľné v dvoch stupňoch, audiosústava Bose s 9 reproduktormi a subwooferom v kufri alebo parkovací asistent. Parkovací asistent fungoval presne a spoľahlivo aj pri zašpinených kamerách.
---
Cena a zhrnutie
Testovaný kus vyšiel na 25 970€, čo je na malé auto skutočne dosť. No Clio s pohonom E-Tech si možno zaobstarať od 19 050€. Čo sa týka testovaného auta, nie sú to malé peniaze. Avšak za tieto peniaze je takto vybavený Renault Clio poriadnym kusom auta na každý deň, ktoré dokáže šoférovi vyčariť svojimi jazdnými vlastnosťami úsmev na tvári.
Pre každodenný život je Clio E-Tech výborne. Pre tých, ktorí však chcú byť súčasťou jazdy radením stupňov je stále lepší benzínový 1.0TCe s manuálom.
Svoje Clio si môžete zostaviť tu:
Konfigurátor | CLIO | Renault Slovensko