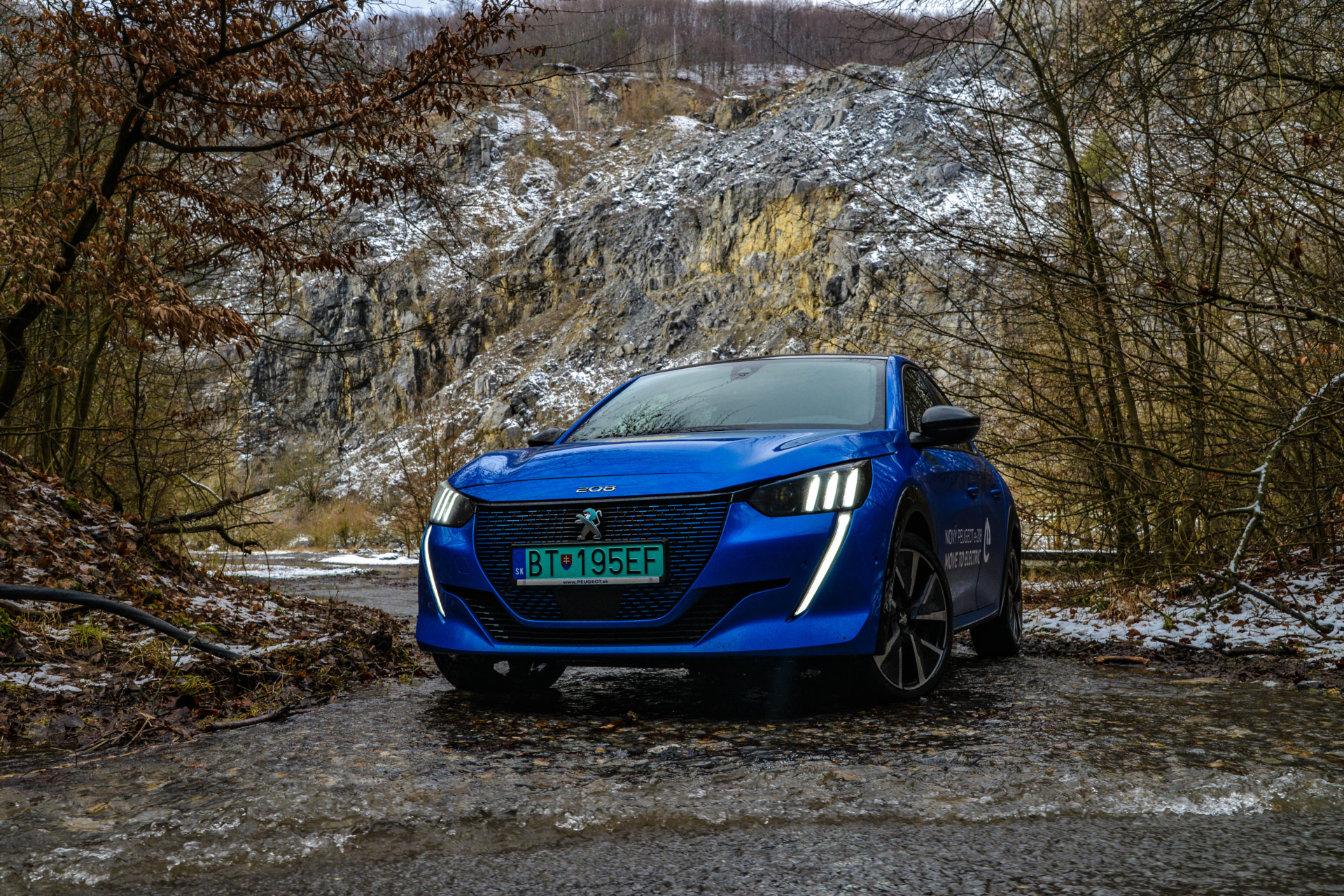 "Elektrická 208ka jazdí ako auto strednej triedy. Na elektromobil slušné, chýba jej však pocit ľahkosti, ktorú pri malom aute vyžadujeme."
---
UPSHIFT RATING: 7.5/10
+ rýchlosť nabíjania, kvalitný interiér, dynamika v športovom režime, odhlučnenie od vonkajšieho prostredia
– hmotnosť batérií ťažko zamaskovať, preto nie je jazda pohodlná ako v spaľovacej verzii
---
Peugeot 208 s benzínovým motorom sme hodnotili veľmi kladne. Peugeot však ocenenie auto roka získal najmä za modularitu pohonov. Keďže je 208-ka dostupná aj ako čistý elektromobil, zaujímalo nás, aké budú rozdiely medzi benzínovou a elektrickou verziou.
---
Motor, zrýchlenie
Elektromotor posiela na predné kolesá výkon 136 koní a okamžite dostupný krútiaci moment 260Nm. Papierovo je teda e-208 najvýkonnejší z modelovej rady. Avšak vďaka ťažkým batériám váži 1594 kilogramov, čo je na malé auto skutočne dosť. Aj napriek tomu však Peugeot pri zapnutom Športovom režime zrýchli na stovku za slušných 8.1 sekundy a pôsobí skutočne dynamicky a chtivo. Na druhej strane, jazda v športovom režime výrazne znižuje odhadovaný aj reálny dojazd.
Pri nastavenom móde Normal už zrýchlenie nie je pôsobivé, a aj predbiehanie je diametrálne odlišné tomu v športovom móde. Tretím nastavením je samozrejme Eco, v ktorom je výkon najciteľnejšie obmedzený, ba dokonca auto ani nekúri (aspoň sedadlá vykurujú). Maximálna rýchlosť je 152km/h. Nie je to veľa, ale približne tak sa zvyčajne jazdí na diaľnici…
---
Podvozok
Peugeot sa samozrejme musel vysporiadať s pridanou hmotnosťou akumulátorov, a prispôsobiť podvozok tak, aby bol jazdný komfort podobný verziám s benzínovým/dieslovým pohonom. Toto chceli dosiahnuť použitím tvrdších tlmičov. Pevnejšie tiež musia byť aj ostatné pohyblivé súčasti podvozku. Auto jazdilo na 17 palcových diskoch s nízkoprofilovými pneumatikami rozmeru 205/45 ZR17…. Otázkou je, vyšlo to?
---
Jazda
Takmer to vyšlo, avšak rozdiel v jazde tu je, a vcelku citeľný. Z elektrického levíčaťa cítiť pri jazde jeho hrošiu hmotnosť. Jamy aj kanály už nežehlí, ale valcuje. O nedobrom povrchu cesty sa ráznejšie dozvie aj vodič. Auto sa viac natriasa, niekedy jazda môže prísť trochu pritvrdá. V jazdnom komforte sa nám spaľovacia verzia páčila viac.
Peugeot taktiež vybavil e-208 z pre nás neznámeho dôvodu tuhším, športovejšie sa tváriacim riadením. Na malé auto je však stále dobré, s dobrou priamosťou aj odozvou. Jazda po známych okreskách však ukáže, že nižšie ťažisko neznamená automaticky zábavnejšie jazdné vlastnosti.
Batérie v e-208 sú uložené naprieč šírkou vozidla pod každou radou sedadiel a pod prístrojovou doskou. V teórii je toto pozitívne, v praxi však hmotu nemožno oklamať. Pri dynamickej jazde e-208 na zlomoch viac ustreľuje zadná náprava a celkovému pocitu z jazdy chýba práve tá ľahkosť, ktorá je pri malých autách zásadná pre pocit z radosti.
Vďaka zasneženým Tatrám, sme mali možnosť skúsiť sa zabaviť aj na snehu. Avšak auto je vybavené elektronickou ručnou brzdou, takže hodenie si ho ňou neprichádzalo do úvahy. Namiesto odstrelenia zadočku by auto len veľmi prudko začalo brzdiť.
Pri snahe o rozhodenie riadením zase včasne zasiahol stabilizačný systém. Ten sa síce vypnúť dá, v obdobných situáciách však vozidlo predpokladá nebezpečenstvo a systém sa opätovne samostatne zapne. Je to dôkaz ako moderné autá berú ohľad na bezpečnosť na prvé miesto a prakticky nedávajú šoférovi možnosť hľadať hranu a jazdiť na nej.
So zapnutými systémami pôsobí auto stabilne a veľmi jednoducho na ukontrolovanie aj menej schopnými vodičmi. Zimné obutie Continental WinterContact TS850P potešilo vysokou úrovňou priľnavosti a sebavedomia pri vyšších rýchlostiach aj na úsekoch so zamrznutými koľajami.
Problémom pri benzínovej verzii bol jemne ulietavajúci zadok auta pri prudkom diaľničnom brzdení vo vyšších rýchlostiach. Keďže e-208 má však maximálnu rýchlosť len 152km/h, tento problém sa nemá ako stať. Naopak vďaka vyššej váhe je možno si byť pri diaľničnej rýchlosti v návalovom daždi výrazne istejší.
Brzdový pedál nepôsobí pocitovo dobre. V prvej tretine pôsobí, že auto brzdí veľmi jemne. Pri prechode do 2/3 sa však brzdy zrazu výraznejšie preberú k životu. Aspoň maximálna brzdná sila, je vzhľadom k hmotnosti dostatočná.
Posed je dobrý, sedí sa nízko, a šofér je obklopený kokpitom. V e-208 sa dá taktiež volant nastaviť dostatočne nízko, aby jeho vrchná časť neprekážala vo výhľade na prístrojový štít (ako tomu bolo pri benzínovej variante).
Sedadlá sami o sebe sú veľmi príjemné s dobrým obopínaním tela a jeho držaním pri prejazde zákrutami. Pačila sa nám kombinácia kože a alcantary vo svetlejšej farbe, ako aj kontrastné prešívanie.
Výdrž a nabíjanie
Peugeot e-208 má v podlahe umiestnenú 50kWh. Ktorá nie je uložená ako jeden celok, ale ako tri radovo väčšie samostatné časti. Táto kapacita ma poskytovať dojazd 340 kilometrov. Ako však už vieme dojazd pri elektromobiloch závisí od asi milióna faktorov. Naše podmienky boli ovplyvnené najmä zimou s teplotami medzi -2 – 3 stupne celzia a pochopiteľne obutím zimných pneumatík Continental WinterContact TS850P.
V týchto podmienkach bol predpokladaný dojazd po nabití 322 kilometrov. Naša dosiahnutá priemerná spotreba na ceste do Tatier a späť vykázala 16.6kWh/100km. Trasu je možné zvládnuť na 3 a pol nabití, s diaľničnou rýchlosťou nie vyššou ako 125km/h. Aspoň pocitovo sa však batérie vybíjali pomalšie na okresných cestách.
Nabíjanie prostredníctvom konektoru typu CCS2 s výkonom 100kW na rýchlonabíjacej stanici je rýchle. Na 80% kapacity sa auto dobije aj za menej ako 30 minút. Pri nižšom výkone 50kW(ktoré je na väčšine nabíjacích miest) táto doba vzrastie na približne 55 minút.
Priestor a výbava
V oblasti priestorových podmienok sa e-208 aj vďaka rozumnému rozloženiu batérií od spaľovacích verzií nelíši. Kufor má zachovaný objem 265 litrov, aj miesto vzadu je také isté. Rozdiel možno nájsť len v maličkostiach. Medzi klavírnymi dotykovými tlačidlami na stredovej konzole sa umiestnilo tlačidlo s ikonkou blesku, zobrazujúce všetky potrebné informácie o využívaní batérii a spotrebe na hlavnom stredovom displeji.
Odlišná bola kontrastná bledá farba poťahu alcántary na sedadlách a z príplatkovej výbavy nám chýbala panoramatická strecha. Inak boli testované 208-ky vybavené zhodne. To zahŕňa kvalitné adaptívne LED svietenie s automatickým tlmením, automatické stierače, zelené ambientné podsvietenie prednej časti kabíny aj adaptívny tempomat s ostatnými bezpečnostnými slúžkami, ktoré sa dajú vypnúť stlačením tlačidla.
Cena a zhrnutie
Peugeot e-208 začína na cene 29 990 eur. Nami testovaný model vyjde na 35 440 eur, čo rozhodne nie je málo. S dotáciou 8000 eur môže cenová ponuka vyzerať príjemnejšie, z jazdného hľadiska by sme však dali prednosť benzínovej verzii.
Peugeot e-208 je skvelým spoločníkom pre mestské jazdenie a šantenie. Taktiež sme si potvrdili, že elektromobily ešte stále nedospeli na dlhé diaľničné presuny. Respektíve, keby boli všetky nabíjacie miesta vybavené aspoň 100kW nabíjaním, cestovanie s elektromobilom aj na dlhšie trasy by nabralo reálnejšiu črtu. Naša cesta z Bratislavy na Štrbské Pleso trvala od 22:50 do presne 4:27.
---
Svoj Peugeot e-208 si zostavte tu:
Konfigurátor pre Nový Peugeot 208 5 dv.| Prispôsobte si Vaše mestské vozidlo