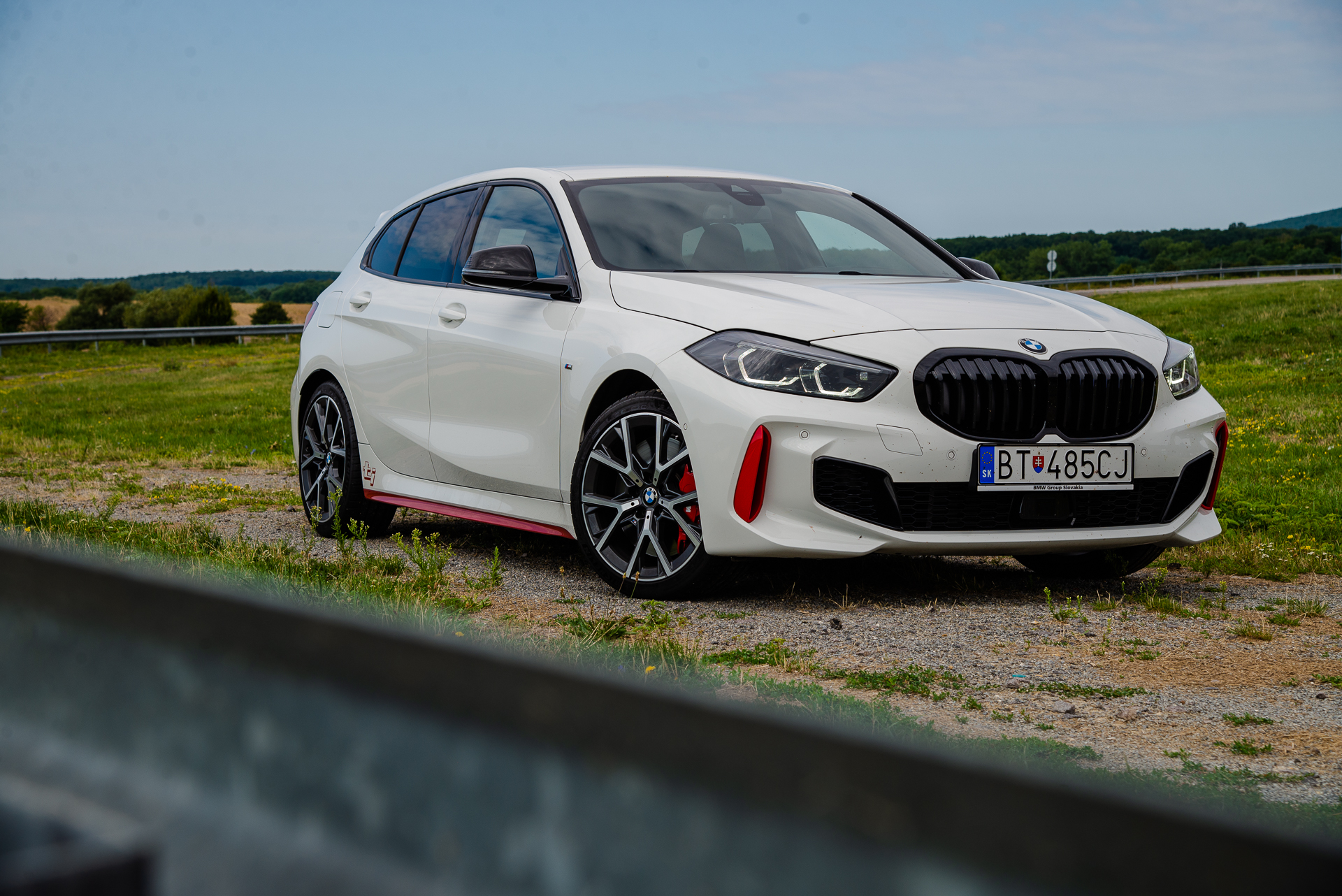 Nové BMW 128ti nie je ako prvý hot-hatch značky s predokolkou iba dobré, myslíme si že poráža aj ostrieľané stálice ako aktuálny Golf GTI.
UPSHIFTER RATING: 8.5/10
+ sympatický dizajn; motor so skvelou odozvou v kombinácii s prevodovkou, zábavný a sebaistý podvozok; dostatočne presné a priame riadenie, výborné aj na každý deň; prekvapivá priestrannosť; zhotovenie interiéru
– niektorí konkurenti s viac skúsenosťami majú disponujú o chlp väčšou ostrosťou chtivosťou, je vidno že 128ti je aj na Touring, nielen na okruh; výkonu má dosť, ale najlepší v triede už dnes majú 300 a viac koní
Na zasadnutí BMW:
Šéf: Tak sa dnes pozrime, v ktorej kategórii by sme ďalej mohli získať trhový podiel.
1: Čo tak hot-hatch?
Šéf: Ale hot-hatch máme.
1: Ale nie poriadny
Šéf: Ako to myslíš? Veď M135i xDrive!
1: Ale poriadny hot-hatch má predný náhon, ako to robí VW Golf GTI, a tvária sa, že robia najlepší.
Šéf: Tak sa poďme do toho, len aký mu dáme názov?
1: Čo tak Touring Internazionale? Už nejaký čas leží nepoužité.
Šéf: Dohoda, ale spravte ho aj Touring Internazionale pozitív.
Ak si myslíte, že k rozhodnutiu o stvorení prvého ostrého BMW s pohonom predných kolies prišlo inak, hoďte nám Like na stránku a svoju verziu napíšte do komentára!
BMW malo v minulosti niekoľko rýchlych Jednotiek. Či už to bola 130, 140 alebo nedávno 135i, nemožno sa uprieť dojmu že to boli len luxusné hatchbacky s poriadnymi motormi, než hot-hatchbacky v pravom slova zmysle. A mali pohon zadných alebo všetkých kolies, takže len ťažko boli porovnateľné s konkurenciou, síce veľa ľudí určite vníma práve zadný náhon ako niečo viac.
Robiť BMW s predným náhonom môže týmto ľuďom spôsobovať nevoľnosť z toho čo spravila naša milovaná bavorská značka. Ale neodporúčame hádzať flintu do žita "múdrych" rečí o tradíciách značky, pretože 128ti nie je len veľkým úspechom na prvý pokus o zostrojenie takéhoto typu vozidla, je to skvelý hot-hatch celkovo. A na tento prvý pokus je zábavnejší a vášnivejší na jazdu ako Golf GTI 8 generácie.
Motor, prevodovka a čas z 0-100
Pod kapotou netreba hľadať revolúciu ani evolúciu, pretože BMW je motoricky skvelo vybavené. Preto 128ti pod prednou kapotou skrýva 2.0 litrový štvorvalec s TwinPower Turbodúchadlom. Rovnaký motor možno nájsť aj v iných vozidlách značky, ako agregát pre 330e, ktorý sme testovali pred nejakým časom, inými sedanmi, SUV alebo aj v ešte menšom žihadle, ktorým je Mini Cooper S.
V BMW 128ti tento motor vyvíja výkon 265 koní a krútiak 400 Nm. Výkon je dostupný v rozmedzí 4750-6500 ot/min, kým krútiaci moment vypĺňa široké spektrum od 1750 až po 4500 otáčok, oboje sú lepšie ako pri VW Golf GTI. Na druhej strane váži aj tak malé auto ako 128ti relatívne ťažkých 1520 kilogramov, kvôli ktorým nezrýchli na stovku rýchlejšie ako za 6.1 sekundy. My sme dosiahli najlepší čas 6.4 sekundy. To síce môže znieť ako doba kamenná v roku 2021, no za volantom sa tak človek nikdy necíti.
Sila je na predné kolesá preposielaná pomocou 8 stupňovej automatickej prevodovky, ktorá ale nie je od ZF, no od spoločnosti AISIN. Žiaľ, v ponuke nie je žiadna manuálna prevodovka, ktorá je pre hot-hatch esenciálna, no je pravda, že skutočných vodičov je dnes už veľmi málo, a väčšina siahne po automate. Druhým prostriedkom na prenos sily je samo-svorný diferenciál TORSEN, ktorý je dodávaný štandardne.
Po stránke spotreby je motor 128ti veľkým prekvapením. Pri normálnom jazdení sa dá jazdiť priemerne za 7.6 l/100km, čo je skvelý údaj. No pri takomto aute je ťažké skončiť so šantením, pri ktorom si motor s radosťou vypýta aj 12 l/100km.
Podvozok
BMW 128ti vpredu využíva zavesenie kolies pomocou dvojitých priečnych ramien a vzadu viac-prvkové zavesenie, oboje so stabilizátorom.
Tím vývoja jazdnej dynamiky pod vedením muža menom Jos van As dostali za úlohu spraviť podvozok najľahším, ako je to možné, no zároveň zachovať komfort a pohodlie, a hlavne nech pôsobí ako čistý hot-hatch, zábavne.
A tak odstránili výstuhy prednej nápravy z M135i xDrive, dali autu pružiny, ktoré sú o 8% tuhšie a 11mm nižšie. Ďalej nastavili štandardné tlmiče na vyšší kompresný pomer a upravili geometriu všetkých 4 kolies. Zvýšená bola tuhosť stabilizátora aj jeho uloženie. A nakoniec boli 18 palcové (19-ky za príplatok) kolesá obuté do pneumatík Michelin Pilot Sport 4. Na ne sme mali šťastie, keďže slovenský testovací kúsok bol dlhú dobu obutý na Bridgestone, ktoré nie sú tak dobré ako Micheliny. Preto ani nemôžeme navrhnúť lepšie plášte pre toto auto, snáď len Pilot Sport 4S, tie však strácajú na mokrom povrchu a preto je Pilot Sport 4 ideálom pre všetky podmienky.
V porovnaní s M135i má 128ti pomalší prevod riadenia, pomalší je aj pomer diferenciálu pri akcelerácii, a to o 5%. BMW 128ti celkovo váži o 80 kilogramov menej ako M135i, no váha 1520 kilogramov nám však na hot-hatch stále príde veľa, a BMW nie je samozrejme jediným pri ktorom máme tento názor. Na zastavovanie sú tu 330 milimetrové vetrané kotúče vpredu a 300 mm plné kotúče vzadu.
Jazda
Od štartu je cítiť, že je to športovec. Jazda po meste je samozrejme športovo tvrdá, no nie je to nič neznesiteľné. S rastúcou rýchlosťou ale rastie aj celkom neočakávaný jazdný zážitok. V prvom rade je to jednoduché auto na obsluhu, aspoň, čo sa jazdných režimov týka. Na výber je z troch Eco Pro, Comfort a Sport, žiaden Sport+. Režim Sport je platný pre prevodovku, motor a riadenie. A pri zobraní auta na obľúbené okresné cesty sa ukáže jeho šoférska úprimnosť. Riadenie je zvládnuté pekne, má výbornú spätnú odozvu od kolies, je vcelku citlivé a pri prejazde zákrutami pomáha precízne udržiavať tesnú líniu prejazdu. Na druhej strane sú spomedzi konkurencie aj autá s ešte tuhším a ostrejším riadením, BMW však ponúka výborný kompromis na každý deň. Aby sa auto držalo vnútra zákruty ako malé mača na tričku pomáha aj diferenciál TORSEN, ten má síce miestami s výkonom plné ruky práce, no nie je tak agresívny ako pri niektorých konkurentoch, čo je na okresnej ceste dobre.
Kým na jednej strane sa po väčšinu času chová ako veľmi seriózny hot-hatch prilepený k ceste ako motokára, pri dobrej technike sa dokáže aj pekne odviazať a poskytnúť zábavu za volantom. Ponorte nos do zákruty a ľahší zadok začne kresliť jemný oblúk, pri ktorom je to už na šoférovi. Či to vyrieši zatlačením pedálu na podlahu, nech sa z toho auto silou vyhrabe, alebo tomu hodí spätné hodenie riadením.
Výkon 265 koní nie je v rámci triedy ničím prevratným, pôsobí podobne, ako pôsobil prvý Hyundai i30N v porovnaní s konkurenciou. Je ho však dostatok na jeho plné využitie na okresných cestách. Samozrejme priali by sme si spojenie s manuálnou prevodovkou, bol by to iný zažitok. No viac ako tretina záujemcov siahne po automate, tak sa niet čo čudovať. No aj kovové pádla za volantom majú svoje "čaro", dobrý klik pri preradení, aj rýchlosť odozvy. Prevodovka tiež nechá motor pekne vytočiť až po obmedzovač a nepreraďuje si sama, čo by bolo v športovom aute hriechom.
Posed v aute je skvelý, sedí sa nízko ako v motokáre. Sedadlá majú prifukovateľné bočnice pre lepšie držanie tela v zákrutách. Volant s hrubým vencom má široký rozsah nastavovania, čo sa najmä nám dlhším jedincom hodí. Po zvukovej stránke je však 128ti malým sklamaním. Pri športovom móde otvorí aj klapku druhého výfuku, a síce zvuk vychádzajúci z výfuku je pekný prirodzený, Svojou hlasitosťou ani ranami nie je ani zďaleka tak dobrý, aký ho má Hyundai i30N Performance. V kabíne sa dokonca snaží zvýrazniť ho pomocou reproduktorov, a to teda pekné nie je.
Priestor a Výbava
Okrem jazdných vlastností sme boli potešení miestom vzadu, ktoré človek pri pohľadne na novú kompaktnú 1ku tak úplne nečaká. Batožinový priestor poskytuje 380 litrov úložného objemu, čo úplne postačuje na všetky každodenné potreby. Interiér je typické BMW s dvojicou kvalitných displejov, inteligentne rozmiestnenými tlačidlami a kvalitnými materiálmi. Obzvlášť sa nám páčil vyšitý znak ti na lakťovej opierke či dizajn ambientného podsvietenia kabíny, ktoré je aj súčasťou zadných dverí.
Auto bolo takmer v plnej výbave, teda bolo vybavené aj reproduktormi Harman Kardon, automatickým parkovacím asistentom s excelentnou cúvacou kamerou či head-up displejom. Jediná vec, ktorá tu len tak pre pocit chýbala bola otvárateľná panoramatická strecha. Prvkom výbavy, za ktorý si určite treba priplatiť sú adaptívne LED svetlomety. Majú aj natáčaciu funkciu, no najmä svojim tlmením voči oproti idúcim vozidlám v noci preukázali svoju bezchybnosť. Potešilo aj elektrické otváranie dverí kufra.
Dizajn
Je nám jasné, že budeme v opozícii, ale myslíme si že dizajn aktuálnej jednotky je nádherný. Páči sa nám usmiata no podpisom svetiel agresívna predná maska, aj zadok so štíhlymi podlhovastými svetlami umiestnenými takmer v strede výšky vozidla. Aj pri bočnom profile nám absolútne nevadí klasickejší tvar s kratšou prednou kapotou. Vyzdvihnúť pri 128ti však treba perfektnú kombináciu bielej a červenej aj s nálepkou ti na prahoch dverí. Vyzerá takto brutálne dobre, žiadna iná ponúkaná kombinácia sa nám nepáčila viacej.
Zhrnutie a Konkurencia
BMW 128ti síce nie je tak sústredeným hot hatchbackom ako rivali od Renault Sport (nový Mégane si vyskúšame už onedlho), Hondy alebo Hyundai. Ale je to hot-hatch, ktorý inkorporuje ba isto prekonáva kvalitu a pocit prémiovosti Golfu, a kombinuje to s dávkou zábavy, akú možno nájsť v iných konkurentoch. A vďaka tomu je viac ako nečakaným prekonávačom očakávaní a pre nás viac ako vítaným členom rodiny hot-hatchov. Koniec-koncov sme o BMW s predným pohonom dlho tajne premýšľali (nechutné čo?) a teraz je konečne tu!
S cenou 52 867 EUR za 128ti je výber konkurencie dosť široký. Podobne vybavený Golf GTI vyjde na 46 270 EUR. Autá, pri ktorých si už BMW začne lámať zúbky začínajú s Renault Mégane RS Trophy, ktorý je už tiež dostupný len s automatom. Ten v plnej výbave vyjde na 47 250 EUR. S manuálom aj automatom je dostupný Hyundai i30 N Performance. Ten vyjde v plnej výbave na 36 590 EUR s manuálom, kým rovnako vybavené auto s automatom stojí 38 590 EUR. Čisto manuálna Honda Civic Type R, ktorá je ako Porsche 911 GT3 medzi hot-hatchmi vyjde na 42 879 EUR. Potom je tu ešte Cupra Leon s rovnakým 245 koňovým motorom ako Golf za 38 198 EUR. Zabudnúť nesmieme ani na 280 koňový Ford Focus ST, jeho slovenské ceny však aktuálne na stránke nie sú uverjnené, no sú niekde v okolí Cupry Leon.
HotLap: