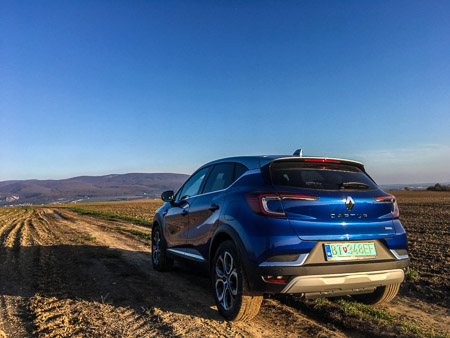 "Plug-In hybridný Renault Captur pôsobí a jazdí rovnako dobre ako spaľovací, v pozadí jeho mysle je však cítiť ekologickosť."
---
UPSHIFT RATING: 7.5/10
+ strmé a dobre vyvážené riadenie, ktoré robí aj z pocitovo veľkého auta živého drobca, kvalita v interiéri, pohodlný podvozok
– umiestnenie tlačidla vyhrievania volantu
---
Renault Captur je dlhodobo jednotkou medzi crossovermi. A nie je sa čomu čudovať. Ponúka štýlovú karosériu s obrovským množstvom individualizácie farieb, technologicky vyspelú výbavu, kvalitný interiér aj dobré jazdné vlastnosti. To všetko za cenu, ktorá nezabolí pri srdci. Keďže Renault sa cíti zodpovedný za to, že v zime je vonku 13 stupňov, ide ekologickým smerom. Preto predstavil hybridný systém E-TECH, a implementoval ho do svojich troch najpredávanejších modelov.
Zvonku podobne ako Clio, no najmä Mégane E-TECH, ho takmer nerozlíšiť od zvyčajného Captur. Rozpoznávacím znakom je emblém E-TECH na dverách kufru a nabíjací konektor na pravej strane (na ľavej je klasický otvor pre benzínovú nádrž)
---
Technika
Motor
Plug-In hybridný systém v Renault Captur je rovnaký, ako ten, ktorý je použitý v Mégane GrandTour. V prednej časti sa nachádzajú dva elektromotory a benzínová 1.6SCe upravená na svoju novú misiu fungovania ako generátor vo väčšine prípadov. Genezis energie sa nachádza vzadu, je ním 9.8kWh alternátor. Na čisto elektrický pohon poskytuje dojazd do 50 kilometrov.
Menším elektromotorom je integrovaný štartér-generátor (ISG), druhým je veľký elektromotor starajúci sa o poháňanie kolies. Tento elektromotor má výkon 67 koní a krútiaci moment 205Nm dostupných okamžite. Benzínová 1.6SCe sa pridáva do tejto súhry s porciou výkonu 92 koní, a 144Nm krútiaceho momentu. Celkový výkon je 160 konských síl a 349Nm. Čo je o 5 koní viac, ako najsilnejšia spaľovacia verzia TCe155.
---
Podvozok
Renault Captur stojí na platforme CMF-B. O jazdné vlastnosti sa stará zavesenie McPherson s vinutými pružinami a stabilizátorom vpredu, kým zadná náprava je vybavená polo-nezávislým zavesením kolies s vinutými pružinami aj stabilizátorom.
---
Kolesá a pneumatiky
Ku Renault Captur sú dostupné disky s rozmerom 16, 17 a 18 palcov. Testovaný kúsok mal najväčší 18-palcový rozmer s pneumatikami 215/55 R18. Obuté boli zimné plášte GoodYear UltraGrip Performance. Ďalšími skvelými pneu v tomto rozmere sú Bridgestone Blizzak LM005 alebo Pirelli Winter SottoZero 3.
V lete sú najlepšími adeptmi Michelin Primacy 4 a Continental PremiumContact 6. Fajnšmerki môžu siahnuť aj po pneu s nižším bočnicovým číslom (215/45 R18), ktoré síce jemne znížia komfort, v rovnakej miere však dokážu vylepšiť jazdné vlastnosti.
---
Brzdy a hmotnosť
Pri pohotovostnej hmotnosti cez 1630 kilogramov nie je Captur zrovna ľahkým kompaktným crossoverom, to však nie je ani žiaden z jeho konkurencie. Vpredu je vybavený 296x26mm ventilovanými kotúčmi, kým vzadu sa spolieha na 290x13mm klasický kotúč. Použitie kotučových bŕzd je pozitívom, keďže klasické verzie Captur sú zvyčajne vzadu vybavené slabšími bubnovými brzdami.
---
Dynamika a fungovanie pohonu
Spaľovací motor zohráva v tomto systéme funkciu generátora energie, ktorú posiela do trakčnej batérie umiestnenej vzadu, odtiaľ je energia distribovaná do elektromotoru, ktorý poháňa predné kolesá. Jedinou udalosťou, kedy sa spaľovací motor pripojí aj k poháňaniu kolies je športový režim. Počas neho pohonná sústava posiela na kolesá plný výkon 160 koní, trakčná batéria vzadu sa však nedobíja.
Čisto elektrickú jazdu možno vyvolať stlačením tlačidla EV, respektíve zvolením režimu Pure v systéme Multi-Sense. V tomto systéme si taktiež možno vybrať jednu z ôsmich farieb ambientného podsvietenia, ako tri možnosti tuhosti riadenia.
Pri zvolení športového režimu sa Captur E-TECH rozbehne na stovku za 10.1 sekundy. Kým benzínová verzia TCe155 splní rovnaký limit za 8.6 sekundy. Maximálna rýchlosť je limitovaná na 183km/h. Aj napriek pomalšiemu zrýchleniu na stovku pôsobí Captur E-TECH vcelku živo. Medzeru kým sa pripojí aj jedna-šestka zapĺňa elektromotor s okamžitým nástupom krútiaceho momentu.
---
Jazdné vlastnosti a zážitok
Komfort
Z vozidla je na ceste cítiť štrukturálnu pevnosť, tlmiče sú poskytujú výborný kompromis medzi ovládateľnosťou a komfortom. Komfortu ďalej napomáhajú aj pneumatiky s profilom 55. Celková jazda je naozaj príjemná, aj napriek vyššej hmotnosti auto nepôsobí ako lavína valiaca sa po ceste, stále si zachováva istú ľahkosť. Captur je taktiež slušne odtlmený, či už sa to týka zvukov od obtekajúceho vzduchu alebo odvaľovania kolies.
Zábava
Pri dynamickej jazde je Captur E-TECH veľmi pekne vyvážený. Na auto s vyššie položeným ťažiskom poskytuje nadpriemernú úroveň priľnavosti pri vjazdoch do zákrut. Podvozok taktiež poskytuje dobrú úroveň spätnej väzby o povrchu a aktuálnom dianí s vozidlom. Toto je doplnené krásnym komunikatívnym, rýchlo reagujúcim, presným a primerane tuhým riadením.
Riadenie pri normálnom jazdení prekvapí gumenými dorazmi na jeho koncoch, pri otáčaní ho treba pretlačiť. Volant má tučný veniec potiahnutý jemnou kožou, v rukách sa teda drží veľmi príjemne.
Na pomery malého SUV je posed fajn. Výšku vozidla nemožno oklamať, no pocitovo voči interiéru sa dá posadiť relatívne nízko, respektíve byť obklopený interiérom, namiesto sedenia nad ním. Sedadlá sú primerane tuhé a priemerným bočným vedením aj bedrovou opierkou.
---
Spotreba a nabíjanie
Na dobíjanie akumulátora sa používa konektor typu AC. Preto trvá dobitie vozidla pri výkone 3.7kW podobne ako pri Mégane E-TECH niečo pod 3 hodiny. Pri domovskom nabíjaní 2.3kW, použitím špecificky určeného káblu, ktorý je ku autu zaberie nabitie do plna 5 hodín času.
Dosiahnuté údaje o spotrebe sú pozitívne. Pri nabitej batérii možno jazdiť po meste aj za menej, ako výrobcom udávaných 1.5l/100km. Samozrejme, čím sa batéria vybíja tým rastie spotreba. Pri vybitej batérii jazdí Captur E-TECH za stále slušných 5.9l/100km. Týždenný priemer 3.7l/100km pri poctivom nabíjaní poukazuje, že návratnosť nákladov tu z dlhodobého hľadiska existuje. Benzínová nádrž pojme 39 litrov benzínu.
---
Priestor
Priestorové podmienky v Captur E-TECH zostali aj napriek pridaniu hybridného systému nezasiahnuté, čo je pozitívom. Sedenie vzadu je aj naďalej dostatočné pre deti alebo mladého človeka. S menším kompromisom sa sem posadí aj urastený jedinec. Pre zadných pasažierov sú k dispozícii dva malé výduchy klimatizácie, dva USB konektory na nabíjanie a vedľa nich aj dodatočná 12V zásuvka.
Objem batožinového priestoru je 261 litrov, pod jeho dnom sa náchádza úložný priestor pre nabíjacie káble, ako aj kompresor pre dohustenie pneumatík. Objem kufra podľa čísel neznie ako veľký, najmä v porovnaní so spaľovacou verziou, ktorá vďaka hlbokému druhému dnu ponúka celkový objem 377 litrov. Na každodenné účely však postačuje.
---
Interiér a vybavenie
Hlavným rozpoznávacím prvkom, že človek nesedí v Clio ale Captur je plávajúca stredová konzola, na ktorej leží volič prevodovky. Je osadená aj pásikom ambientného osvetlenia. Celkový pocit z kvality a zhotovenia prístrojovej dosky je podobný ako v Clio, teda veľmi dobrý. Na všetkých plochách kam ruky vedú často dominujú mäkké plasty. V noci na pocite súkromia a dôstojnosti pridáva ambientné osvetlenie s 8 voliteľnými farbami. Možno vysloviť želanie, aby pokračovalo aj v zadnej časti, to je však už práca pre prémiové značky.
Renault Captur E-TECH je dostupný len v najvyššej výbave Intens, s cenou začínajúcou na 29 200€. Testované vozidlo stálo 31 460€. Výbava zahŕňala všetky komfortné prvky, ktoré si možno želať. Vyhrievaný volant, predné sedadlá, adaptívne LED svetlomety, adaptívny tempomat s pomocníkom na jazdu v kolóne alebo po diaľnici aj kompletná výzbroj asistenčných systémov. Dodatočnými vychytávkami je spoľahlivý parkovací asistent Easy Park Assist, ktorého človek ocení najmä neskoro večer a audiosústava Bose, ktorá má čo ponúknuť najmä mladému človeku.
Pochváliť chceme možnosť stáleho vypnutia zvyčajne otravných asistentov, ako sledovanie pruhov stlačením jedného tlačidla naľavo od volantu. Na tejto strane je taktiež trochu skrytý spínač vyhrievania volantu, ktorý sme niekoľko krát museli vyslovene loviť, čo odvádza pozornosť od cesty.
Systém Easy Link fungoval spoľahlivo s dobrými reakciami. Aj napriek kritike dotykov a preklikávania sa, ktorú možno vzniesť na väčšinu výrobcov, treba povedať že nájdenie najpotrebnejších nastavení je vcelku intuitívne a nevyžaduje niekoľko stupňový postup, ako napríklad pri vozidlách Škoda alebo Peugeot. Easy link taktiež zaujme ukazovaním aktuálnych a pravdivých cien benzínu na čerpacích staniciach alebo 3D zobrazovaním objektov v navigácii.
Pred vodičom leží 10.2-palcový prístrojový štít. Je konfigurovateľný, takže sa na ňom napríklad možno pustiť real-time navigáciu so zobrazením mapy a mať tak na hlavnom displeji spustené inú ponuku. Hudba sa ovláda zvyčajnou rukou koreniacou v stĺpiku riadenia. Prepínanie sa ovláda otočným ovládačom z jeho zadnej strany.
Za 18-palcové disky sa pripláca 300€, kým zvolená kombinácia Modrej Iron so strechou v Sivej Highland stojí 580€
---
Zhrnutie a Konkurencia
Crossoverov je na trhu požehnane, avšak priamo plug-in hybridný pohon zužuje konkurenciu hlavne na Kiu XCeed a Niro PHEV, ktoré majú oba vyššiu cenovku, jemne vyšší dojazd na čisto elektrický režim, no nižší výkon. Taktiež Mitsubishi Elipse Cross, ktoré sa ešte nepredáva, no navyše ponúka aj pohon všetkých kolies.
Nasledujú už len prémioví konkurenti v podobe BMW X2 xDrive25e alebo Mercedes Benz GLA 250e. Oba ponúkajú výkon cez 200 koní aj cenovku v podobnej konfigurácii vyššiu o približne 20 000€.
Renault Captur E-TECH je teda vo svojej triede zaujímavou ponukou. Je to balík špecifického pohonu, ktorý funguje, veľmi atraktívneho dizajnu aj slušných jazdných vlastností, za nevysokú cenu. Nejazdí vôbec zle a pri pravidelnom nabíjaní šetrí peňaženku a spĺňa aj predstavu europoslancov o nižších emisiách a preto okamžite čistejšom ovzduší.
Svoj Captur si zostavte tu:
Konfigurátor | CAPTUR | Renault Slovensko