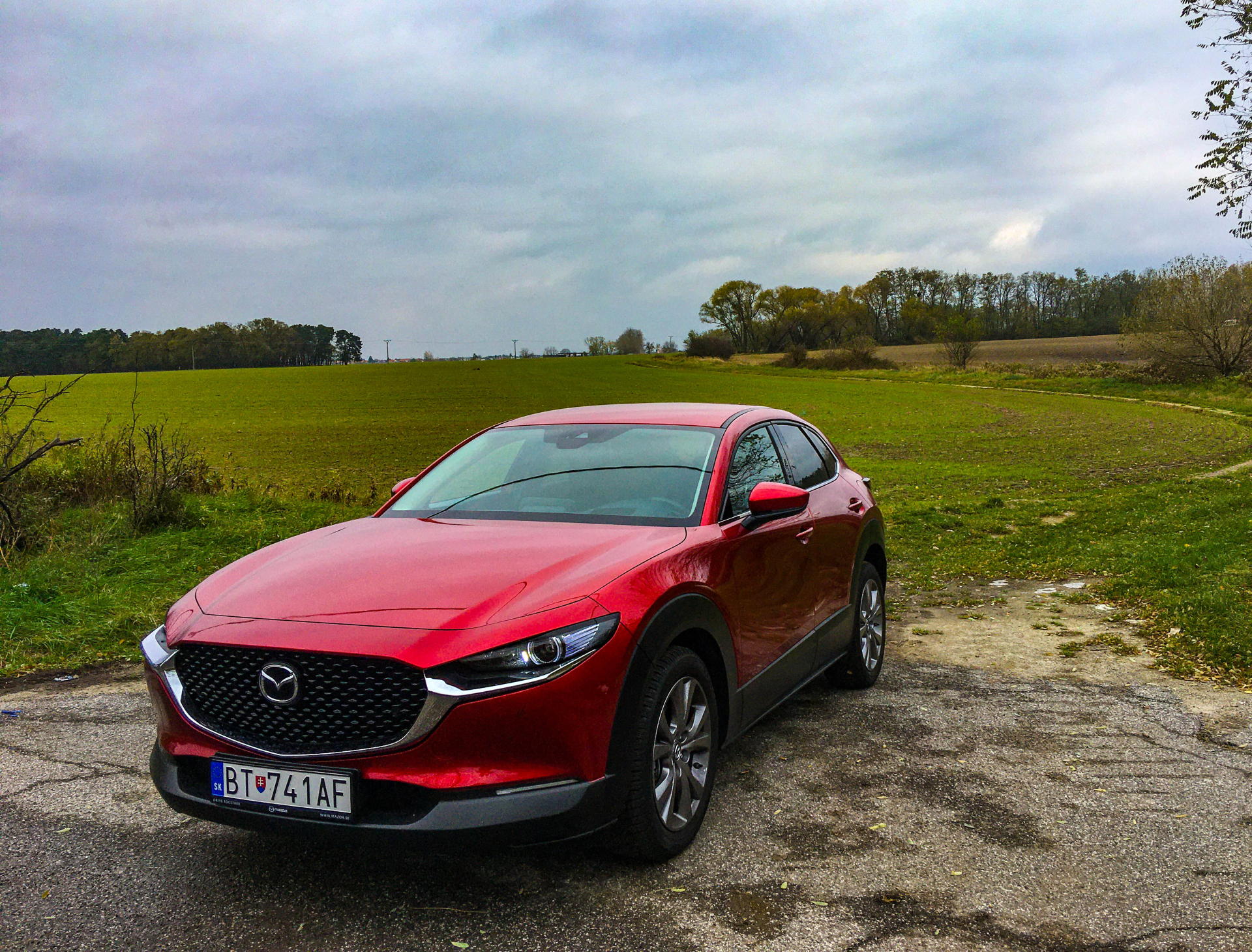 "Šoférsky veľmi prívetivý a prémiovo pôsobiaci crossover."
---
UPSHIFT RATING: 7,5/10
+ celkové vyváženie súčastí auta vytvárajúce vozidlo, ktoré človek chce šoférovať, atmosféra aj v dobe dominancie prepĺňania, pomer cena/kvalita
– chýbajúce ambientné podsvietenie
---
Mazda mala vo svojej ponuke len dva modely SUV. CX-3, ktorý je vo svojej podstate zdvihnutou Mazdou 2 a CX-5, ktorý je zdvihnutou Mazdou 6. Z tohto dôvodu japonský výrobca doplnil svoju paletu vozidiel SUV o model CX-30, teda Mazdu 3 na platforme. Podoba preto nie je náhodná, najmä z boku majú autá takmer totožnú siluetu aj proporcie. Dizajn je minimalistický, prísne sa tváriace adaptívne FullLED svetlomety chytia za srdce. Zaujala aj predná mriežka chladiča, podobajúca sa textúrou Mercedesáckej, akurát bez pochrómovania.
---
Motor, pohon a prevodovka
Motor použitý v testovanej variante je benzínový dvojliter Skyactiv-G, bez žiadneho typu prepĺňania, vydávajúci výkon 150 koní pri 6000ot/min. a krútiacim momentom 213Nm dostupným po hodnotu 4000ot/min. Nie na prvý pohľad alebo pocit poznateľným faktom je využitie M(ild) Hybrid technológie. To znamená, že auto je vybavené menšou druhou batériou pod zadnými sedadlami, ktorá sa počas jazdy dobíja brzdením pomocou integorvaného štartér/generátora (ISG).
Táto uložená energia je následne využitá na napájanie všetkých elektrických systémov vozidla. Pohonné ústrojenstvo posiela výkon na všetky štyri kolesá a v tomto prípade je spárované so 6-stupňovou manuálnou prevodovkou (k dispozícii je aj 6-stupňový automat).
---
Zrýchlenie a maximálna rýchlosť
Mazda CX-30 zrýchli so svojou 150 koňovou atmosférou na stovku za 9.1sek. Výsledok nie ohurujúci, na väčšinu jazdných situácií však dostatočný. Bytím atmosférou je priebeh výkonu pochopiteľne rovnomerný, na rozdiel od prepĺňaných vozidiel. Od motoru cítiť, že má rád otáčky, v ktorých môže naplno využiť všetok svoj výkon.
Predbiehanie najmä s naloženým autom preto vyžaduje hodenie si ho do správneho stupňa. Motor je taktiež veľmi kultivovaný, a má hlbší, menej výrazný zvukový prejav. Poháňacia jednotka je vybavená systémom vypínania dvoch krajných valcov pri nižšej záťaži.
V praxi treba vzniesť v kritiku na odpojenie valcov aj pri zľahčení nohy na diaľnici z dôvodu premávky pred sebou. Keď sa priestor zase otvorí motoru chvíľu trvá, kým sa spamätá a valce pripojí naspäť. Maximálna rýchlosť podľa papierov činí 195km/h, my sme však dosiahli rýchlosť o 15km/h vyššiu.
---
Jazdné vlastnosti
Mazdu CX-30 možno zaradiť za jeden zo šoférsky najprívetivejších crossoverov súčasnosti. Kombinuje naozaj pevné šasi, s hravým podvozkom, priamym a pevným riadením s naozaj príkladnou manuálnou prevodovkou. Kotúčové brzdy na oboch nápravách majú vzadu väčší rozmer disku 303mm/295mm, čo tiež do istej miery prispieva k vyváženiu pri brzdení.
Vodič má v CX-30 pocit prepojenia s autom, ktoré len zosilňuje manuálna prevodovka s krátkou, do dlane padnúcou radiacou pákou a krátkymi, presnými, pocitovo príjemne mechanickými dráhami. Riadenie je na crossover tuhosťou vyladené úplne chutne, je cezeň možno precítiť všetky potrebné informácie, ktoré šofér potrebuje.
Podvozok je hravý. Kým pohon všetkých kolies poskytuje v zakrutách výraznú podporu priľnavosti, podvozok drží naozaj pekne v súlade s povrchom cesty. Pri prehnaní prejazdovej rýchlosti na seba upozorní veľmi jemným ustrelením zadočku.
Brzdy sú také aké majú byť, silné, pocitovo výborné a aj tvrdé brzdenie nedokáže auto rozhodiť. Pri jazde na nekvalitnom povrchu možno pocítiť, že CX-30 má oproti konkurencii podvozok, aj karosériu rigidnejšiu, nie je to však nič, čo by výrazne narušovalo jazdné pohodlie.
---
Spotreba a obutie
Mazda udáva kombinovanú spotrebu 6.8l/100km. Počas testu sme však dokázali jazdiť v priemere za menej, 6.1l/100km. Diaľnica si vypýta 7.5l/100km a na cestách prvej triedy výletným predpisovým tempom vie spotreba klesnúť ku 5l/100km. Dosiahnuté výsledky sú vzhľadom na absenciu akéhokoľvek prepĺňania veľmi dobré. Motor 2.0 Skyactiv-G vypustí do ovzdušia 121g/km CO2.
Čo sa týka obutia, naša Mazda bola obutá na zimných pneumatikách Nokian WR SUV4 s rozmerom 215/55 R18. V letných mesiacoch auto obúva Nokian Wetproof SUV. Osobne by sme však vzhľadom na charakter a ponúkaný pocit z jazdy obuli vozidlo do športovejších touring plášťov Michelin Pilot Sport 4, respektíve ich konkurencie. Kľudne aj s rozmerom 215/40 ZR18, ktorý by ešte viac podpisoval chuťovo vycibrené nastavenie auta vzhľadom na to, že je crossover a umocňoval tak zážitok z jazdy.
---
Priestor, interiér a výbava
Priestor pre zadných pasažierov dostatočný, aj vysoké osoby sa s trochou uskromnenia v oblasti kolien vzadu pohodlne usadia. V strednom operadle je integrovaná výsuvná lakťová opierka s držiakmi na poháre. Vzadu však absentujú akékoľvek konektory USB pro možnosť dobitia multimediálnych zariadení zadných pasažierov
Kufor ponúka v základnom usporiadaní objem 430 litrov, jeho sklopením narastie na 1406 litrov. Pod jeho podlahou sa nachádza rezervné koleso, a subwoofer Bose. Poteší tiež elektrické ovládanie piatych dverí aj z miesta vodiča, ktoré je rýchlosťou podobné tomu od koncernu VW.
Posed za volantom je výborný a na pomery SUV si možno sedadlo nastaviť naozaj nízko. Sedadlá sú dobre tvarované. V zákrutách dokážu telo podržať, sú tiež dosť pohodlné a s 3 stupňami vyhrievania. Volant patrí k tučnejším, jeho dizajn, tvar a kvalita zošitia kože však pôsobí naozaj prémiovo. Ovládacie prvky na ňom sú z kovu a veľmi intuitívne rozmiestnené. Volant je taktiež vyhrievaný, čo sme najmä v studenom počasí skutočne ocenili.
Interiér je rozdelený masívnou stredovou konzolou s rozľahlou lakťovou opierkou, pod ktorou sa ukrýva plytší no podobne rozľahlý priestor s organizérom 12V zásuvkou, aj vstupmi USB-C. Pred opierkou sa nachádzajú dva otočné ovládače. Väčší pre infotainment, menší pre hudobný multimediálny obsah. Za toto už dlhšie využívané riešenie má u nás Mazda palec hore. Pôsobí prémiovejšie, je intuitívnejšie, bezpečnejšie a aj obrazovka zostane čistá, na rozdiel od konkurenčných vozidiel koncernu VW napríklad.
Samotný dizajn aj zhotovenie prístrojovej dosky je výborné. Stúpajúca línia od spolujazdca k vodičovi navodzuje typicky japonskú siluetu, keďže displej jemne vykúka spoza línie (podobne ako slnko spoza horizontu). Páčila sa nám kombinácia modrej koženky, na miestach kde si šofér opiera kolená aj viac zmäkčenej s mäkkými plastami. Zhotovenie pôsobí solídne a kvalitne, kvalitnejšie ako niektorí nemci. K absolútnemu pocitu prémiovosti nám však chýbalo absentujúce ambientné podsvietenie interiéru, ktoré tu nebolo okrem podsvietenia priestoru na nohy chladnou bielou v žiadnej inej podobe.
Výbava taktiež zahŕňala head-up displej pred vodičom, adaptívny tempomat, alebo príplatkovú audiosústavu Bose, ktorá znela skvele. Chýbať nesmie kompletná ponuka asistenčných systémov, ktoré zbytočne nezasahujú do jazdy, naopak jemne upozorňujú na jednotlivé aspekty/chyby.
---
Cena, príplatky a rivali
Testovaná Mazda CX-30 vyjde na 33 tisíc eur, aj s adaptívnymi LED svetlometmi. Za nádhernú červenú Soul Red metalízu sa pripláca 775 eur. Nášmu autu chýbalo len elektricky ovládané strešné okno za príplatok 800 eur a podsvietenie nápisu CX-30 na nástupných lištách prahov, ktoré vyjde 479 eur.
Medzi hlavných konkurentov radíme najmä Toyotu C-HR s novým hybridom o výkone 184 koní, ako aj Subaru XV e-Boxer. Všetky autá ponúkajú podobnú výbavu za podobne blízku cenovku.
Z európskych radov CX-30 kunkurujú v podobnej konfigurácii Audi Q2 za okolo 40 000 eur, BMW X2 sDrive 18i s výkonom 136 koní a manuálom za 49 629 eur. VW T-Roc za 31 090 eur. Všetky len s pohonom predných kolies.
Mazda CX-30 je auto, ktoré nás jednoznačne zaujalo svojim vzhľadom, prémiovým pocitom vnútri, no najviac veľmi sympatickými šoférskymi vlastnosťami, ktorými sa môže rovnať aj prémiovým značkám, zároveň je však výhodnejšia. Kto teda hľadá crossover, Mazda CX-30 by mala byť jednou z hlavných volieb.
Svoju Mazdu CX-30 si zostavte tu:
Konfigurátor vozidla Mazda | Mazda Slovensko