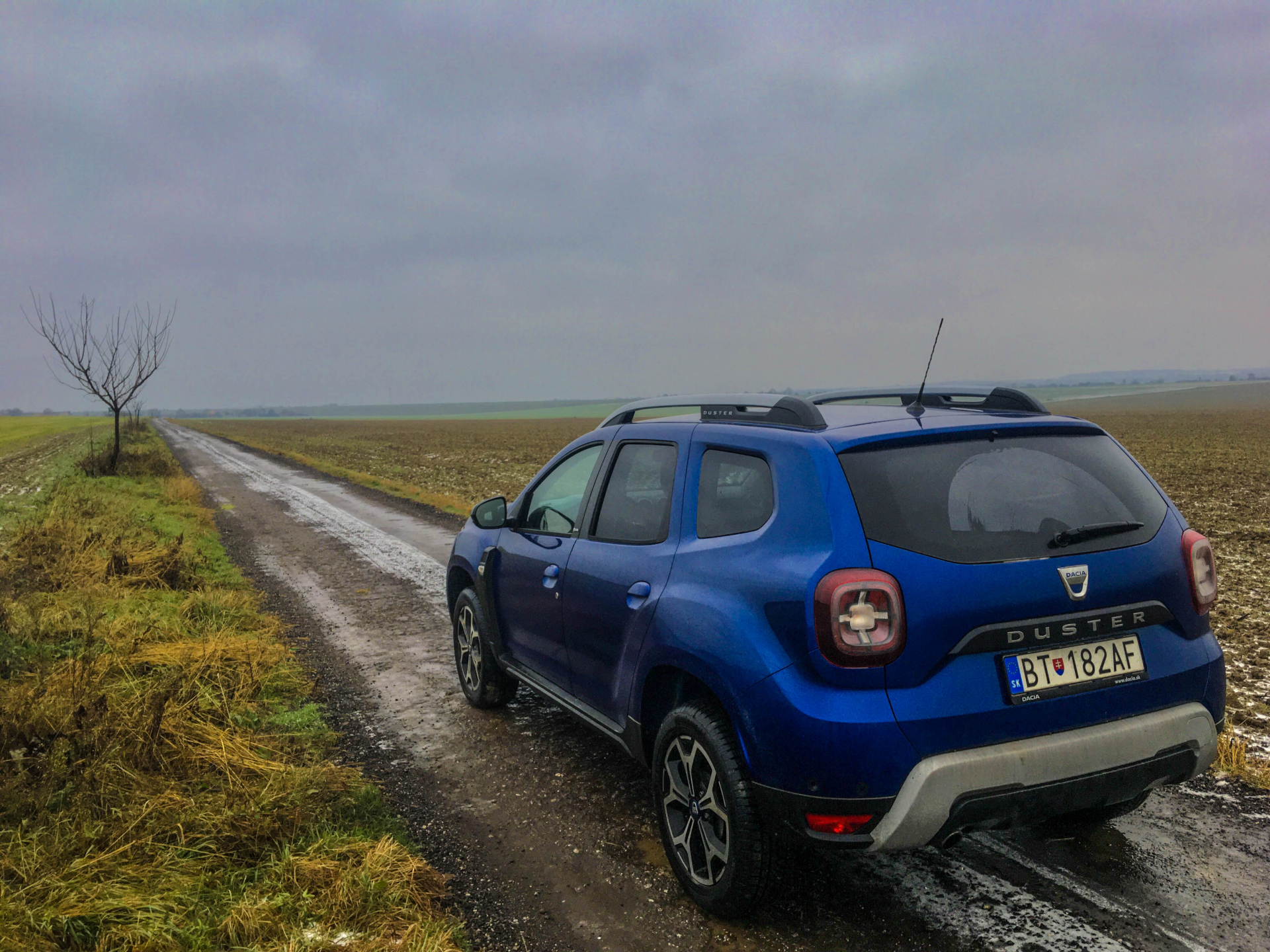 "Nový základný motor je citeľným zlepšením, aj v oblasti spotreby, no najmä dynamiky."

---
UPSHIFT RATING: 6.5/10
+ Neporovnateľný pomer cena/úžitok a nový motor poskytujúci lepšiu dynamiku aj spotrebu, dostatočné jazdné vlastnosti
– Pocit zhotovenia v interiéri zodpovedajúci výrazne nižšej cene, bez 4×4
---
Dacia Duster si získava už dlhodobo srdcia ľudí, ktorí hľadajú výhodnú kúpu a praktickosť. Jej silnými zbraňami je fakt, že naozaj veľa nestojí, pri tejto cene ponúka výbornú praktickosť, potrebnú výbavu, s pohonom všetkých kolies prejde v teréne to čo aj výrazne drahšie SUV a vo svojej druhej generácii treba povedať, že ani zle nevyzerá. To sú dôvody prečo sa predáva tak dobre. Nový základný motor 1.0TCe je náhradou za 1.6SCe.
---
Motor, prevodovka a dynamika
Testovaná Dacia Duster bola poháňaná 1.0-litrovým turbom prepĺňaným trojvalcom, ktorý produkuje výkon 100k a krútiaci moment 160Nm. Tento motor je priamou náhradou za atmosférický agregát 1.6SCe. Čísla hovoria o strate jedného valca, 15k a 4Nm v neprospech novej jednotky. Podľa oficiálnych údajov zrýchli Duster s novým motorom na stovku za 12.5s a jeho maximálna rýchlosť je 185km/h.
Charakteristika motora je v nižších otáčkach drsnejšia, pretože do 2000ot/min. sprevádzajú jazdu jemné otrasy. Jeho odozva na stlačenie akcelerátoru mala však dostatočne rýchlu odozvu, s minimálnou turbodierou pri nástupe. S rastúcimi otáčkami motor ožíval, čo pre auto znamená bezpečnejšie predbiehanie. V porovnaní s predošlým motorom zažila dynamika vďaka prepĺňaniu progres.
Trojvalec 1.0TCe má inak veľmi tichý a kultivovaný chod, aj vo vysokých otáčkach motor nie je hlučný, a samozrejmosťou je doprovod trojvalcového (ne)symfonického prejavu. V kabíne si možno stlačením tlačidla na stredovom paneli zvoliť aj režim jazdy Eco. Ten citeľne obmedzí jazdnú dynamiku, no veľký prínos v zlepšení spotreby nepriniesol, preto sa viac oplatí nechať ho vypnutý. Prijateľnej dynamike testovaného Dustera hrá v prospech aj jeho relatívne nízka váha, 1243 kilogramov
Prevodovkou je päť-stupňový manuál s kratším/terénneším prevodovým pomerom prvého stupňa, aj celkové sprevodovanie má však kratší charakter, pre lepšie využitie výkonu. V praxi je úplne v poriadku rozbiehať sa s autom na druhom prevodovom stupni. Pri spojke v zábere sa zvýšia voľnobežné otáčky, ktoré taktiež pomáhajú v rozjazdoch. Samotné radenie má primerane krátke dráhy, s mechanickým pocitom. V samotnej hladkosti jazdy pri radení možno poukázať na naladenie spojky, ktorá pri preraďovaní v rozmedzí 2000-2300ot. neodpúšťa jej rýchlejšie spustenie a s autom jemne húpne.
Kombinácia týchto faktorov spôsobuje, že aj napriek hranatejším proporciám je spotreba uspokojujúca, a vďaka prepĺňaniu výrazne lepšia, ako pri predošlej motorizácii. Na zimných cestách s pneumatikami Continental WinterContact TS860 sme zaznamenali najnižšiu spotrebu v meste 4.3l/100km, na okreske 4.9l/100km, diaľničné tempo v protivetre ukázalo 6.9l/100km. Priemer medzi 6.5 – 7l/100km pri väčšom ponáhľaní aj v meste je však dobrým výsledkom.
---
Ako jazdí?
Dacia Duster má podvozok skladajúci sa z prednej nápravy typu McPherson s vinutými pružinami a stabilizátorom. Zadná náprava pozostáva z nezávislých krížnych ramien s vinutými pružinami. Testované vozidlo stojí na 16-palcových kolesách s pneumatikami Continental WinterContact TS860. Táto kombinácia v Dusteri funguje poctivo. Z auta je na ceste cítiť istú ľahkosť. Podvozok nie je vyslovene pohodlný, o tom čo sa deje na ceste dá vedieť. Z auta je cítiť aj dostatočnú štrukturálnu tuhosť. Zadná náprava má vďaka jednoduchšiemu zloženiu tendenciu si na hranách pri prejazde mokrých zákrut jemne odskočiť, toto odskočenie však nie je zlé.
Riadenie nám prišlo vybavené istým stupňom progresívnej zmeny. Pri vyšších rýchlostiach bolo tuhšie, síce priemerne ostré v reakciách, pri parkovaní sa však stalo výrazne ľahším, túto ľahkosť možno prirovnať tej, akú majú vozidlá od Peugeotu.
Predné brzdy sú kotúčové, vetrané, kým vzadu je Duster vybavený bubnovými brzdami. Brzdná sústava je vzhľadom na váhu auta ešte dostatočná, samozrejme zlepšenie v podobe minimálne väčších predných kotúčov by bolo prospešné. Pocit cez brzdový pedál je v dobrý, brzdenie nie je kúsavé a dá sa pekne priebežne dávkovať.
---
Interiér
Vnútro je hlavne praktickosti. Preto sa tu nachádzajú zväčša tvrdšie plasty, jednoduchý infotainment aj s funkčným Apple CarPlay (žiaľ nie AndroidAuto), lacnejšie pôsobiacim displejom od LG, aj vstupom Aux.
Páčil sa nám hrubší, štvroramenný volant. Sedadlá sú v poriadku, vybavené aj bedrovou opiekou, ktorú si možno prifúknuť otočným ovládačom na lakťovej opierke. Silnou devízou je aj priestor za vzadu, ktorý je na cenové pomery viac ako postačujúci.
Vytkli by sme snáď absenciu akýchkoľvek USB konektorov pre zadných pasažierov, jedinou možnosťou na nabíjanie je vpravo, medzi kufrom a operadlom umiestnená 12V zásuvka. Obdobne dobre ako sedenie vzadu je na tom aj veľkosť kufra so 478 dostupnými litrami a širokým nakladacím otvorom.
---
Cena a rivali
Dacia Duster je celkovo známa najmä preto, že za cenu, ktorú si za ňu výrobca pýta, takmer žiaden z konkurentov neponúka podobnú úroveň praktickosti a pri pohone 4X4 aj terénnych schopností. Nami testovaný model vo výbave 15th Celebration s automatickou klimatizáciou, vyhrievanými prednými sedadlami aj systémom sledovania mŕtveho uhla stojí 15 980 eur.
Snáď jediným konkurentom je Suzuki Vitara, aj tá je však už svojou základnou cenovkou o viac ako 1000 eur drahšia v porovnaní s testovaným Dusterom.
Svoj Duster si môžete nakonfigurovať tu:
Konfigurátor | Duster | Dacia Slovensko