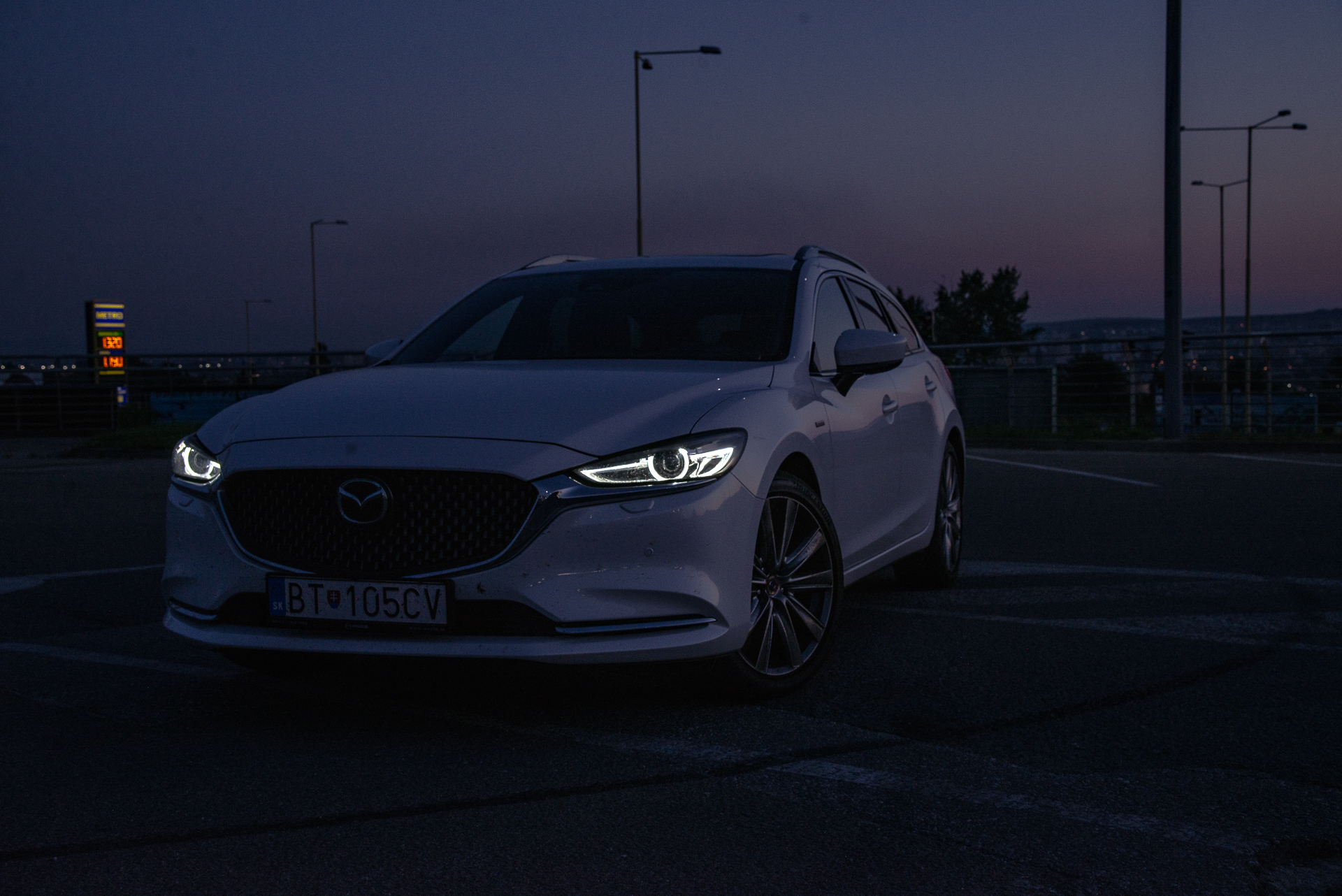 Mazda 6 s 2.5 litrovým štvorvalcom miluje otáčky a aj napriek zameraniu na rodinu je stále šoférsky zábavná.
UPSHIFTER RATING: 8.5/10
+ jazdne zábavný podvozok, energetické pohonné ústrojenstvo, sofistikovaný dizajn a pôsobivý interiér
– na rodinné auto je jazda na 19 palcových kolesách už trochu nekomfortná, starší infotainment poukazujúci na vek vozidla, kvôli žiadnemu prepĺňaniu v nižších a stredných otáčkach neťahá tak ako motory s turbom
Mazda 6 je s nami vo viac menej známej podobe už nejaký čas. Tento rodinný diaľničný koráb sme si mali možnosť vyskúšať s vrcholným 2.5 litrovým benzínovým štvorvalcom, bez akejkoľvek pomoci turboduchadla či kompresoru, tak ako je to pri Mazde zvykom. Posledný facelift sa vyznačuje najmä chrómovým prepojením predných aj zadných svetiel. Predné svetlá majú okrem toho aj štíhlejší dizajn a prísnejší pohľad v noci.
Motor, prevodovka a dynamika
Pod kapotou je teda "2 a polka" atmosféra pracujúca na vysokom kompresnom pomere 13:1 a vybavená 16 ventilovou technikou. Tento motor na cestu prenáša výkon 194 koní (pri 6000 ot.) a 258 Nm krútiaceho momentu vrcholiace pri 4000 ot.min. Týmto výkonom je poháňaná predná náprava cez 6 stupňovú prevodovku s meničom krútiaceho momentu skonštruovanú v rámci značky.
Šestka s týmito hodnotami zrýchli na 100 km/h za 8.1 sekundy a maximálne je možné s ňou jazdiť 223 km/h. Podobné hodnoty v rámci triedy dosahuje Peugeot 508 SW s 1.6 PureTech alebo Škoda Superb s 2.0 TDI (200 koní s DSG). Motor sa pochopiteľne prebúdza ako typická atmosféra s rastúcimi otáčkami. Z toho dôvodu je najmä pri plne naloženom aute potreba zatlačiť pedál hlbšie aby si auto podradilo a potiahlo, ale aj jazda v nízkych otáčkach postačuje na pohodlný flow s premávkou. Výraznejšie sa preberá k životu pri 4200 otáčkach a chuť zlepšovať sa graduje až po vrchol pri 6000 otáčkach.
Podvozok a pneumatiky
Podvozokovo je Mazda vybavená v tejto triede zvyčajným zavesením McPherson a stabilizátorom vpredu, zadná náprava zase využíva Multilink so stabilizátorom. Tlmiče sú pasívne. Auto jazdí na 19 palcových diskoch kolies s rozmerom pneumatík 225/45 R19. Použitými boli v tomto prípade Bridgestone Turanza T005, ktoré treba okamžite vyhodiť a vymeniť za Michelin Pilot Sport 4 alebo Continental PremiumContact 6, a keď už Bridgestone, tak aspoň Potenza S001. Okrem toho by sa autu viac hodili menšie 18 palcové disky kolies, 19 ky pôsobili už ťažkopádne, keďže sa jedná o vyššiu neodpruženú hmotnosť a rázy do karosérie bolo výraznejšie cítiť, čo by pri komfortom rodinnom aute nemalo byť.
Mazda 6 Wagon je s váhou 1552 kilogramov vlastne veľmi ľahkým autom, keď si vezmeme, koľko vážia plug-in hybridné vozidlá či aj konkurencia (napríklad Superb Combi vo vyššej výbave). Pre zastavovanie má Mazda 6 vnútorne vetrané brzdové kotúče veľkosti 297 mm vpredu a klasické plné 278 mm kotúče vzadu. Brzdový pedál je pôsobí prirodzene a dostatočne ostro aj pre športovú jazdu.
Jazda a ovládanie
Šoférovali ste nedávno stredne veľké SUV? Tie lepšie ako Seat Ateca alebo Mazda CX-5 by Vás prekvapili ako blízko majú jazdou "autu". No stačí zvezenie s Mazdou 6 a zistíte, že tieto vysoké "krabice" majú ešte ďalekú cestu pred sebou, aby dosiahli jazdnú dynamiku niečoho ako je Mazda 6. Posed je veľmi dôležitý pre jazdný zážitok. Ten v Mazde 6 je rovnaký ako pri konkurencii, no tým pádom je stále o trochu vyšší, ako by sme si priali, sedí sa akoby nad palubnou doskou. No na pomery rodinného auta je fajn, pohodlné no zároveň tuhé sú aj sedadlá a človek sa v Mazde veľmi rýchlo aklimatizuje. Naplní človeka sebavedomím z vlastností vozidla. Jazda je celkovo pohodlná aj napriek 19 palcovým diskom, ktoré síce na skutočne výrazných jamách vedia udrieť, a navodzujú dojem, že by to chcelo menšie 18ky. Pridajte však plyn a zobudí sa ľahké no presné riadenie, ktoré má na túto kategóriu vozidla aj výbornú spätnú odozvu
Samozrejme, typický vodič Mazdy 6 alebo jej konkurentov na auto takto tlačiť nebude, a ani ho s veľkou pravdepodobnosťou nevezme na okruh, aby hľadal jej absolútny limit, ale pocit, že Mazda 6 sa aj pri vysokej jazdnej dynamike neroztriasa v základoch, no skôr práve naopak ukazuje aký skvelý podvozok Mazda má. Skúste sa podobne dynamicky prebehnúť v SUV-čkach spomenutých vyššie a skončíte buď v krajine zásahov asistenčných systémov, alebo v tom horšom prípade, na streche…
Ak existuje racionálny dôvod prečo nahradiť takýto skvelý kombík SUV-čkom, ešte sme ho nenašli. Mazda 6 Kombi je fantastickým úkazom priestranného auta, ktoré je často neprávom prehliadané. No keďže ľudia dnes obľubujú veľkosť, ako znak úspechu alebo moci, možno na parkovisku, v premávke alebo keďže je to rodinné auto, pred školou nevyzerá tak "silno" ako SUV. Ale reálne, záleží na tom? Podľa nás nie.
Spotreba
Benzínové agregáty možno nemajú na papieri výborné hodnoty a motory s turbom bývajú od týchto hodnôt častokrát vzdialené. Tu má navrch atmosféra Mazdy, pretože atmosféry sú vždy prirodzene bližšie číslam výrobcov, pretože je pri nich menej faktorov, ktoré by zvyšovali rozdiely spotrieb pri ťažkej ale ľahšej záťaži. My sme priemerne jazdili za 6.9 l/100 km. Cesta do Košíc svižným tempom zaznamenala 7.6 l/100km.
Priestor
Mazda 6 disponuje vzadu veľkorysým miestom pre pasažierov. Nájdu sa však aj ešte priestrannejší konkurenti, čo sa miesta na kolená týka. Zadný pasažieri majú k dispozícii výduchy klimatizácie, aj stredovú sklápateľnú lakťovú opierku, v ktorej je umiestnené ovládanie vyhrievania zadných sedadiel aj plochý odkladací priestor s dvojicou USB konektorov. Sklon operadla aj tuhosť sedadiel sú výborné na dlhé cesty.
Rodinný kombík by mal mať poriadny kufor, a ten Mazde 6 Wagon nechýba. Jeho objem v záklaadnom usporiadaní je 522 litrov, čo je veľa. Po sklopení zadných operadiel jednoduchým potiahnutím tiahiel poruke narastie na 1664 litrov.
Interiér a výbava
Jednou z "výhod" nebyť prémiovým výrobcom je je mať viac menej funkčný interiér, to však dnes už tak neplatí ako pri pohľade na Mazdu, tak aj pri niektorých ďalších konkurentoch. Palubnej doske dominuje masívny pás béžovej kože alebo jej veľmi blízkej napodobeniny. Pod týmto prémiovejším detailom je štíhle a prehľadné ovládanie klimatizácie. Interiér Mazdy vyzerá aj vďaka dizajnovému jazyku Kodo odlišne a originálnejšie ako u konkurencie.
Stredový displej je veľký 8 palcov, jeho súčasťou je starší systém infotainmentu ako majú nové modely Mazdy, takže možno je jediným prvkom, ktorý ukazuje vek 6ky. Stále však podporuje aj Apple CarPlay a je ovládaný dvojicou otočných ovládačov na stredovej konzole. Toto je v rámci neprémiových vozidiel práve tým prémiovým faktorom, ktorý Mazdu v tomto oddeľuje od konkurencie, pretože ovládanie počas jazdy je výrazne menej otravné a zároveň aj bezpečnejšie. Malý digitálny displej je aj súčasťou prístrojového štítu popri analógových budíkoch. Chýbať nesmie ani kvalitný a jednoduchý head-up displej.
Interiér Mazdy je jednoduchý a krásny so žiadnymi zbytočnými cingrlátkami, ktoré po chvíli omrzia. Vo verzii 100 Years sa nám tiež páčila kombinácia béžovej s vínovo červenými kobercami či inými koženými miestami. Skutočne krásne miesto na trávenie času.
Cena a konkurenti
Kým Mazda sa stále viac približuje prémiovosti (čo je možno do budúcna aj ich cieľ), ceny zostávajú stále prijateľné. Testovaný kúsok v edícii 100 Years aj s klimatizovanými sedadlami, vyhrievanými sedadlami vzadu, či strešným oknom vyjde len na niečo cez 41 000 EUR, čo je pri plnke skvelé.
Aj napriek postupnému úpadku tejto triedy vozidiel, má Mazda 6 stále kopu konkurentov. Ford Mondeo, Opel Insignia majú veľa miesta vnútri a sú za takmer podobne výhodné peniaze, ale oboje majú svoje chyby. Opomenúť sa nedá Volkswagen Passat, ktorý je rozumným autom so širokou paletou pohonných ústrojenstiev. Má však sterilný dizajn. U nás obľúbená Škoda Superb zastáva post väčšieho a dostupnejšieho Passatu, čo aj spĺňa.
Zaujímavým konkurentom je však Peugeot 508 SW s dramatickým a do očí bijúcim dizajnom (vnútri aj vonku) s aktuálnymi technológiami aj veľmi slušným spracovaním. Ale jeho tlačenie sa do prémiovej triedy znamená aj vyššiu cenovku. Stále však zostáva veľmi silným konkurentom. A potom je tu druhý Francúz v podobe Renault Talisman. Ten má elegantný dizajn, dostupný je už len so 190 koňovým dieselom a s cenou 48 460 EUR.
Netreba však zabudnúť aj na prémiové BMW 3, Audi A4 a Mercedes-Benz C-class, ktoré síce ponúkajú menej miesta a v štandarde ponúkajú menej výbavy a majú vysokú štartovaciu cenovku, ale často stoja z dlhodobého hľadiska takmer rovnako vďaka vyššej cene v prípade predaja ojazdeného vozidla.
Na konci dňa však vychádza, že práve Mazda je z neprémiových rodinných kombíkov autom s najlepším pomerom ceny a úžitku. A nielen to, skvelo vyzerá, skvelo jazdí. Je skutočne "Škoda", že ľudia uprednostia Superb alebo stredne veľké SUV pred Mazdou 6…