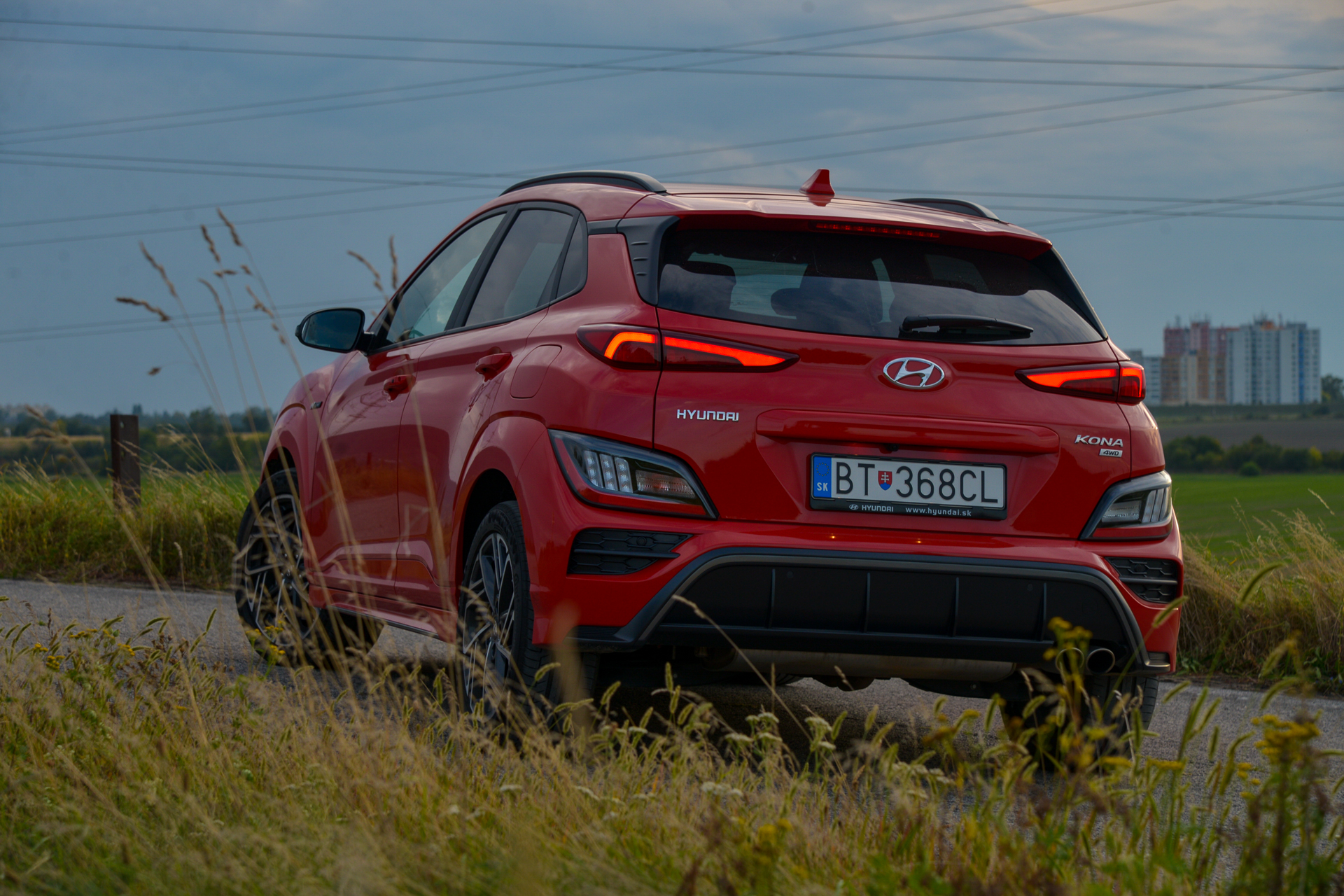 Hyundai Kona N Line je akousi predohrou ostrého N-ka. S pohonom všetkých kolies sa však cíti ísť aj mimo cestu.
UPSHIFTER RATING: 7/10
+ výbava, štrukturálna tuhosť, priľnavosť,v otáčkach ťahá pekne, cena, kombinácia športovosti aj s ochotou prejsť terénom vďaka uzávierke či asistentu zjazdu z kopca
– slabá spätná väzba od riadenia a podvozku , prevodovka so pomalou odozvou
Hyundai Kona je obľúbený malý crossover, založený na šasi i30. Vo výbave N Line+ by ho viacerí označili za predohru ostrého N-ka. Pravdou je, že N Line+ najmä s pohonom všetkých kolies nechce byť len dynamický, ale pripravený na všetky situácie, aj tie mimo spevneného povrchu. Poďme si rozobrať jeho svetlé aj nie tak svetlé stránky.
Motor, prevodovka a zrýchlenie
Pod kapotou nachádzame agregár 1.6 Turbo-GDI, ktorý je v princípe totožný s tým, ktorý je v novom i20N. V tomto prípade však disponuje trochu nižším výkonom na úrovni 195 koní (pri 6000 otáčkach) a 264 Nm (1500-4500 otáčkach). Spojený je so 7 stupňovou prevodovkou DCT a pohonom všetkých kolies. S týmito hodnotami zrýchli na stovku za 8.1 sekundy a maximálna rýchlosť je 210 km/h. Dosiahnutá priemerná spotreba na úrovni 8.4 l/100km bola vcelku vysoká. Pri veľmi kľudnom večernom jazdení sa dá dosiahnuť aj 6, pri jazdení v premávke to však zvyčajne možné nie je.
Prevodovka Kony N Line je jej hlavnou Achillovou pätou. Kým jej odstupňovanie je slušné (pri 130 km/h točí 2400 otáčok) jej odozva a prebudenosť nie. Pomalé sú kickdowny pri predbiehaní, kedy autu trvá tak 2.5 sekundy medzi zošliapnutím plynu a samotným rozbehnutím auta. Okrem toho pri žošliapnutí akcelerátoru na podlahu v niektorých situáciách podradí zbytočne nízko, čo bráni ideálnej akcelerácii. Medzi jednotlivými prevodmi radí hladko a aj vcelku rýchlo, skúste si však podradiť o viac ako jeden, alebo si nadradiť pri vypustení z tempa na vyšší prevod a uvidíte, že rýchla jednoznačne nie je.
Okrem toho je auto pri zrýchlení zo stoja limitované nízkymi otáčkami na ktoré si možno auto pripraviť, len 2000 ot./min. A síce motor má mať papierovo dostupných 264 Nm už od 1500 otáčok, z našej skúsenosti sa pri zrýchlení výrazne prebral až pri 2600 otáčkach. Preto zrýchlenie zo stoja nevyzerá vôbec dramaticky. Samotný motor je však dobrý. Keď je v ideálnych otáčkach, pôsobí skutočne živo, svižne, predbiehať je s ním radosť. A síce nemá výfuk ako pravé N-ko, jeho zvukový prejav, ktorý prúdi z dvojice koncoviek na pravej strane auta neurazí.
Podvozok, pneumatiky a brzdy
Hyundai Kona je, čo sa podvozku týka založená na kompakte i30. To znamená zavesenie McPherson so stabilizátorom vpredu a Multilink so stabilizátorom vzadu. Tlmiče sú pasívne a auto jazdí na 18 palcových kolesách s pneumatikami 235/45 R18, konkrétne boli obuté Continental PremiumContact 6, ktoré sú skvelé a dodávajú autu aj šoférovi sebavedomie. Výbornou voľbou sú aj Michelin Pilot Sport 4, ktoré sú celkovo ešte lepšími pneumatikami ako Continentaly. Čo sa brzdnej sústavy týka, na zastavenie 1470 kilogramov ťažkého auta slúžia predné ventilované kotúče veľkosti 305 mm vpredu a plné zadné 284 mm kotúče.
Jazda a ovládanie
Z jazdy sme mali zmiešané pocity. Auto je športovo tvrdé, čo by nám pri jeho chcení byť športovejšou verziou nevadilo. Lenže podvozok cez túto svoju tvrdosť posiela vodičovi len minimum informácií cez volant aj sedadlo. To znamená že vodič je istým spôsobom odpojený od esenciálneho prepojenia s autom, ktoré s ním komunikuje. Na druhej strane Kona ťaží z viacprvkového zavesenia vzadu. Prejazdy zákrut sú sebaisté. Kona disponuje ostrým predkom, vďaka pohonu všetkých kolies má v zákrutách veľa priľnavosti. Síce v niektorých výjazdoch sa ťahala jemne viac po predku. No to je pri pohone všetkých kolies uprednostňujúcim prednú nápravu prirodzené. Okrem toho sa nakláňa minimálne a ide z nej pocit výbornej štrukturálnej rigidity ako z prémiových vozidiel.
Inak nás iritovali asistenčné systémy, ktoré si je treba po každom naštartovaní auta prispôsobiť, aby každú chvíľu neupozorňovali, pretože sú veľmi "bojazlivé". Pekné by bolo si to raz nastaviť a nech to tak zostane uložené.
Riadenie je okrem nedostatočnej spätnej väzby ale vcelku priame, ostré a aj jeho tuhosť je slušná. Volant má dobrý tvar aj rozsah polohovania, a jeho kožený veniec je aj vyhrievaný, čo sa s pomalým príchodom chladných mesiacov nesmierne hodí. Pochváliť chceme aj sedadlá. Posed je podobný ako v autách tejto triedy, a sedadlá v kombinácii koža/semiš majú slušnú oporu vrchnej časti tela.
Kona je okrem otočného prepínača jazdných režimov vybavená aj funkciou 4WD Lock, ktorá je určená pre nespevnené povrchy. Okrem nej je naľavo od volantu ďalšia off-road funkcia, a to asistent zjazdu z kopca. Aj preto nám príde, že táto Kona chce byť všetkým. Na jednej strane rýchla a dynamická, na druhej chce, keď už má tvar a výšku SUV zvládnuť aj nejaký ten terén. Je to zvláštne spojenie dvoch svetov, na druhej strane ale prečo nie, niekedy sa to isto hodí.
Priestor, výbava, interiér
Po ukázaní stránok vozidla, ktoré by chceli zlepšenie však treba ukázať aj niekoľko veľkých pozitív. Tým prvým a nespochybniteľným je výbava. Kona má ako malý crossover vyhrievané aj klimatizované predné sedadlá. Vyhrievaný je aj zadný rad a to dvojstupňovo! Toto je skutočne niečo, čo nemajú ani jej prémioví konkurenti od BMW alebo Audi. A to sa nám veľmi páčilo. Okrem toho je vzadu miesta dostatok. Okrem vyhrievania je k dispozícii aj konektor na nabíjanie zariadenia či sklápateľná stredová lakťová opierka s dvojicou držiakov na poháre/fľašky. Kufor by mal podľa papierových informácií dosahovať objem 544 litrov. Pri pohľade naň aj nakladaní však tak veľký jednoznačne nepríde. V našom prípade nemal dvojité dno. Pod jeho dnom bolo miesto na rezervné koleso vyplnené len sadou na lepenie defektu a náradím.
Interiér, ktorému síce z veľkej časti dominujú tvrdé plasty zaujme kvalitnými displejmi, hlavným aj prístrojovým. Prístrojový štít ponúka trojicu zobrazení, tak ako jazdných módov. Teda Eco, Normal a Sport. Stredový displej má zase dizajnovo pekné a prehľadné prostredie. Oceniť musíme kvalitu cúvacej kamery, ktorá je prémiová a človek si ju vie spustiť aj počas jazdy, stlačením tlačidla na stredovom tuneli. Páčila sa nám aj možnosť rozdelenia obrazovky, takže vedľa spusteného Apple CarPlay môže byť spustená zároveň aj prednastavená ľubovoľná aplikácia. O zvuk sa stará audiosústava značky Krell, o ktorej sme doposiaľ nepočuli, no hrala veľmi slušne.
Zaujala aj funkcia "Zvuky prírody", ktorá cez reproduktory zahrá ľúbozvučné zvuky prírody na relax. Našimi obľúbenými boli chodenie po zasneženej krajine, upršaný deň či v krbe horiaci oheň. V športovejšie ladenom aute nám prišla znovu trochu mätúco, ale prečo nie, potešilo. Z technologických vychytávok sa nám páčil senzor prichádzajúcich vozidiel pri cúvaní, ktorý sa skutočne zíde. Okrem neho aj to, že nás auto upozornilo, keď sme mali niečo odložené na zadných sedadlách, aby sme si to nezabudli zobrať, chytré.
Ostatná výbava zahŕňa aj ďalšiu plejádu asistentov (mŕtvy uhol, aktívne brzdenie a ďalšie…). Chýbať nesmel ani adaptívny tempomat s ovládaním na volante, ten sme však nevyužili. Výborné boli aj adaptívne LED svetlomety s funkciou automatického tlmenia, ktoré fungovali spoľahlivo.
Dizajn auta jednoznačne nie je pre každého. Trvalo nám, kým sme si naň zvykli. A síce s prednou maskou stále nie sme stotožnení, pohľad zozadu na Konu sa nám zapáčil. Jedinou vecou, ktorú tejto verzii N Line možno vypichnúť sú niektoré fejkové bezúčelové plasty, ktoré majú navodzovať športovosť. Patria sem napríklad fejkový difúzor alebo plastová mriežka na zadnom nárazníku. Samozrejme Kona v tom nie je jediná, robia to takmer všetci.
Zhrnutie, cena a konkurenti
Hyundai Kona N Line s pohonom všetkých kolies chce byť autom pre všetko. Aj pre svižné jazdenie aj aby prešla nejaký terén, a za túto snahu ju treba oceniť. Vylepšiť by to chcelo najmä rýchlosť prevodovky a prepojenie auta s vodičom zvýšením toku spätnej väzby cez sedadlá aj volant. Pre viac každodenné ako vyslovené športové auto by sa mu hodilo aj trochu mäkkšie nastavenie tlmičov. V ostatných oblastiach, najmä čo sa výbavy za cenu týka je to skvelá ponuka.
Testovaná Kona N Line+ vyjde na cenníkových 32 130 EUR, s odpočítaním akčného bonusu 1500 EUR na 30 630 EUR. Ako konkurentov má s podobným výkonom len prémiových výrobcov. Sú to Audi Q2 40 TFSI S-Line, Mercedes-Benz GLA 250 alebo BMW X2 20i sDrive. No z tejto trojice je to najmä Audi, má quattro, podobný výkon190 koní a 7 stupňovú prevodovku. No v podobnej konfigurácii je tiež o 16 766 EUR, a pritom Audi nie je o 16 000 lepšie auto. Preto Kona N Line+ dáva zmysel. No tiež by sme najviac pravdepodobne už priplatili pár tisíc na skutočnú ostrú Konu N, tá ponúkne výrazne odlišný jazdný zážitok. Kto však chce aj pohon 4×4, má možnosť práve v tejto verzii.
Svoju Konu si nakonfigurujte tu:
https://www.hyundai.sk/konfigurator/2-123-0-0-0–0-0/
Foto: Redakcia