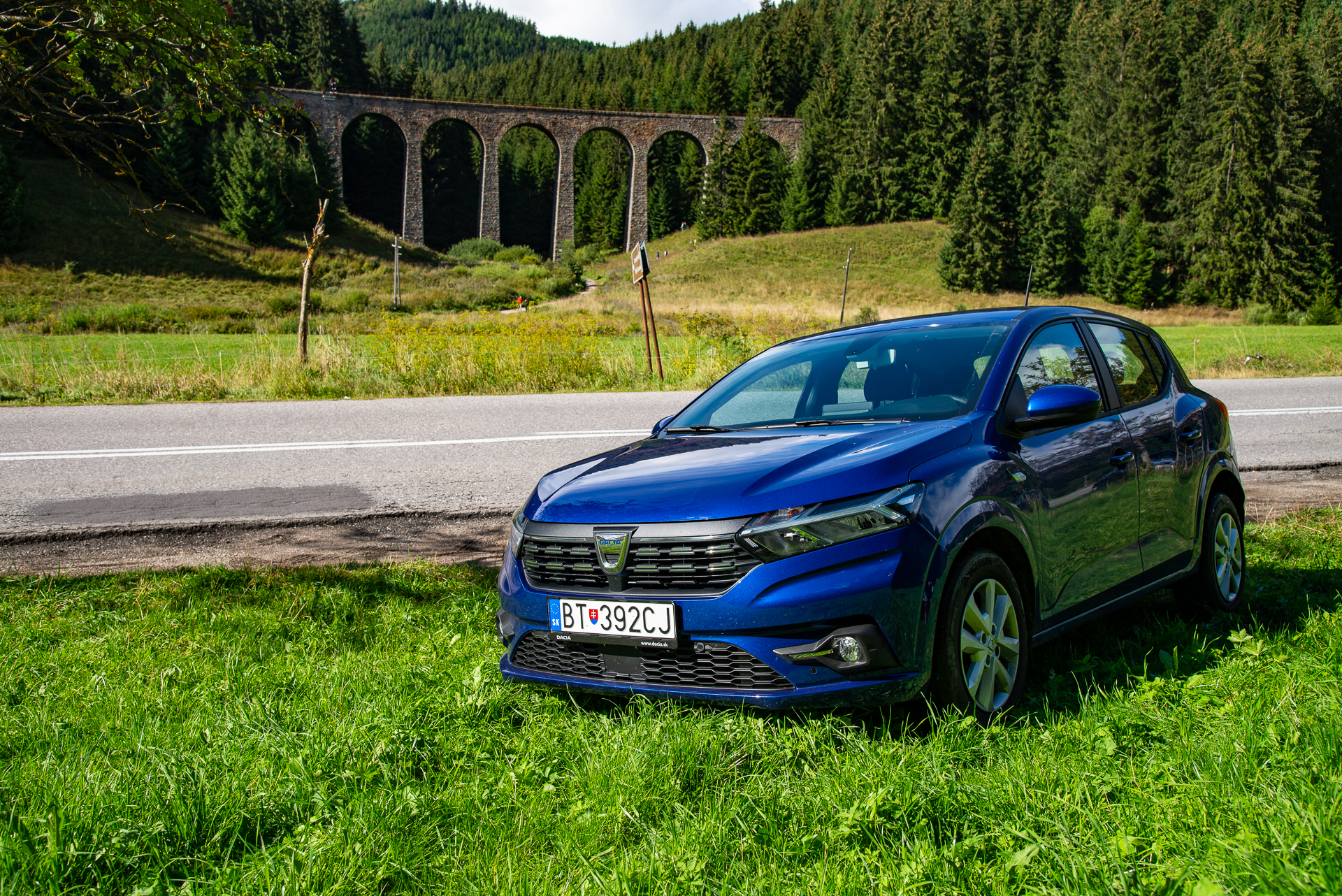 Dacia Sandero s motorom 1.0SCe zaujme najmä nízkou spotrebou, dostatkom miesta aj esenciálnou výbavou pre rok 2021. Okrem toho je jazda na nej zábavná vďaka kombinácii nízkeho výkonu a zábavného podvozku. Človek môže držať pedál na podlahe a nedostane pokutu. A to je pocit ako zo starých malých vozidiel, skvelé.
UPSHIFTER RATING: 7/10
+ zábavný podvozok, posed, dizajn, pomer cena/výbava
– výkonovo neponúkne pocit potešenia, no žiť aj zabaviť sa s ním dá
Aktuálne najpredávanejším autom Európy je DACIA SANDERO. Po zoznamke s vrcholnou verziou Stepway sme boli veeľmi zvedaví aj na opačný koniec spektra, a teda verziu so základným motorom 1.0 SCe. Pretože mestské vozidlá so základnými motormi boli väčšinou mimo svojej komfortnej zóny (viď: mesto) veľmi ukričané, a aj ich spotreba bola na diaľnici porovnateľná s väčšími, výkonnejšími autami. No ak si niekto takéto auto kúpi ako napríklad svoje prvé potrebuje kombináciu všetkého. A ako plus aj toho čo je najpotrebnejšie, radosť z jazdy. Tak sa poďme pozrieť na malé Sandero:
Motor, Prevodovka, Dynamika
Sandero SCe je poháňané trojvalcovým atmosférickým motorom. Ten ponúka výkon 67 koní (pri 6300 ot.) a 95 Nm (pri 3600 ot.) Vybavený je 12 ventilovou technikou a nepriamym vstrekom, čo je do mesta ideálne, pretože je tým pádom motor odolný na krátke, studené jazdy a netrpí karbonovaním ventilov. Pohonná jednotka je spojená s 5 stupňovou manuálnou prevodovkou, ktorá ma krátke sprevodovanie (na 100ke točí 3000 ot., pri 130 km/h 4000 ot.).
Auto s týmito hodnotami zrýchli na 100 km/h za pre niekoho bolestivých 16.7 sekundy a jeho maximálna rýchlosť je 158 km/h. Motor sa najlepšie cíti v rozmedzí 3400-4500 ot., radenie pri zvyčajných otáčkach však plne postačuje na pokojné mestské jazdenie, pre ktoré je motor SCe stvorený.
No problémom už preňho nie je ani diaľnica. Po zvukovej stránke je to veľký rozdiel, aj keď motor točí vysoké otáčky, do kabíny jeho rev výrazne nepreniká a preto je v tomto ohľade už použiteľný aj na dlhšie trasy. Čo samotnej jazdy na diaľnici týka, s autom sa dá pokojne udržovať aj dynamickejšie diaľničné tempo 150 km/h. No zanadávali by ste si, keď vás niekto zbrzdí pod 120 km/h, pretože opätovné zrýchľovanie z tejto rýchlosti malému Sanderu chvíľu potrvá. Problémy mu potom dokážu narobiť už len prudké diaľničné stúpania ako to pri Novej Bani smerom na Bratislavu, kde budete radi ak s plynom na podlahe udržíte s plným autom 120 km/h.
Čo sa spotreby týka, je to viac ako len dobré. Po meste sa dá jazdiť za 4.7 litra naturalu na 100 km. Mimo mesta sa dá tento údaj stlačiť aj pod 4 litre a diaľnica zaznamenala spotrebu 5.7 l/100 km. Nízka spotreba v kombinácii s 50 litrovou nádržou na malé auto znie presvedčivo.
Podvozok a Pneumatiky
Sandero stojí na platforme CMF, podobne ako aktuálne Clio, čo je v rámci modelovej rady no aj jazdných vlastností veľký pokrok vpred. Používa preto zavesenie McPherson so stabilizátorom vpredu a polo-nezávislé zavesenie so stabilizátorom vzadu. Jazdí na 15 palcových oceľových diskoch kolies s puklicami tváriacimi sa ako disk. Na nich sú obuté pneumatiky Bridgestone Turanza T005 s rozmerom 185/65 R15, na ktoré máme "to štastie" pri posledných 3 autách. Sú to pneumatiky dostupné ale zato aj žiadna sláva. Poskytujú len priemerné vlastnosti na suchu, no je to mokrý povrch na ktorom odhalia svoju nedostatočnosť. Aj ich dizajn samotný tomu už na prvý pohľad napovedá… Aj v prípade tejto ceny sa však dá kúpiť lepšie. Odporúčame Falken ZIEX ZE310 EcoRun alebo Michelin Primacy 4.
Pre maximalizáciu jazdných vlastností odporúčame poobzerať sa po prémiových Continental PremiumContact 6 v tomto alebo užšom profilovom rozmere, 185/55 R15. Najideálnejším riešením by bolo ale zväčšiť rozmer kolies (čo sa dá od výroby len pri vyšších výbavách) na 16 alebo 17 palcové. Ideálom by bol rozmer 205/45 R17. K tomuto rozmeru je si možné už kúpiť aj Michelin Pilot Sport 4, ktoré dokážu spraviť veľa aj pre takto malé a nevýkonné autíčko.
Komfort
Po stránke zvyčajného jazdenia je Sandero fajn. Problémová môže byť priľahká spojka, v ktorej je niekedy problém cítiť, kde má záber (no mohla byť aj "vykýchaná" od necitlivého zaobchádzania iných kolegov novinárov). Jazda je poväčšine vďaka hrubému profilu pneumatík vcelku pohodlná . Pri výraznejších výtlkoch však vie predná náprava slušne udrieť, a to práve vďaka malým kolesám, keďže do výltku ľahšie zapadnú (pri väčších diskoch u Stepway sa to nedialo). Aj preto ich odporúčame vymeniť za väčšie. Skúšali sme to už pri viacerých malých autách a táto výmena sa osvedčila.
Predbiehanie vyžaduje um vodiča, správne využitie otáčok aj dobrý rozbeh, ako za starých časov. Auto nemá veľa výkonu, no šikovný šofér si s ním aj zapredbieha. A vlastne tento nízky výkon tvorí staromódne zábavný jazdný zážitok. O ňom viac nižšie…
Jazdný zážitok
V minulosti bolo šoférovanie auta bližšie tomu čo u áut hľadáme, dôležitejší bol človek ako auto. To sa však dnes už zmenilo a vo väčšine prípadov chlapci šliapu na plyn na rovinkách a to je pre nich zážitok. Sandero však vďaka nízkemu výkonu a na dobu v ktorej žijeme aj relatívne nízku hmotnosť 1111 kilogramov dokáže svojim spôsobom pobaviť. Sandero pôsobí veľmi agilným a živým dojmom. Jeho podvozok, ktorý je v Cliu je až priveľmi sebaistý je tu v kombinácii s celkom úzkymi pneumatikami neposedný ako malý Bulldoček. Pri prudkých zmenách smeru hádže zadočkom a aj napriek pernamentne zapnutej stabilizačnej kontrole sme sa s ním v plnom tempe veľmi príjemne zabavili. Pôsobí ako motokára na veľkej trati, v ktorej možno držať plyn na podlahe takmer stále a ovládať ho len pekným hodením si do zákruty.
Riadenie je trochu nestále a preposilované. Niekedy posilňovač z ničoho nič stuží riadenie, inokedy je ľahšie. Je však celkom priame, a aj spätná väzba od kolies je dobrá. Na pomery z ktorých je poteší aj nečakane nízky posed či volant, ktorý je výškovo aj pozdĺžne nastaviteľný. Jediným komponentom, ktorý by sme zmenili bolo radenie. Dráhy boli relatívne krátke a aj ich synchronizácia nebola zlá. No bolo zbytočne príliš tuhé, čo vadí pri rýchlosti radenia. V malom aute to chce ľahkosť, aby bolo možné radiť rýchlo, teda takým spôsobom aby sa malý prcek dokázal na kľukatej ceste držať aj výkonnejších áut.
Priestor
Sedenie vzadu je u Dacie Sandero prekvapením. Aj vysokí pasažieri si nájdu miesto pre svoje nohy a zlé to nie je ani nad hlavou. V zadnom rade však okrem elektricky ovládaných okien, reproduktorov a odkladacieho miesta na fľašku chýbajú výduchy klimatizácie či konektory na nabíjanie. Kufor ponúka hlbokých a veľmi dobre dostupných 328 litrov, navonok však pôsobí aj ešte objemnejšie.
Interiér
Vnútro nepôsobí vôbec tak nudne ako sme zvyknutí zo základných Fábií či predchodcu. Priestor je oživený látkovým poťahom tiahnucim sa naprieč palubnou doskou a operadlách dverí. Čo sa výbavy týka, Sandero ponúka všetko, čo moderné auto v roku 2021 potrebuje, a nič viac. To znamená že je tu manuálna klimatizácia, použiteľná cúvacia kamera s parkovacími senzormi vpredu aj vzadu, infotainment s Apple CarPlay konektivitou, aktívne núdzové brzdenie, kontrola mŕtvych uhlov, tempomat s ovládaním na volante. Na cestu si posvietia stretávacie LED svetlomety, halogénové sú len diaľkové. Okrem toho má auto aj pekné praktické riešenia v podobe vstaveného držiaku na mobilný telefón, ktorý akoby predpovedal na čo sa môže Sandero SCe často používať, však Bolťáci? Hneď za ním je aj USB konektor na pripojenie telefónu. Prístup k nemu by však mohol byť lepšie vyriešený, dať ho o kúsok nižšie napríklad.
Dizajn
Dacia Sandero začína vo výbave Essential na 9 700 EUR, no aj dizajnovo je autom, za ktoré sa jeho majiteľ nemusí hanbiť. Predná maska pôsobí vcelku vážne a pokrokovo, zadok má zase širšie boky. A nebyť znakov Dacia, zozadu si ho možno pomýliť napríklad s predchádzajúcou generáciou VW Polo. Takže je to jednoduché a pekné auto.
Konkurencia a Ceny
Dacia Sandero začína na cene len 8900 EUR. Testovaný kus vo výbave Essential so všetkými dostupnými príplatkami vyjde na 11 340 EUR. Dacia Sandero má vo svojej kategórii viacero konkurentov, ale zároveň žiadneho. Pretože všetky hatchbacky kategórie-B sú už v úplnom základe drahšie ako Sandero. Takže treba ísť o kategóriu nižšie, obdoby vozidiel ako Citroen C1, Hyundai i10. A v tomto je Sandero špeciálne, jeho pomer ceny a toho čo ponúka je aktuálne neporaziteľný, preto sa niet čomu čudovať, že je tak obľúbeným trhákom a v predajoch predbehol aj Volkswagen Golf.
Svoje Sandero si môžete nakonfigurovať tu: Konfigurátor | Nové Sandero | Dacia Slovensko