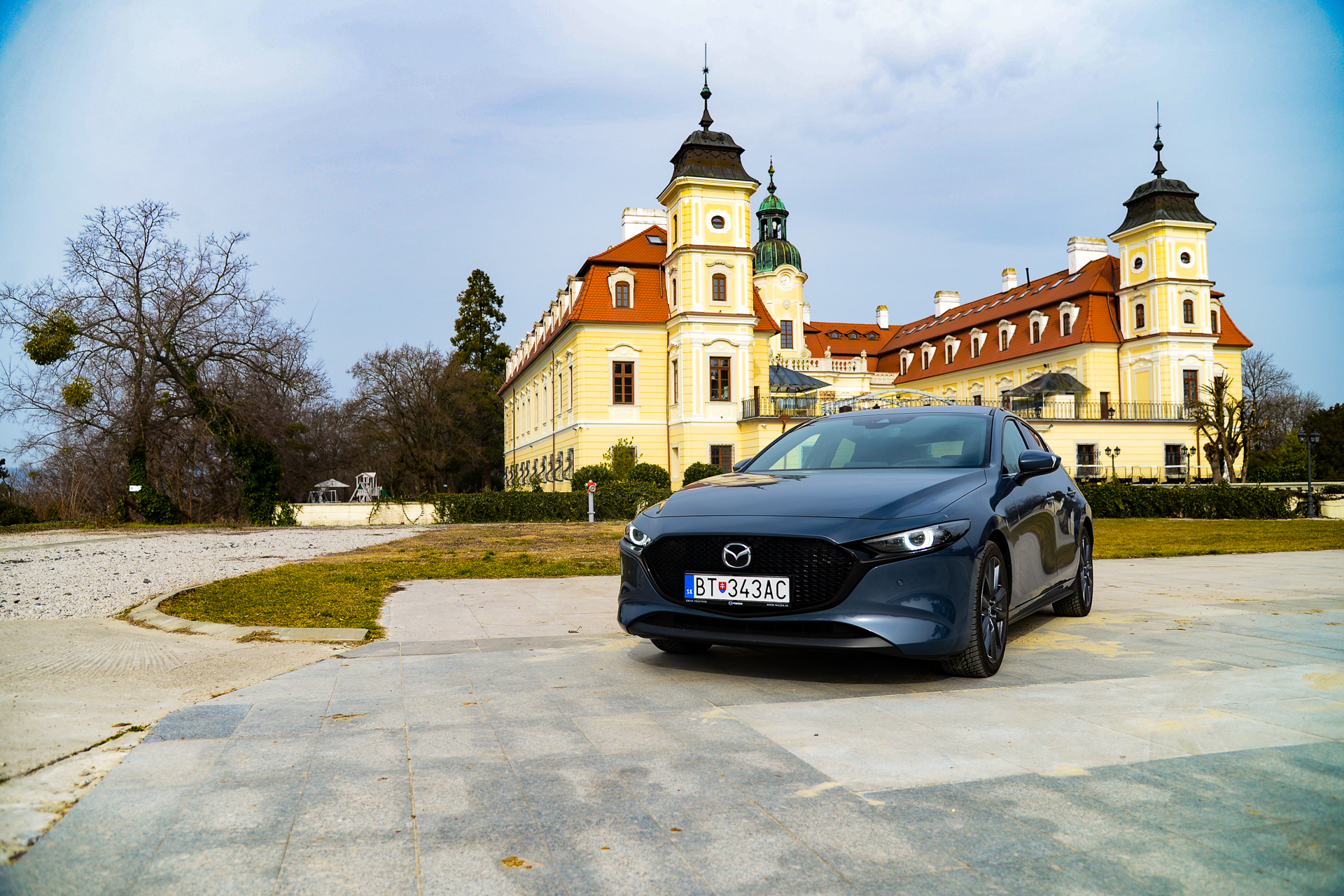 "Mazda 3 nás zaujala hlavne kombináciou prémiových dotykov s typicky výborným jazdným zážitkom zahŕňajúcim zapojenie do jazdy."
---
UPSHIFT RATING: 8.5/10
+ dizajn vnútri aj vonku, kvalita v interiéri, posed, riadenie, vyváženie jazdných vlastností, atmosférický motor, hladký automat
– žiadne farebné ambientné osvetlenie, bez výduchov klimatizácie aj konektorov na nabíjanie vzadu
Mazda 3 vo svojej "novšej" generácii prináša nový dizajn, ten si síce pri pohľade z diaľky zachováva typickú siluetu predchádzajúcej generácie, no pridáva na akejsi agresívnosti a tajuplnosti. Hlavne testované vozidlo v šedej metalíze vyzeralo v zahmlenej krajine ako skrývajúci sa čert. Dizajnovo je nová Mazda 3 aj v porovnaní s konkurenciou skutočne zaujímavým autom. Páčili sa nám aj malé zadné okná, či pravá dvojica koncoviek výfukov, na rozdiel od nespomínanej nemeckej značky Mercedes. Niet sa čo čudovať, že práve Mazda 3 získala prvenstvo ako svetovo najkrajšie auto roka 2020.
Testované vozidlo bolo vybavené niečím na dnešnú dobu výnimočným, dnes už typickým len pre Mazdu. Atmosférickým dvojlitrovým benzínovým motorom, ktorý vyvinie výkon 150 koní, v kombinácii s automatickou 6-stupňovou prevodovkou.
---
Motor
Pod kapotou bije motor, ktorý poteší dušu každého, kto má autá úprimne rád. Atmosférický dvojliter je vo svete plug-in hybridov a elektromobilov ako vychladená voda v horúci letný deň. Samozrejme, aby sa tento motor vošiel aj do aktuálne platných emisných noriem musela Mazda okrem jeho skvelej efektivity pridať pridať aj mild-hybridný systém. Mild-hybridný systém je skvelý, pretože ukladá energiu, ktorá by inak bola stratená do malej batérie, z ktorej sú následne poháňané všetky elektronické komponenty auta. Týmto spôsobom šetrí klasickú batériu, a v konečnom dôsledku prispieva práve vďaka nižšiemu zaťaženiu k nižšej spotrebe. Auto, ako také nepoháňa.
Dvojliter pre svoju vysokú efektívnosť využíva rozvody DOHC, priamy vstrek paliva, vysoký kompresný pomer 13:1, ako aj prepracovsnú geometriu spaľovacieho priestoru. V testovanej variante vyvinie výkon 150 koní a krútiaci moment 213Nm. Samozrejmá je okamžitá reakcia na plyn a plynulé zrýchlenie, ktoré sprevádza zdravý, na pomery nešportového auta príjemne znejúci zvuk.. Výkon 150 koní je pre jazdu dostatočný, aj s ohľadom hmotnosť vozidla. Komu je však málo, môže siahnuť po výkonnejšej variante G184.
---
Podvozok
V oblasti podvozku nastala zmena. Predná náprava používa zavesienie McPherson, vinuté pružiny a stabilizátor. Set-up zadnej nápravy sa zmenil z predchádzajúcej viacprvkovej so stabilizátorom, na jednoduchšiu polo-nezávislú využívajúcu torznú tyč. Jednoduchší systém možno uberá na istote a stabilite predchodcu, na strane druhej môže mať vplyv na lepšiu cenovku a vďaka rotácii jemným odskočením vytvára viac možností na zapojenie sa do jazdy.
---
Kolesá a pneumatiky
Testovaná "trojka" stála na 18-palcových diskoch s pneumatikami 215/45 R18. Kým rozmer bočnice aj veľkosť disku schvaľujeme všetkými desiatimi, priali by sme si širší rozmer pneu. Mysliíme si, že 225, resp. 235 by boli vzhľadom na športovejšie nastavený podvozok a filozofiu značky ideálnejšie. Tlak v pneumatikách je na úrovni 2.5bar na všetkých kolesách.
Použitými plášťami boli zimné Nokian Snowproof P, ktoré sú výbornými zimnými pneu. Ponúkajú výbornú priľnavosť na snehu, mokrom aj suchom povrchu. Taktiež disponujú vysokou úrovňou zvukového komfortu aj ovládateľnosťou. Ich negatívom je kratšia trvácnosť. Skvelou zimnou voľbou pre Mazdu 3 sú tiež Continental WinterContact TS850P, GoodYear UltraGrip Performance Plus alebo Hankook Winter iCept Evo 2.
Pre letnú sezónu sezónu sú výbornou voľbou najmä tri. Michelin Pilot Sport 4, Continental PremiumContact 6 a GoodYear Eagle F1 Assymetric 3. Všetky tri ponúkajúce excelentné vlastnosti pre čo najlepší zážitok z jazdy.
---
Hmotnosť a brzdy
Testovaná Mazda 3 vážila presne 1374 kilogramov, čo je na stále celkom rozmerné auto s automatickou prevodovkou skutočne pôsobivý údaj. Táto hmota je brzdená 295mm vnútorne vetranými prednými kotúčmi, kým zadná náprava je osadená klasickými kotúčmi s priemerom 265mm.
Brzdná sústava je teda viac ako schopná, doručovať potrebný brzdný účinok. Vytknúť im však treba výdrž, pri naháňaní limitov na kopci vcelku rýchlo vymäkli, a pri brzdení do vracáku zo 160km/h už bolo cítiť výrazne nižšiu brzdnú silu. Nastavenie brzdového pedála je šoférsky zamerané. Nie je síce tak citlivý ako napríklad pri BMW, jeho tuhosť, hlavne pri hlbšom stlačení je však veľmi podobná.
---
Dynamika
Mazda 3 G150 Plus zrýchli na stovku za 9.5 sekundy, vyvinie maximálnu rýchlosť 210km/h. Dynamika, ktorú pohonné ustrojenstvo poskytuje je dobrá. Atmosférický motor má charakteristické plynulé zrýchlenie, no skutočne dobre sa cíti v otáčkach. Automatická prevodovka má síce len 6-stupňov no funuje skvelo. Radí rýchlo a aj zaručuje aj plynule pohýnanie sa z miesta.
Rýchlosti možno radiť aj manuálne pomocou malých pádiel na volante. Radenie s nimi je príjemné, vytknúť možno fakt, že prevodovka šoféra nenechá vytočiť motor na obmedzovač, teda preradí aj vo chvíli a mieste, kde by si šofér prial podržať motor na aktuálnom prevodovom stupni.
---
Jazdné vlastnosti
Komfort:
Čo sa pohodlia pri jazdení týka, je Mazda 3 decentná. Je z nej s určitosťou cítiť tuhosť, na druhej strane aj na 18-kach s nízkoprofilovými pneu je jazda po našich cestách primerane dôstojná. Okrem toho je na vcelku vysokej úrovni odizolovanie od okolitého prostredia. Auto pri normálnej jazde nemá problém preraďovať na vyšší stupeň aj hlboko pod 2000 otáčkami. Jazda na diaľnici pri 130km/h znamená 2900ot/min. Zvuk motora je prenikavejší, ako pri turbom prepĺňaných agregátoch, na palube však stále panuje relatívny pokoj.
Motor disponuje okrem mild-hybridnej technológie aj vypínaním dvoch krajných valcov pri ustálenej jazde. Podobne ako pri modeli CX-30 aj tu sme narazili na problém v tejto oblasti najmä na diaľnici, kedy sa valce odopnú pri spomalení premávkou a následne im treba dať impulz, po ktorom trvá do 2 sekúnd kým sa zapnú a auto zaberie naplno.
Zábava:
Pri tlačení na auto Mazda 3 preukazuje, že spĺňa to, čo značka hlása, teda že dôležitý je šofér. Začína to výborným posedom, na svoje pomery nízkym v kombinácii so slušne tvarovanými a tuhými sedadlami. Volant je širokosiahlo nastaviteľný. Má užší veniec no výborné tvarovanie. Riadenie je športovo tuhé, poskytujúce výborný level spätnej väzby. Na druhej strane má malú hluchú fázu pri počiatočnej reakcii.
Podvozok poskytuje dobrú stabilitu, minimálny náklon karosérie v zákrutách, celkové vyváženie auta je skutočne super. Spomenuté zjednodušenie zadnej nápravy tam kde uberá z pocitu istoty a stability, ktorí niektorí vodiči potrebujú, prináša zábavu a interakciu pre iných. Jazdné potešenie, ktoré Mazda 3 ponúka je na skutočne vysokej úrovni. Kým konkurencia ponúkne možno sebavedomejšie vedenie stopy, v Mazde je však ten potrebný pocit spolupatričnosti vodiča s vozidlom.
---
Spotreba
Atmosférické motory majú vždy pri normálnej jazde vyššiu spotrebu ako agregáty s turbom. Mazda dotiahla svoj dvojliter k takej efektívnosti, že dokáže jazdiť priemerne za 6.7l/100km. Čo na atmosférický dvojliter je skutočne dobrý údaj. Zásluhu na ňom má aj prevodovka, ktorá pri klasickom vození sa dokáže preradiť na vyšší prevodový stupeň aj hlboko pod 2000 ot/min., pričom auto nepôsobí, akoby mu to bolo proti gustu, ani nebrzdí okolitú premávku.
Druhým faktorom, ktorý prispieva k nižšej spotrebe je už spomenutý mild-hybridný systém. Odľahčuje motor a jeho klasickú batériu od poháňania vecí ako klimatizáčná jednotka, vyhrievanie sedadiel, audiosystém aj štartovanie pri zapnutom i-Stop systéme. Takéto racionálne využitie v iných prípadoch stratenej energie je nám sympatické, pretože nezasahuje priamo do jazdy. Okrem toho treba taktiež v krátkosti spomenúť technológiu vypínania dvoch valcov pri ustálenej záťaži, ktorá taktiež počas jazdy výrazne vplýva na redukciu spotrebúvania benzínu. Palivová nádrž pojme 51 litrov paliva.
---
Priestor
V oblasti cestovného priestoru pre pasažierov je nová Mazda 3 prekvapivo veľkorysá. Dozadu sa príjemne usadí aj vyšší pasažier, ktorý bude mať dostatok miesta vo všetkých smeroch, dokonca aj na hlavu. Niekomu môžu vadiť malé zadné okná. Nám prišli útulné, vytvárajúce pocit sukromia, pozitívom je, že aj pri oblom tvarovaní otvoru a neveľkým zadným dverám sa stiahnu celé dole.
Okrem toho majú zadní pasažieri k dispozícii sklápateľnú lakťovú opierku s integrovanými držiakmi na poháre. Obe zadné sedadlá sú taktiež vybavené úchytmi ISOFIX, pre rodinné potreby. Ako mínusy zadnej časti naopak chceme spomenúť neexistujúce výduchy klimatizácie a konektory na nabíjanie.
Batožinový priestor patrí v porovnaní s konkurenciou k menším ponúka 330 litrov. Ďalšie 4 sa nachádzajú pod jeho podlahou. Veľkú časť z tohto priestoru zaberá subwoofer značky Bose. Zadné sedadlá sa sklápajú v pomere 2:1. Všeobecne sa veci do kufru príjemne nakladajú, úchyt pre otvorenie dverí kufra je skrytý pod logom Mazdy. Sklopením zadných operadiel vznikne 1022 litrov odkladacieho priestoru bez deliaceho schodu.
---
Interiér a vybavenie
Aktuálne robí málokto spomedzi výrobcov kompaktných hatchbackov interiéry, ktoré by sa nám páčili viac. Tvar prístrojovej dosky pripomína japonskú krajinku. Stredový displej sťa slnko vychádzajúce spoza hory Fudži. Mäkčené plasty, jemná mäkučká koženka na krajoch stredového panelu, kde si človek oprie koleno, aj iný typ tmavej koženky s výrazným prešívaním pokračujúcim aj vzadu. Taktiež jemné koberce, či už v podlahe alebo kufri. Interiér srší pocitom prémiovosti. V jednom bode, ktorý nám v Mazde predsa až tak nechýbal zaostáva. Týmto bodom je ambientné osvetlenie interiéru, ktoré môže veľa zákazníkom chýbať, pretože vytvára ešte dotiahnutejší pocit pohodlia.
Na interiéri sa nám taktiež páči dômyselné rozloženie tlačidiel, a to aj ovládanie na volante. Spínač jazdného režimu Sport pre prevodovku sa nachádza v jej blízkosti, tak ako aj dômyselný a praktický otočný ovládač infotainmentu, vedľa ktorého je ešte jeden menší pre ovládanie médií aj hlasitosti.Toto ovládanie samostatne je podľa nášho názoru veľkým dôvodom, prečo si vybrať Mazdu 3 namiesto iných neprémiových konkurentov. Toto ovládanie podobné systému iDrive, len s menej funkciami zabezpečuje lepšiu pozornosť na jazdu. Keďže obvyklé dotykové systému z nej práve naopak výrazne uberajú. Druhou výhodou je tiež čistota stredového displeja, ktorý nebude zamastený od prstov.
Pochvalu si zaslúži aj samostatné umiestnenie skratiek na vypnutie tých najotravnejších systémov, ako i-Stop(Start&Stop), Lane Assist alebo vypnutie stabilizačnej kontroly
Stredový panel disponuje aj rozsiahlou stredovou lakťovou opierkou, s rozľahlým priestorom po jej otvorení. Nachádza sa tu 12V zásuvka, USB-A konektor aj maličký organizér. Výborne umiestnené sú aj držiaky na poháre, ktoré sa nachádzajú pred voličom prevodovky, takže nezavadzajú v opretí si ruky a chytení páky.
Čo sa výbavy týka, tažko nájsť niečo čo chýba. Vyhrievané sú predné sedadlá aj volant. Sú tu parkovacie senzory aj s cúvacou kamerou, skvelý audiosystém Bose, adaptívne LED svietenie aj automatické stierače. Taktiež nechýba adaptívny tempomat s ovládaním na volante, ako aj klasická plejáda asistentov (Lane Assist, Front Assist, čítanie dopravných značiek…)
---
Zhrnutie a konkurencia
Testovaná Mazda 3 je skutočne skvelým kompaktom. Má aj svoje malé nedostatky najmä po praktickej stránke. Skĺbením skvelého vzhľadu, výborného pocitu v interiéri, výborného motoru s dostatočným výkonom na každý deň aj zábavným set-upom podvozka, prináša šoférovi pocit prepojenia s autom, vo veľkej miere to, čo u áut hľadáme. Naviac ponúka to výborné ovládanie infotainementu, ktoré samostatne beriem ako rozdiel, kvôli ktorému si nekúpiť Volkswagen Golf ale Mazdu. Toto auto pôsobí prémiovo, no nestojí prémiové peniaze. Je výborné, skutočne.
Konkurencia je skutočne široká. Za zmienku stojí VW Golf, Hyundai i30, Renault Mégane. Pocitovo však Mazda šplhá aj na prémiových konkurentov typu BMW 1, alebo Mercedes A-Trieda, síce nemá tak silné motory a niektoré luxusné dotyky, ako sme už spomenuli vyššie.
Svoju Mazdu 3 si zostavte tu:
Konfigurátor vozidla Mazda | Mazda Slovensko