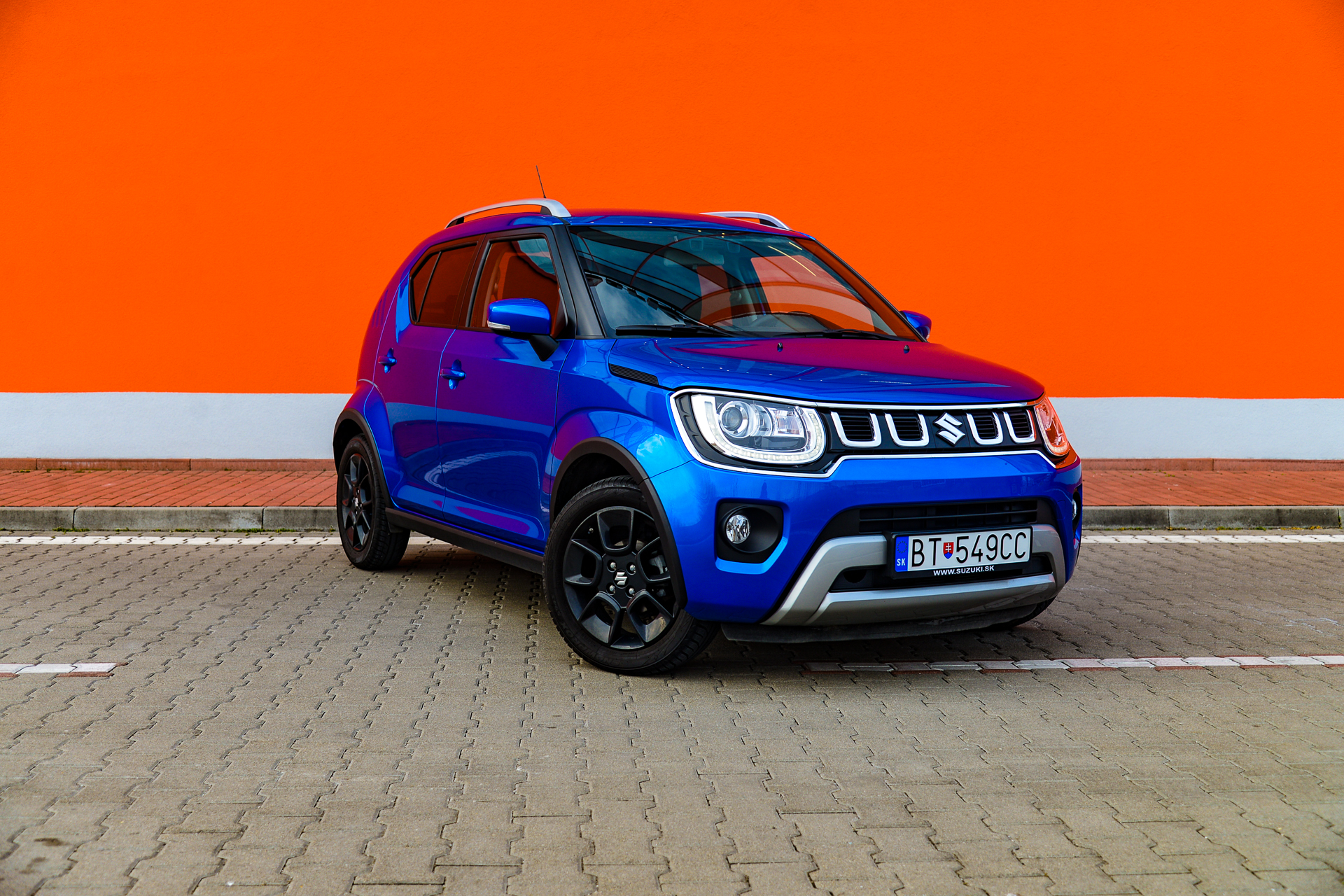 "Suzuki Ignis sa automatická prevodovka hodí, pretože to nie je auto zamerané na jazdné vlastnosti ani výkon, tak prečo sa obťažovať s radením. Dostupný je však len pre pohon predných kolies."
---
UPSHIFT RATING: 6.5/10
+ CVT vhodnou voľbou, fantastická spotreba, ľahkosť, aj napriek malosti prektickosť, výbava so všetkým potrebným v 2021, pohodlný a zábavný podvozok, silné LED svetlá
– vzhľadom na účel auta nič veľké, ale obuli by sme širšie pneumatiky
---
Suzuki Ignis a Fiat Panda sú autá, ktoré majú vlastnú kategóriu. Sú to mini-SUV, obdobné typy vozidiel konkurencia nemá. Kombinujú všestrannosť a praktickosť malého mestského autíčka, s dostupnosťou pohonu všetkých kolies, a preto aj priechodnosťou terénom. Aktuálne Suzuki Ignis je skutočne zaujímavé až zábavné auto, ktoré najmä svojim charakterom nahnevanej ryby z LokalTV a zadnou časťou, ako po búračke do steny vytvorí v človeku chuť jazdiť s ním ako z divokých vajec, aj napriek nevysokému výkonu. Po nasadnutí doň sa však človek taktiež necíti, ako by bol obraný o niečo z komfortu.
---
Motor a prevodovka
Pod prakticky 10 cm krátkou kapotou sa skrýva motorček s anarchicky zvyčajným objemom pre mestské vozidla, t.j. 1.2-litrová atmosféra. Tento malý motor, však v žiadnom prípade nie je archaickou jednotkou strčenou do malého Ignisu. Má 16 ventilov, disponuje viacbodovým vstrekovaním paliva, a čo je dôležité pre efektívnosť disponuje aj vysokým kompresným pomerom 13:1, aký majú napríklad aj výborné atmosférické motory od Mazdy. Aj preto každé studenie štartovanie pôsobí, ako by bolo ťažšie.
Okrem toho, keďže je rok 2021, je vybavené mild-hybridným systémom. Teda disponuje integrovaným štartér-generátorom a malou batériou vzadu, do ktorej sa chytro ukladá inak plytvaná energia pri brzdení a plachtení. Táto energia je následne použitá na pokrytie elektronických funckií ako klimatizácia, kúrenie, infotainment, štartovanie…
Agregát vyvíja výkon 83 koní, pri 6000 ot.min. a krútiaci moment 107Nm dostupný pri 2800 ot.min. Okrem toho je veľmi tichý, aj stojac pri aute je ho sotva počuť. Na strane druhej, keď mu to šofér osolí vie sa pekne ozvať. Motor je spárovaný buď s 5-stupňovým manuálom, alebo variabilnou prevodovkou CVT, ktorá bola osadená práve v testovacom aute. Myslíme si, že CVT je skutočne lepšou voľbou, o tom prečo to tak je, sa dozviete nižšie.
---
Podvozok
Testovaný Ignis s pohonom "len" predným kolies je vybavený nasledovným set-up-om. Zavesenie McPherson, vinuté pružiny a stabilizátor vpredu. Zadná náprava využíva torzný nosník s vinutými pružinami. Zadná náprava je rozdielom medzi pohonom predných a všetkých kolies, pretože Ignis so systémom AllGrip má vzadu 3-prvkovú nápravu s vinutými pružinami, teda lepší typ, ktorý zaisťuje lepší komfort aj úroveň priľnavosti zadných kolies, je však pochopiteľné, že práve pohon 4X4 toto vyžaduje. Okrem toho používa Suzuki jednoduché hrebeňové riadenie.
---
Kolesá a pneumatiky
Čo sa kolies týka, Ignis vo výbavách GL+ a GLX ponúka 16-palcové zatmavené disky kolies s pneumatikami rozmeru 175/60 R16. Základná výbava má ešte vyššie profilové číslo 65. Na testovacom kuse boli obuté pneumatiky Toyo SnowProx S943, ktoré nie sú zlé, samozrejme výber pri tak úzkom rozmere nie je široký, taktiež priľnavosť poskytovaná vozidlu je obmedzená práve šírkou. V zime sú ale užšie pneu pochopiteľne výhodou.
Najlepšími zimnými pneu v tomto rozmere sú však Michelin X Ice Snow a Falken EuroWinter HS01. Pre letnú sezónu odporúčame Falken ZIEX ZE310 EcoRun, Yokohama BluEarth ES32 alebo Nexen N Blue HD Plus.
---
Hmotnosť a brzdy
Suzuki Ignis je na dnešné pomery autom, tažkým približne ako suchý rožok. So svojou mušou váhou 960 kilogramov pôsobí skutočne ľahko. Zábavne, miestami trochu nebezpečne, prevažuje skôr old-school zábavný pocit. Aj vďaka svojej nízkej hmotnosti nepotrebuje na zastavovanie komplikovanú a silnú brzdovú sústavu. Vystačí si s prednými 231mm kotúčmi, chladenými vzduchom a jednoduchými bubnovými brzdami vzadu.
Samotný brzdový pedál má ďaleko od športovosti. Je malý, takže ho chce človek obaliť chodidlom, a mäkký ako teplý chlieb. Brzdný účinok však možno plynule kontrolovať, prekvapí, do akej hĺbky je potreba zatlačiť pri zvyčajnom brzdení. Samozrejme to nie je výčitka, keďže Ignis ani zdaľeka nie je zameraný na dynamickú jazdu.
---
Dynamika
Šestnásť ventilová jednadvojka auto vystrelí, (teda nevystrelí) na stovku za 12.4 sekundy, je teda o 0.3 sekundy rýchlejší ako manuál, s ktorým sme porazili Hyundai i10. Maximálne sa auto rozkotúľa na 155 km/h, pri trpezlivosti šoféra a pomoci vetra aj na 160 km/h. Všeobecná dynamika však nie je zlá. CVT pri poriadnom zošliapnutí jednadvojku poriadne vytočí a samozrejme, keďže je to CVT, drží ju na stanovených vysokých otáčkach. Odmenou je za to akcelerácia, pri ktorej sa netreba báť na rovine pri 90km/h začať predbiehať. V kopci by to už pochopiteľne mohol byť problém. So zaťaženým autom však už odporúčame skutočne vyčkať na prehľadnú rovinku.
Jazdné vlastnosti
Komfort:
Komfortná jazda na Ignise bude tou viac preferovanou. A aj je. Podvozok skutočne pekne filtruje lepence, výltky aj jamy, síce na väčších schodoch a spojoch pôsobí najmä predná náprava zaťažená motorom krehko, a vydá úderný zvuk. Také to, BUM, a človek má pocit, že niečo ulomil. Ale skutočne, auto jazdí príjemne, nedáva najavo svoju krátkosť prílišným trhaním pri vlnení povrhu, a aj vďaka tlakom pneu, vpredu 2.4, vzadu 2.2, ktoré asi okopíroval od francúzov sa snaží byť príjemné a plavné.
Pohodliu prispieva aj prevodovka CVT, keď už auto nie je výkonné, ani obzvlásť pripravené na rezanie zákrut, prečo sa obťažovať s manuálnym radením? Skutočne, naopak je to veľká výhoda, pretože mať na mestskom aute pri 130km/h v bezvetrí 2300 ot./min. je skutočne super. Aj na spotrebu aj na hluk, a propo. Na diaľnici je auto aj napriek nízkym otáčkam hlučné. Nie je nejak výrazne odhlučnené, a je to cítiť, myslíme tým, že aerodynamický šum je počuť.
Zábava:
Samozrejme že Ignis nie je stvorený na šľapanie mu na krk, je to dobrodruh. Napriek tomu sa pri ňom aspoň u nás objavilo potešenie z hnania na limit auta, ktoré na to nie je stavané. Aby sme to priblížili. Auto sa pochopiteľne výraznejšie nakláňa, no jeho charakteristika je pričupnutie sa do zákruty, a držanie, až kým úzke pneu nepovedia máme toho dosť a nasleduje výrazná nedotáčavosť. Respektíve ak je v strede zákruty nerovnosť, uskočí mu zadok ako divému zajacovi, a je to neskutočná zábava krotiť ho. Vyčaruje úsmev na tvári, aký zvyčajne stredne veľké rodinné autá proste nevyčarujú. Je to bláznivosť.
Prevodovka má na svojom konci aj manuálny mód, do ktorého človek často nechcene zaradí. Tento mód ponúka 7 stupňov/pomerov pre CVT, ich radenie prostredníctvom pádiel na volante a je úplne zbytočný. Na strane druhej by niekto mohol nadávať, že túto možnosť nemá, tak aspoň na to je prítomná.
Okrem toho, s pohonom 2WD síce nie je určený na terén. No my sme sa rozhodli to predsa skúsiť. Ignis odviezol 5 dospelých ľudí (čo je viac, ako počet sedadiel v aute ?) s plným batožinovým priestorom na vrchol zablateného kopca ku zrubu, ktorý však bol obsadený, a tak sa šlo domov ☹. Takže predsa je to dobrodruh, pri tejto aktivite sme taktiež dostali veľkú chuť na verziu s pohonom AllGrip, s ktorým by sme sa preto odvážili aj na niečo viac.
---
Spotreba
Suzuki Ignis CVT má v papieroch normovanú kombinovanú spotrebu 5.4-5.6l/100km. Z našej skusenosti obsahujúcej diaľnicu aj divokú jazdu sme jazdili za priemerných 5.7l/100km. Pri dvojdňovej pokojnej jazde sa priemer však ustálil na vynikajúcich 4.4l/100km. Diesel, čo ty na to?
Palivová nádrž je schopná pojať 32 litrov paliva, čo znamená, že auto je skvelé pre mladého človeka, študenta. Nestojí veľa doplniť ho, a najazdí sa rovnaká porcia kilometrov, ako pri väčších vozidlách. Taktiež výborná vlastnosť malého Ignisu a jeho efektívnosti.
---
Priestor
Existuje ešte jeden dôvod, prečo je prevodovka CVT pre Ignis tou lepšou alternatívou. Je ňou miesto vzadu. Kým pri manuálne ovládanom aute, si šofér, v našom prípade celkom vysoký, potrebuje nájsť pohodlnú pozíciu na stláčanie spojky. Pri CVT môže sedieť o kus bližšie, a tento kus je vzadu skutočne dôležitým. Aj vďaka tomu si rovnako vysoký šofér môže dozadu sadnúť pohodlnejšie, ako pri niektorých autách segmentu-B. Ostatne sú sedadlá vybavené úchytmi ISOFIX.
Skutočne ľahunké dvere sa otvárajú doširoka, majú elektrické okná aj presne vyhradené miesto na 1.5-litrovú fľašu, vedľa ktorého je reproduktor. Pochopiteľne výduchy klimatizácie alebo konektory pre zadných pasažierov nemožno očakávať.
Batožinový priestor je vďaka originálnym posuvným sedadlám variabilný. Pri polohe vzadu, aby mali zadní pasažieri miesto, je k dispozícii 267 litrov priestoru. Pri ich odsunutí sa navýši na 514 litrov. Následným sklopením aj zadných operadiel za zväčší na 1 100 litrov. Pochopiteľne nevznikne rovná plocha. Pod dnom kufra sa skrýva rezerva s náradím.
---
Interiér a vybavenie
Interiér Ignisu je síce koncepciou jednoduchý, no napriek tomu skutočne funky. Stredový panel aj madlo dverí má rovnakú farbu ako lak karosérie. Naprieč prístrojovou doskou sa tiahne biela lišta. Posed za volantom je podobný sedeniu na stoličke, sedadlá sú príjemne mäkké a poddajné. Volant je nastaviteľný len výškovo. Nie je tu lakťová opierka, to ani za príplatok. Na mieste jej "koreňu" je odkladací priestor na drobnosti. Pred radiacou pákou sú dva držiaky na poháre a pred nimi sklonená plocha pre telefón.
Pod klimatizačnou jednotkou 12V zásuvka, konektory USB-A a AUX. Medzi nimi sú tlačidlá pre vypnutie systému núdzového brzdenia a vybočenia z jazdného pruhu. Pre deaktiváciu týchto systémov ich treba podržať stlačené nezvyčajne dlho. Na opačnej strane od volantu možno zase vypnúť systém Štart&Stop (po každom zapnutí motora) a stabilizačnú kontrolu, ktorá vypne aj ostatné asistenty spomenuté v tomto odseku.
Ostatná výbava zahŕňa všetko potrebné. Vyhrievané predné sedadlá, kožený multifunkčný volant s ovládaním tempomatu aj obmedzovaču, automatickú klimatizáciu s peľovým filtrom, aj SLDA audiosystém s dobrým stredovým displejom, konektivitou Apple CarPlay aj AndroidAuto, ako ja cúvacou kamerou. Čo sa týka svietenia, vo výbave GLX je FullLED. Predné svetlá svietia pekne silno, ako pri drahších autách. Zadné svetlá tvorí niekoľko malých samostatných okrúhlych LED svetielok.
---
Konkurenti a zhrnutie
Suzuki Ignis CVT v tejto výbave GLX stojí 16 130 eur (čo vlastne nie je málo, ups), to aj s príplatkom 400 eur za nádhernú modrú metalízu. Jediným konkurentom je Fiat Panda, ktorý vo verzii cross ponúka terénnejší vzhľad. No jeho 69 koňový motor je aj v porovnaní s Ignisom papierovo skutočne slabý, a dostupný len s manuálnou prevodovkou.
Suzuki Ignis s CVT hodnotíme skutočne pozitívne. Je nám vedomé, že na slovensku, kde aktuálne rastúca väčšina túži po "americkom sne" v oblasti veľkosti auta je Ignis skôr hračkou. Pre toho, kto ho vníma ako auto, treba povedať, že je vlastne veľmi rozumné. Skutočne dobre vyzerá, aspoň spredu, výbava zahŕňa všetko potrebné, je to Suzuki, takže bude spoľahlivý a dá sa s ním príjemne zabaviť aj bez výkonu. No a čo sa prevodovky týka, tak práve CVT z dvojice možností odporúčame.
Tu je cenník pre Suzuki Ignis Hybrid: