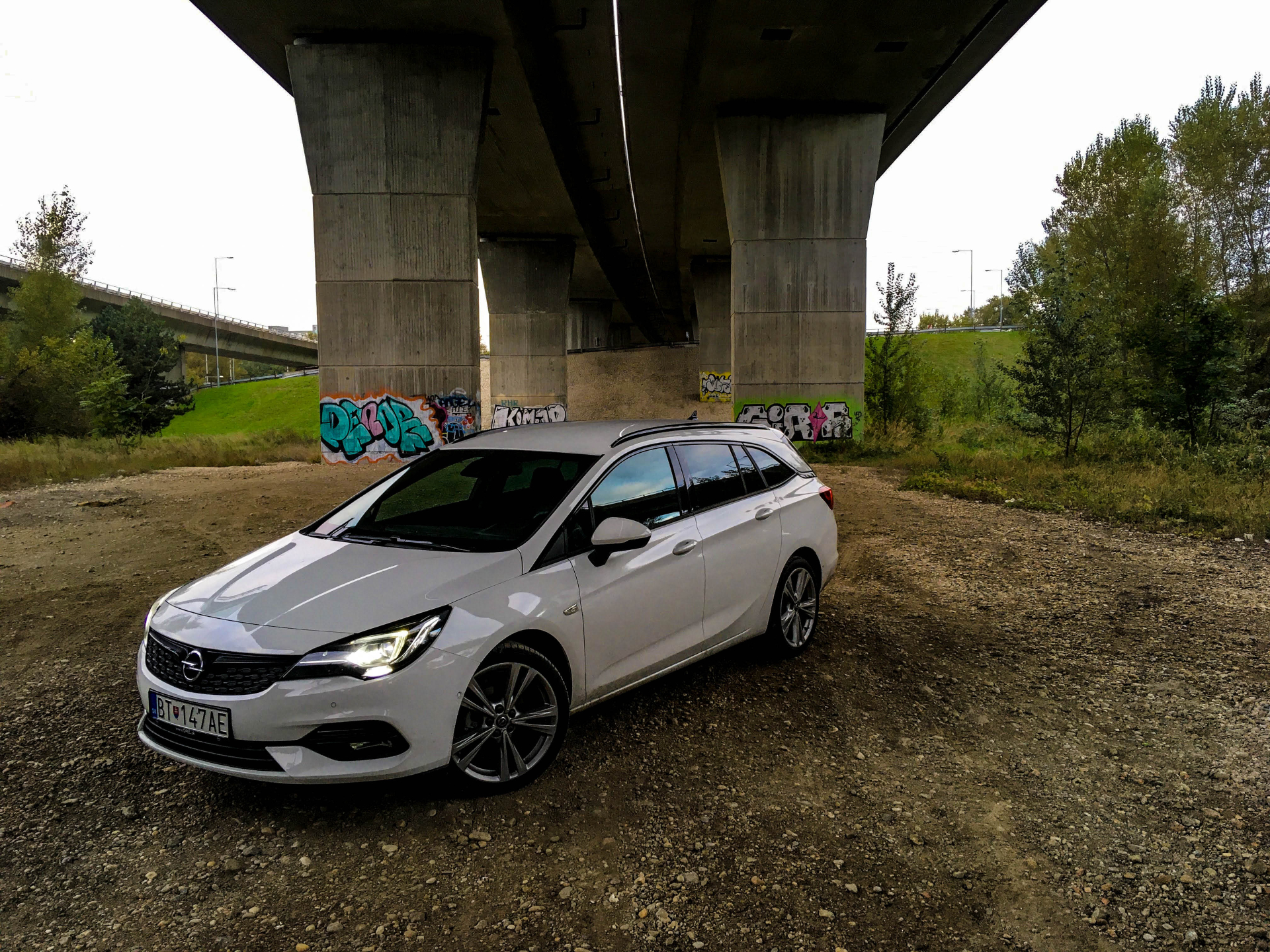 "Poctivý kus rodinného auta s presvedčivými jazdnými vlastnosťami."
---
UPSHIFT RATING: 8/10
+ kvalita spracovania, sebaisté jazdné vlastnosti, vyhrievanie aj zadného radu sedadiel
– dlhšie sprevodovanie
---
Opel Astra generácie K tu už s nami nejaký ten rok existuje. Konkrétne sa predáva od roku 2015 a bol náhradou za generáciu J, ktorá bola známa ťým, že vážila 200 ton. Generácia K výrazne schudla, a momentálne je vo fáze faceliftu, čo predznamenáva, že nová generácia je nadohľad. Treba povedať, že dizajn dostal minimálne zmeny, pretože stále pôsobí sviežo a športovo. Zmeny nastali pod kapotou a v oblasti technológií.
---
Motor, pohon a prevodovka
Keďže Opel už patrí pod koncern PSA, 150 koňovú 1.4 Turbo nahradil trojvalec 1.2 Turbo so 145 koňmi a 225 Nm krútiaceho momentu. Z viacerých iných vozidiel možno usúdiť že trojvalec z dielne PSA je slušný motor. Má slušnú odozvu a výkon naladený na 145 koní je pre auto dostatočný.
Opel má však dlhé a pohodlné prevodové pomery, ktoré jeho potenciál trochu dusia. Motor je teda spojený so 6-stupňovým manuálom. K dispozícii je k tomuto motoru aj automatická prevodovka CVT, táto kombinácia však v žiadnom prípade neznie príťažlivo a dynamické parametre, ako aj spotrebu akurát zhorší.
Manuál je teda pri tomto aute jasnou voľbou. Kvôli dlhším prevodovým pomerom treba najmä pri predbiehaní premýšľať nad nižším prevodovým stupňom. Na diaľnici sa však ukáže v plnej kráse. Motor točí 3000ot/min. pri rýchlosti 150 km/h, kým napríklad konkurenčná Octavia Combi má rovnaké otáčky pri 140 km/h.
---
Zrýchlenie a maximálna rýchlosť
S trojvalcom od PSA akceleruje na stovku za 9.6 sekundy a maximálna uvádzaná rýchlosť je 220 km/h. Predbiehanie s trojvalcovou Astrou je vlastne v poriadku, akonáhle je auto v správnom prevodovom stupni, akceleruje pekne, a vytáčať sa nechá vskutku dlho.
---
Jazdné vlastnosti
V oblasti podvozku sa Astra spolieha na zavesenie McPherson s vinutými pružinami vpredu, kým vzadu, trochu prekvapivo disponuje len jednoduchším zavesením s torznou tyčou v kombinácii s vinutými pružinami. Toto môže pôsobiť najmä v porovnaní s niektorými konkurentmi, spoliehajúcimi sa na viacprvky vzady ako mínus, v realite to však zlé rozhodne nie je. Prekvapivým riešením je umiestnenie batérie. Tá sa ukrýva pod podlahou kufra, priamo nad zadnou nápravou. Toto riešenie sa nám páči, pretože prispieva k lepšiemu rozloženiu hmotnosti.
Pri klasickom jazdení je z Astry cítiť jednoznačne tuhosť, nemeckosť a pocit, že sa po ceste valí jeden poctivý kus auta. Auto bolo obuté na 17-palcových diskoch, vďaka ktorým možno jazda bola trochu tvrdšia, stále však príjemná. Pozitívne hodnotíme aj odizolovanie nerovností.
Pri tej dynamickejšej možno pocítiť sebaisté držanie stopy a dobrú priľnavosť prednej časti. V zákrutách auto neodskakuje, dodáva šoférovi pocit kontroly a istoty na ceste. Za čo vďačí aj riadeniu. To je jedným slovom krásne. Poteší váhou a disponovaním výbornou spätnou väzbou.
Volant má tvar, ktorý taktiež motivuje na dynamickejšiu jazdu, nepreháňa to však. Príjemne sa drží, rozloženie funkcií na ňom je jednoduché a je taktiež vyhrievaný.
Posed v aute je jeho ďalšou silnou stránkou. Sedadlá majú výrazné tvarovanie aj vysúvateľnú podporu typu BMW.
---
Spotreba a obutie
Auto malo ako obutie použité pneumatiky Bridgestone Turanza T005 s rozmerom 225/45 R17. Tieto pneu sa vyznačujú prednostne výbornou priľnavosťou na mokrom povrchu a svojou výdržou. V prípade žiadostivosti po športovejšej jazde na suchu ich možno vymeniť za model Potenza S001.
Pri pohľade na spotrebu to nebolo zlé. Mesto zaznamenalo 6.5l/100km. Mimo mesta sme zvládali jazdiť za 5.2/100km a diaľnica vyšla za priemerných 5.9l/100km.
---
Priestor, interiér a výbava
S posadením rodiny do vozidla to nebude problém. Dozadu sa pohodlne posadia aj postavy vyššieho vzrastu. K dispozícii majú vlastné výduchy, USB konektory aj sklápateľnú lakťovú opierku s integrovanými držiakmi na poháre/fľaše. Kufor ponúka k dispozícii objem 540 litrov, čo s prihliadnutím do formulárov konkurencie rozhodne nepatrí medzi vrchné priečky. Taká Octavia Combi ponúka priestor o 100 litrov väčší. Nás však priestorové podmienky príliš neobťažujú, naopak myslíme si že jeho veľkosť je dostatočná.
Interiér auta pôsobí ako zo starej školy. Volant a veľa tlačidiel a príjemné materiály. Niekto by mohol nadávať, že nejde s dobou, teda čisté plochy a dotykové obrazovky (ako v modernom dome). My sme si však jeho tlačidlá nevedeli vynachváliť. V takej Octavii, keď už teda porovnávame je už len vypnutie funkcie Štart/Stop utrpením, klikaním a čakaním, kým ďalšie funkcie len odvádzajú pozornosť od cesty. V Astre sa ale človek po krátkej chvíli naučí rozloženie tlačidiel a ovláda ich aj so zavretými očami. Pocit prémiovosti doplnili aj poriadne hrubé a pocitovo veľmi jemné koberčeky.
Výbava je ďalším aspektom na radosť. Vyhrievané sedadlá nielen vpredu, ale aj vzadu, čo sa v tejto triede len tak nevidí. Ovládanie piatych dverí z miesta vodiča, Matrix LED svetlomety, ktoré fungujú bezchybne, adaptívny tempomat aj osatní asistenti. Nie je sa tu naozaj na čo stažovať.
---
Cena a rivali a zhrnutie
Cena testovaného auta bola 28 960 €. Samotnú Astru SportsTourer si možno zaobsatať už od 16 690€. Hlavnými konkurentmi na našom trhu budú VW Golf Variant, Škoda Octavia Combi, mimo koncernu VW napríklad Ford Focus Kombi.
Opel Astra SportsTourer je podľa nás jeden poctivý, kvalitne zhotovený a premyslený kus rodinného auta. Berie francúzsku techniku, ktorá je momentálne viac ako dobrá, no pritom si zachováva pocit nemeckého zmyslu pre detail a istú vážnosť Na rodinné auto jazdí veľmi príjemne, a to hlavne aj v prípade, že si to chce otecko užiť.
Svoj Opel Astra SportTourer si môžete nakonfigurovať tu:
Nový Opel Astra | Porovnanie modelov | Opel Slovensko