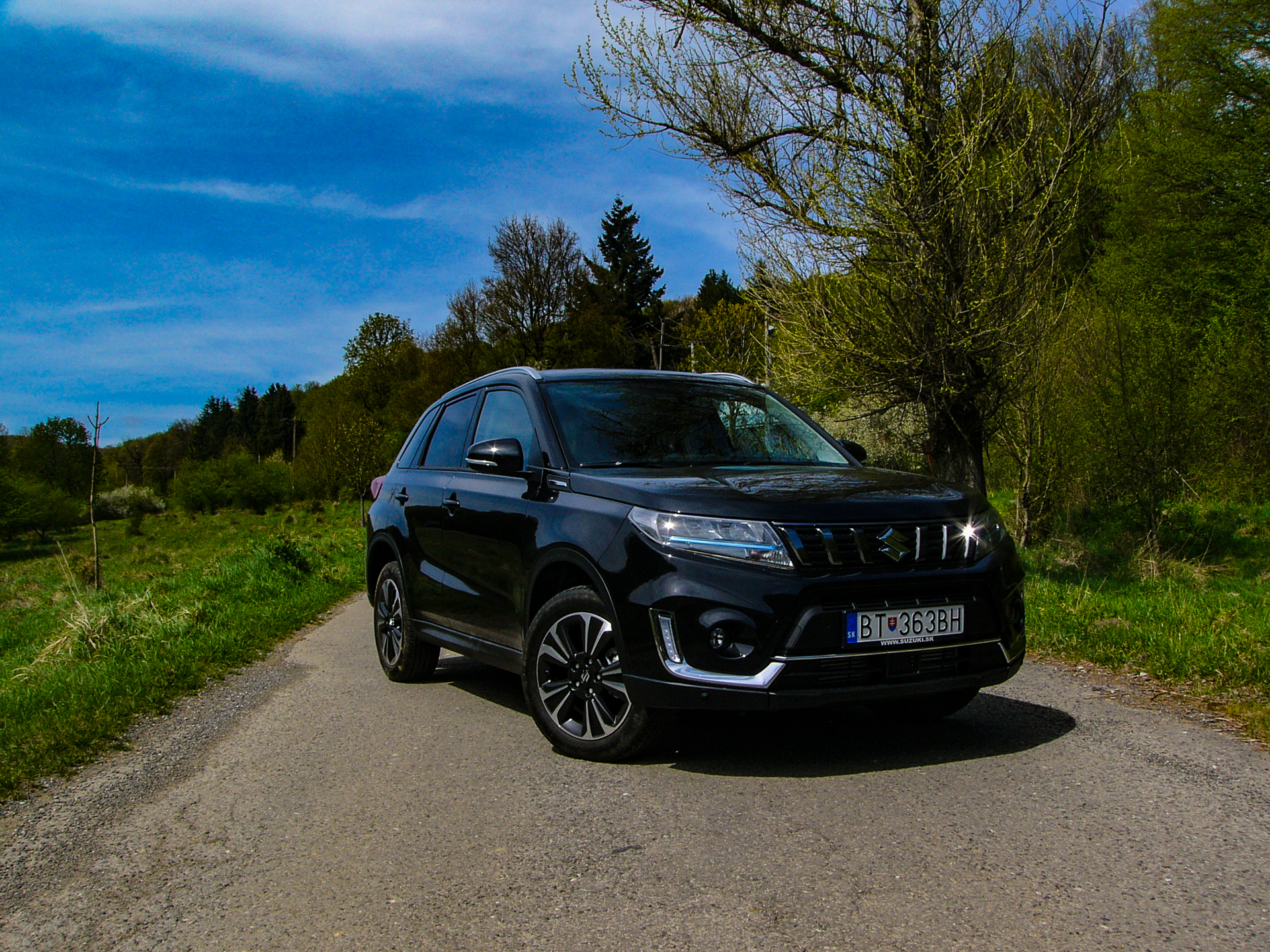 Suzuki Vitara AllGrip s automatickou prevodovkou je za svoju cenu slušné SUV. Motor 1.4 BoosterJet ťahá prekvapivo a z ovládania auta je cítiť ľahkosť, čo sa nám páčilo.
---
UPSHIFTER RATING: 7/10
+ dizajn, dynamika a zvuk motora, zábavný podvozok a pocit ľahkosti v ovládaní, priestorové podmienky vzadu aj v kufri, na nezabehnuté auto výborná spotreba, priechodnosť v teréne vďaka režimu LOCK, pomer cena/úžitok
– aj v automatickej verzii pri záťaži začnú predné brzdy dymiť, priemerné riadenie, aj pri novom aute vyrušujúci klepavý plastový zvuk v oblasti panoramatickej strechy
Suzuki Vitara je pre nás v redakcii sympatickým autom. Pretože je to auto, ktoré dobre vyzerá, má jednoduché línie, disponuje výbornou spotrebou a jeho motor ťahá prekvapivo dobre. Tento krát sa nám dostala do rúk verzia s mild-hybridným systémom (ktorý využíva aj nový Swift Sport), v kombinácii s automatickou prevodovkou a pohonom všetkých kolies AllGrip.
Motor, pohon a prevodovka
Pod kapotou nášho auta sa ukýva motor 1.4 BoosterJet, ktorý po implementovaní mild-hybridného pohonného ústrojenstva a GPF (filtra pevných častíc) disponuje nižším výkonom 129 koní (verzus 140 predtým) a na cestu prenáša slušných 235 Nm krútiaceho momentu dostupných medzi 2000 – 3400 ot./min.
Motor disponuje priamym vstrekom paliva, kompresným pomerom 10.9:1 aj dvojitým rozvodom s premenlivým časovaním ventilov VVT. Na našom úplne čerstvom motore (najazdených 500 km) sa nám páčila jeho tichosť v nízkych otáčkach, naopak Vitara sa zvukovo odviazala a znela na klasické auto skutočne pekne v tých vysokých, až by sme jej pri radi dali športový výfuk.
Motor je taktiež vybavený malým elektromotorom v podobe ISG (integrated starter generator). Ten vyvíja 14 koní a 53 Nm. Slúži na rekuperáciu energie, jemné štartovanie pri zapnutom Štart&Stop systéme, a vypĺňa aj rezervy pri stlačení akcelerátoru. Aj vďaka nemu pôsobí motor živo s výbornou odozvou a veľmi malou turbodierou.
Výkon je distribuovaný na cestou pomocou 6-stupňovej automatickej prevodovky. Automatická prevodovka, je pri SUV šťastnejšou a pohodlnejšou voľbou. Použitá prevodovka je dobrá. Radí aj podraďuje dostatočne rýchlo, dobre využíva výkon aj na ekonomickú jazdu. Jej jediným mínusom je "kick-down" pri predbiehaní, kedy si podradí postupne o dva stupne a preto jej trvá o trochu dlhšie, kým vystrelí vpred. Taktiež by mohla byť jemnejšia pri rozbiehaní.
Je trochu dlhšie odstupňovaná, čo je jednak dobré pre diaľničné rýchlosti (130 km/h = 2300 otáčok), na strane druhej pri naloženom aute v kopci si pravdepodobne bude musieť skôr podradiť.
O finálny prenos sily na cestu rozhoduje systém všetkých kolies AllGrip. Ten má otočný ovládač, ktorým sa nastavujú jednotlivé módy. Na výber je Auto, Normal, Sport, Snow a Lock. Pri automatickom režime vozidlo po väčšinu času jazdí tak ako pri Normal. Poháňané sú predné kolesá, zadné sa pripoja pri nižšej adhézii. V režime šport sme mali pocit z poháňania všetkých kolies, to najmä na základe štartov vozidla z miesta, bolo však cítiť preferenciu prednej nápravy.
Terénne režimy sme si vyskúšali pri výraznom prekrížení náprav. V režime Lock je tu krátky preklz odľahčených kolies, pričom sa hneď auto uvedomí a pošle výkon na kolesá s adhéziou, netreba preto ani silno stláčať akcelerátor. Vitara aj výraznejšie kríženie plynule prejde.
Podvozok, riadenie a jazdný komfort
Končatiny Suzuki Vitara sa skladajú z predných kolies využívajúcich zavesenie McPherson, vinuté pružiny a stabilizátor. Zadná náprava využíva torzný nosník s vinutými pružinami. Riadenie je hrebeňové s elektronickým posilňovačom riadenia.
Podvozok je čo sa pohodlia dostatočný. Nechce byť pohodlný, skôr taký razantnejší. Dáva vedieť o povrchu cesty, avšak menej ako "športovejšie" značky vyrábajúce podobne veľké SUV. Veľkú rolu tu zohrával tlak v pneumatikách. Pri výrobcom udávaných 2.3 bar, vyznačených na štítku dverí sa nám nápačil. Nebol tak pohodlný ako by človek chcel, a aj jeho jazdné vlastnosti boli horšie.
Auto sme však dostali s tlakmi 2.9 bar, a pri tomto sa nám už tá razantnosť páčila. Auto bolo paradoxne pohodlnejšie na zlepencoch a aj jazdne pôsobilo istejšie, priľnavejšie.
Aj napriek dobrému odstupňovaniu na diaľničné rýchlosti je však auto okrem motorového priestoru slabo zvukovo odizolované, a preto je kvôli hranatejšej karosérii výrazne počuť aerodynamický šum.
Kolesá a pneumatiky
Vitara jazdí na 17-palcových diskoch kolies s rozmerom pneumatík 215/55 R17. Tento rozmer je výbornou umiernenou voľbou. V prípade požiadavok väčšej športovosti však možno ísť s profilovým číslom nižšie. S ohľadom na zadnú nápravu však odporúčame zvoliť pneumatiky z nižšou tuhosťou bočnice, aby zadok na zlomoch výrazne neodskakoval. Síce každé zapojenie do jazdy je zábava.
V našom prípade boli obuté pneumatiky Continental EcoContact 5. Tie sú samozrejme vhodné na všetky podmienky, popri čom sa podieľajú na lepšej spotrebe. Možno ich nahradiť novšími EcoContact 6. My by sme však, keďže jazdné vlastnosti sú pre nás to najdôležitejšie obuli Vitaru do PremiumContact 6.
Brzdy a hmotnosť
Vitara síce vyzerá ako dosť veľké auto, jej váha bola niečo cez 1 360 kilogramov. Aj preto nepôsobilo vozidlo ťažkopádne. Na spomaľovanie slúžia kotúčové brzdy vpredu aj vzadu. Vnútorne vetrané predné kotúče majú rozmer 280×22 mm, zadné zase 259.4×9.1 mm.
Brzdový pedál je z mäkkších, ale brzdná sila sa dávkuje plynule. Sila bŕzd ako taká je dostatočná. Aj pri tejto Vitare sme však narazili na ich problém, ktorým je výdrž. Pri dynamickej jazde veľa nevydržia, a pri skutočnom nakladaní začnú dymiť. Aj napriek dymu a smradu prenikajúcemu do vnútra kabíny je však cítiť len malú stratu brzdnej sily. Po dynamickej jazde je však dobré ich jazdou dochladiť.
Dynamika
Dynamika vozidla nás prekvapila. Podľa papierových údajov auto zrýchli zo stojma na stovku za 10.2 sekundy a jeho maximálna rýchlosť je 190 kilometrov za hodinu. Tieto údaje síce neznejú ohroumjúco.
V realite a pri rôznych jazdných situáciách nás však Suzuki príjemne prekvapilo. Predbiehanie s ním je radosť, aj na okresných cestách zrýchľuje do vyšších rýchlostí (160 km/h) skutočne chtivo. Ak BMW dáva vodičovi pocit sebavedomia pri predbiehaní, pri Suzuki bol aj napriek nižšiemu výkonu tento pocit podobný.
Na diaľnici je to to isté. Auto zrýchľuje slušne prakticky až do maximálnej rýchlosti. My sme z Vitarky vytlačili 207 km/h, pričom mala stále relatívne nízke otáčky. Takže čo sa dynamiky týka, síce to nie je samozrejme žiadny maniak, no stačí aj na vyžitie.
Jazdné vlastnosti
Pri prepnutí do módu SPORT dynamika ožíva, potiahnutím páky na jej úplný spodok možno zvoliť manuálne radenie pádlami na volante. Tie sú síce malé, no použiteľné. Odozva na preradenie od stlčenia by mohla byť rýchlejšia.
Podobne ako pri iných autách je tu problém pri preraďovaní vyššie počas prejazdu zákruty, kedy má často skôr odmietavý postoj. Prevodovka taktiež nedovolí podržať motor v otáčkach, a sama si preradí vyššie. Aspoň však nechá motor vytočiť až do červeného pásma.
Vitara pôsobí pri dynamickej jazde ľahko a možno povedať atleticky. Torzná tuhosť je v poriadku. Auto sa či už v zákrutách alebo pri brzdení nakláňa v rozumnom rozsahu. Podvozok ponúka fajn odozvu od cesty cez sedadlo.
Predná náprava vozidla je sebaistá, pri dobrom povrchu nemá ani prílišnú tendenciu hnať sa po predku. Zadná náprava je miestami trochu plavná. To najmä v prípade tvrdého brzdenia do jemnej prudkej zákruty, pred ktorou je tiahle mini esíčko. Celková stabilita pri prejazde zákrut je však dobrá. Pri horšom povrchu treba znovu skorigovať zadoček. Ak je to typom zákruty možné, pomôže tomu akcelerácia, v opačnom prípade treba jemne korigovať volantom.
Hrebeňové riadenie s elektronickým posilňovačom nenadchne, no aj pri dynamickej jazde sa dá auto v poriadku ovládať. Jeho spätná väzba, teda prenos informácií v podobe mikrovibrácií o povrchu cesty nie je na vysokej úrovni. Podobne je na tom jeho citlivosť. Lineárny prechod cez spektrum je však v poriadku.
Sedadlá taktiež nie sú stavané na dynamickú jazdu. Preto neponúkajú výraznú oporu. Sú však potiahnuté kombináciou syntetickej kože a semišu, na ktorom sa telo tak nešmýka. Samotný minimálny posed je vysoký, vyšší ako by sme si priali. Volant je nastaviteľný pozdĺžne aj výškovo v širokom rozsahu.
Zábavný podvozok v kombinácii s pekne ťahajúcim aj znejúcim motorom robia aj z tohto klasického rodinného auta aj zábavné vozidlo na každodenný život.
Spotreba
Pri vozidle so surovým motorom sme očakávali vysokú spotrebu. Ale nie. Suzuki dokázalo jazdiť priemerne za 6.2 litra benzínu. Na diaľnici za 6.4. Kým dynamické jazdenie pri testovaní podvozku si vypýtalo z nádrže priemerne 7.7 l/100km. Palivová nádrž pojme 47 litrov benzínu.
Priestor
Rázvor kolies je 2 500 milimetrov. Sedenie vzadu je dostatočné, priestorovo na slušnej úrovni. Snáď miesta na hlavu sme pri hranatejšom obryse vozidla čakali viac. Zadní pasažieri majú k dispozícii elektrické okná, vo dverách priestor aj na väčšiu fľašu. Podľa cenníka by mali mať k dispozícii v testovanej výbave aj výduchy klimatizácie/kúrenia, my sme ich však na stredovej konzole nenašli…
Kufor ponúka základný objem 375 litrov. Má dvojité dno, takže veci sa z neho jednoducho vyberajú. Nechýba 12V zásuvka alebo upevňovacie háčiky na nákupné tašky. Po sklopení zadných operadiel v pomere 60:40 vznikne úložný objem o veľkosti 1 120 litrov.
Interiér a výbava
Prístrojová doska je taká, ako sme u Suzuki zvyknutí. Použité sú tu aj mäkšie plasty na jej vrchnej časti. Stredový dotykový displej má lesklý povrch a už známe jednoduché rozhranie. Taktiež je Apple CarPlay aj Android Auto kompatibilný. Nepáčilo sa nám len jeho odklonenie, a natočenie k streche, zbytočne sa za ním treba naťahovať.
Naľavo od volantu sa nachádza ovládací panel, na ktorom sa vypínajú asistenčné systémy ako Lane Assist, Štart&Stop, systém núdzového brzdenia aj vypnutie trakčnej kontroly. Zo začiatku nás veľmi vytáčal systém Lane Assist, ktorý sa aj pri jeho vypnutí svojvoľne opäť zapínal a bil sa s nami počas jazdy v meste. Postupom týždňa však tento neduh zrazu prestal…
Inak bola výbava príjemná. Full LED svetlomety vpredu, ktoré svietia výborne (páčili sa nám modré lišty zakomponované vo svetlách). Taktiež sa tu nachádza automatická klimatizácia, stále klasická ručná brzda a aj panoramatické elektricky otvárateľné okno. Jeho veterná clona už však pri rýchlostiach okolo 80 km/h nebola dostatočná a do vnútra prenikal vyšší hluk. Taktiež nás počas týždňa v tomto priestore pri zatvorenom okne vyrušoval najmä v rána, keď je človek citlivejší na zvuky klepavý plastový zvuk, akoby niečo už nedržalo pevne.
Celková cena testovaného vozidla vo výbave Elegance+ v akcii a s príplatkom 430 EUR za metalízu bola 25 080 EUR. Čo je za takýto kus praktického SUV so slušnou výbavou aj panoramatickým strešným oknom výborné.
Okrem toho je k autu možnosť predĺžiť záruku na 5 rokov. Ako aj program EasyWay. Ten zahŕňa záruku 3 roky a poistenie 7 rokov na motor, turbo, prevodovku aj Mild Hybrid-ný systém.
Konkurenti a zhrnutie
Medzi veľkostnú konkurenciu v podobnej cenovej relácii s pohonom všetkých kolies možno zaradiť Daciu Duster za 21 229 EUR. Tá ponúka síce silnejší motor, no menej výbavových prvkov, len manuálnu prevodovku a nižšiu celkovú kvalitu spracovania najmä v interiéri. Druhým je nová Toyota Yaris Cross, ktorá len čerstvo prišla na náš trh. Tá má podobný výkon, no jemne vyššie ceny.
Celkovo sa nám Vitara s automatickou prevodovkou páčila. Jazdí sympaticky, bude spoľahlivá, o čom hovoria aj záručné doby a prekvapivo dobrá bola aj jej dynamika. Najdôležitejším poznatkom k zlepšeniu, ktorý máme k modelu Vitara sú brzdy a ich dymenie pri záťaži. Ani pri konkurencii sa nám tento neduh nevyskytol. Pre účely každodenného jazdenia ju však jednoznačne odporúčame, má výborný pomer ceny, kvality a úžitkovej hodnoty.