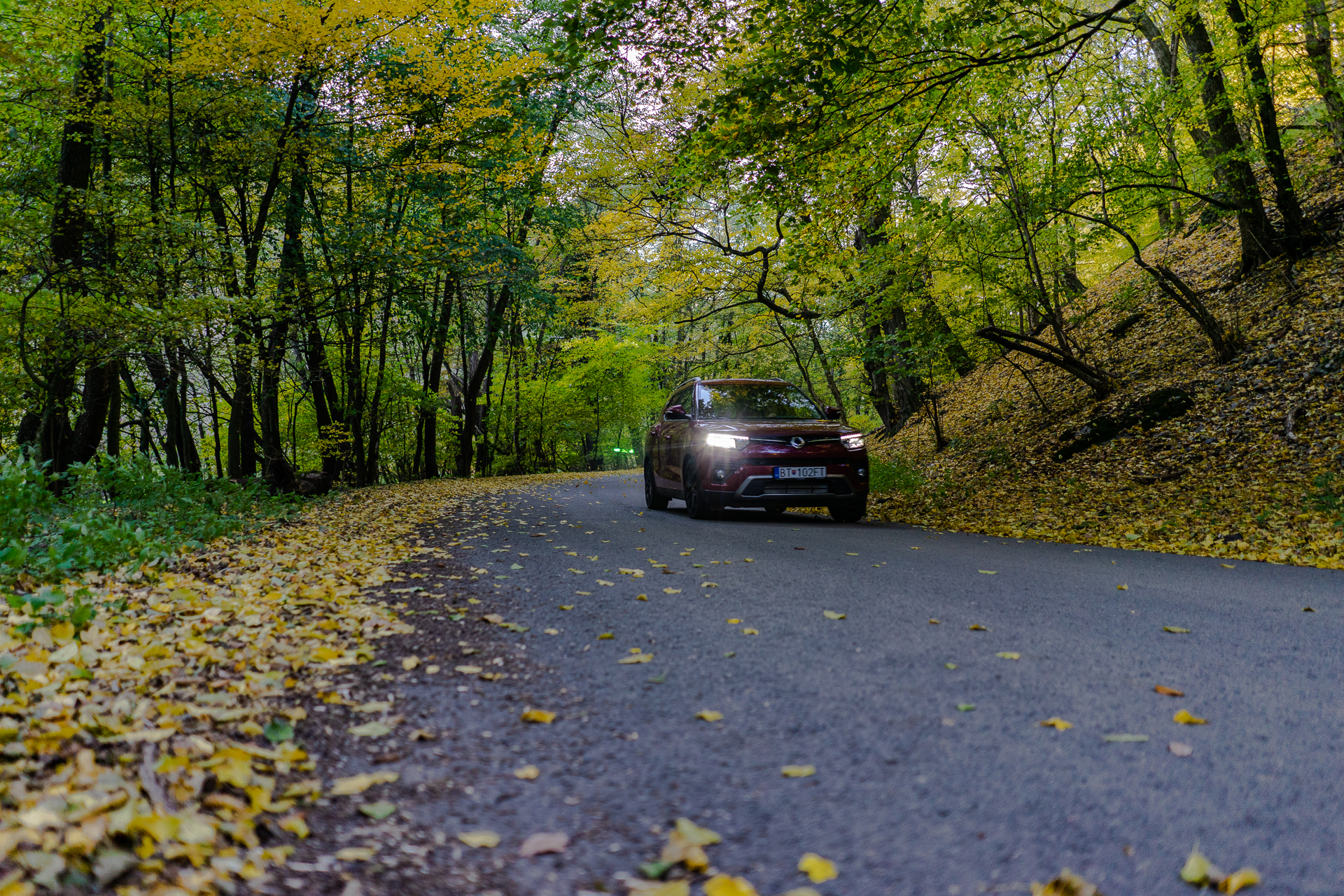 SsangYong Tivoli Grand je jednoducho skvelé rodinné auto za výborné peniaze. Silný ašpirant na titul Kúpa Roku.
UPSHIFTER RATING: 8/10
Čo chce pochvalu:
kultivovaný a tichý motor, pohodlie jazdy, výborné odhlučnenie od kolies, kvalitne zhotovený interiér, excelentný pomer cena/úžitok
Čo zlepšiť:
siahol by som po manuále, automat by chcel aktualizovať na 8-stupňový AISIN, čo by sa pozitívne odrazilo ako na dynamike, tak spotrebe;
v oblasti jazdnej dynamiky by si stačili širšie pneumatiky (široké aspoň 235) a tuhší predný stabilizátor ako aj jemne tuhšie zadné tlmiče
Pri tomto aute treba začať zostra, pretože je dosť možné, že sa jedná o Kúpu Roka! Buďme k sebe úprimní, 20 000 EUR je dnes čiastka, akú stojí slušne vybavené malé auto, niečo ako Škoda Fabia, alebo Renault Clio. Ak hľadáte rodinné auto alebo stredne veľké SUV, za 20 000 budete radi za základnú výbavu, ak vôbec. Vďaka Bohu existuje stále výrobca, ktorý vyrába SUV a tieto vozidlá sú v predaji za férové ceny. Nie, nie je to Dacia, je to kórejský SsangYong.
V konkrétnom prípade sa jedná o nový model Tivoli Grand, ktorý je vo svojej podstate modernizovanou verziou XLV. SsangYong toto auto popisuje ako kombi-SUV, keďže pri pohľade naň je jednoducho nafúknutou verziou najmenšieho SUV Tivoli. A už prvou vecou za ktorú ho možno pochváliť je dizajn, ktorý sa mi, a to nie som zrovna fanúšikom SUV kategórie veľmi páčil. Hlavne z 3/4 pohľadu zozadu vyzerá skvelo, páči sa mi najmä od hrubého C-stĺpiku dozadu. Táto pártia dodáva autu mohutnosť, a zároveň vizuálne vyváženie pri pohľade zboku. Nesmierne sa mu hodila aj kombinácia vínovej červenej s čiernymi 18-palcovými diskami kolies. Jednoducho veľmi pekné SUV.
Pri naskočení do auta ma zaujal aj interiér, ktorý pôsobí klasicky. Je tu výrazný stredový panel s lesklým čiernym povrchom, na čo by som zvyčajne viac nadával. Pretože pri takomto vyhotovení slovami jedného slovenského mafiána "Neni dňa", kedy by sa nezapatlal odtlačkami. V prípade SsangYongu to ale tak zlé nie je, a to práve vďaka rozsiahlemu použitiu tlačidiel.
Z používateľského hľadiska takmer bezchybný
Prítomnosť tlačidiel si zaslúži veľkú pochvalu, pretože robí z Tivoli Grand z používateľského hľadiska jednoducho výborné auto: Nasadnem, naštartujem, tlačidlom vypnem systém Štart&Stop a odchádzam kam chcem. Teplotu kúrenia si v zime nastavím kruhovým otočným ovládačom, hlasitosť hudby ďalším, položeným vyššie hneď vedľa displeja alebo prípadne na volante, nech sa nemusím unúvať naťahovať sa. Tak to má vyzerať!
A čo sa týka stredového displeja multimédií. Pre Tivoli Grand je k dispozícii 8 palcový displej, ktorý je takým rozšírením rádia, teda nemá navigáciu. Na druhej strane ju ani vďaka pripojiteľnosti Apple CarPlay alebo Android Auto ani nepotrebujem a spustím ju týmto spôsobom. Jedinou výhradou k tomuto displeju je jeho čitateľnosť na slnku, ktorá je horšia.
Súčasťou testovaného auta bol aj príplatkový prístrojový 10.25 palcový HD LCD displej za 490 EUR. Ten je na rozdiel od stredového výborne čitateľný, informácie zobrazuje prehľadne v 5 rôznych kartách zobrazovania. Páčil sa mi aj detail, keď pri vyhodení smerovky blikala aj na obrázku auta na displeji. Ovládajú sa na ňom aj nastavenia vozidla, či asistenčných systémov. Tu mám malú výhradu k ovládaniu, dá sa vždy posúvať len smerom dole, čo niekoho môže trochu otravovať, ale tak pár klikov hore dole no…
Čo sa však spracovania interiéru týka, bol som veľmi príjemne prekvapený. Je tu síce väčšina tvrdých plastov, mäkké sú výplne dverí s peknými dekormi, ale to, ako je to pevne a kvalitne spojené dokopy je na úrovni, no keď poviem BMW, nebudem klamať. Dvere pôsobia pevne, tuho, nič nevŕzga a odbodne je na tom stredový tunel, alebo aj plasty okolo displeja. Kvalita.
Potešený som bol tiež zo sedadiel, ktoré sú pohodlné a prekvapivo na takýto typ auta dosť dobre držia telo v zákrutách, vďaka výraznému bočnému vedeniu.
Čo všetko dostanem za 21 420 EUR?
A to som sa ešte nedostal ku výbave, ktorá tu za 21 420 EUR teda je: dvoj-zónová automatická klimatizácia, vyhrievaný kožený volant, vyhrievané predné sedadlá, bezdrôtové nabíjanie telefónu, bezkľúčové odomykanie alebo systém varovania na premávku pri vyparkovávaní vozidla.
Ten sa mi počas rušných dušičiek aj hodil. Z toho dôvodu, že Tivoli Grand má síce kvalitou peknú cúvaciu kameru, jej uhol, ktorý zachytáva by však mohol byť širší. Pri tomto upozornení auto veľmi rado hlasno pípa, a pípa rado celkovo, aj kvôli takej maličkosti ako natočené kolesá pri odchode z auta. Hlbšie v nastaveniach sa toto komunikovanie auta so mnou dá vypnúť.
Za volantom sa sedí vysoko a vzpriamene, čo nemusím, na rozdiel od väčšiny populácie. Takže sedí sa takpovediac nad palubnou doskou s rozsiahlym výhľadom, veľkým miestom navôkol, v ktorom som sa cítil tak nejak privoľno, ako Američan. Tivoli Grand poteší aj priestorom pre zadných cestujúcich, za seba som si sadol s dosť veľkou rezervou na rozvalenie sa. Vzadu mi však chýbali výduchy klimatizácie, konektory na nabíjanie alebo aj sklápateľná lakťová opierka. Myslím si že stredne veľké SUV a najmä kombi-SUV zamerané na rodinu by nimi vzadu malo disponovať, takže toto by chcelo v budúcnosti doplniť.
Za zadnými sedadlami sa nachádza ohromný 720 litrový kufor. Páčil sa mi jeho tvar, aj dvojité dno, ktoré necháva po krajoch miesto na hodenie maličkostí ako vody, alebo malé tašky, aby nelietali po kufri. V kufri je tiež kopec háčikov aj 12V zásuvka.
Skvelý motor, automat nie až tak
Tivoli Grand je poháňané len jedným motorom, a to mu môže podľa môjho skromného názoru na Slovensku jemne škodiť. Je to totiž benzínový agregát 1.5 T-GDI s priamym vstrekovaním paliva. Poskytuje autu výkon 163 koní (pri 5000 ot.) a najvyšší krútiaci moment 260 Nm (medzi 1500 – 4000 ot.), pri spojení s manuálom je to 280 Nm. Presne tak, pretože testované auto malo za príplatok 1 250 EUR automat s hydrodynamickým meničom a 6 prevodovými stupňami o výrobcu AISIN. Výkon je prenášaný na predné kolesá.
Motor sa mi páčil. Zaujala ma jeho kultivovanosť a tichosť pri voľnobehu. Pracuje tak hladko, že človek o ňom ani nevie, aj čo sa vibrácií týka. A výnimočne hladko aj štartuje, každý krát, aj v to najstudenšie ráno. Veľmi ochotný je už od nízkych otáčok, po väčšinu času som nepotreboval presiahnuť 2 300 otáčok. Je spojený s dlhými kvaltami prevodovky, takže do otáčok sa neženie, ale dynamika tu je. Predbiehanie, kopce, diaľnice, na všetko má sily tak akurát.
Na pohodovejšie jazdenie ma navádzalo aj fungovanie prevodovky, ktorá mi nevyhovovala. Funguje tak nejak lenivo. Pri rozjazdoch pridržiava otáčky, kým si preradí. Chcem ísť športovo? "Pane, Vy sa niekam ponáhľate? Lebo ja nie." Má aj manuálny mód radenia, ktorý sa radí pákou, ale je zbytočný, pretože si preradí pri 5000 zo 6500 otáčok aj tak sama.
Z môjho pohľadu jedinými výhodami tejto prevodovky je možnosť výberu módov: Normal, Sport a Winter. Winter sa skutočne hodí v zime alebo na inom nespevnenom povrchu a istým spôsobom sa snaží nahrádzať absentujúci pohon všetkých kolies. Teda mne nechýbal, s týmito autami zvyčajne ľudia zriedka chodia do terénu a na výjazd ku chate tento mód úplne postačuje. Druhou výhodou, je, že pri diaľničných 130 km/h točí len pokojných 2 400 otáčok, pri 90 km/h potom len 1700 ot./min.
Inak by som si za automat nepriplatil, a dokonca ho obviňujem z výrazne vyššej priemernej spotreby 8.6 l/100km. A to som dosiahol ja. Keď som ho preberal mal 10.8, čo viac odráža klasického spotrebiteľa. Skutočne by som si rád vyskúšal SsangYong s manuálom, a porovnal tak, za koľko by som dokázal s použitím nôh s týmto benzínovým motorom jazdiť.
Pohodlný, tichý ale pod záťažou nedotáčavý
Pretože je Tivoli Grand predokolka, stojí na podvozku so zavesením McPherson vpredu a tuhou torznou tyčou vzadu. Tak ako jazdí? Poďme sa na to pozrieť.
Páčilo sa mi, že podvozok je primerane tuhý, no zároveň je komfortný. Taký poddajný. Výborne odhlučnené sú podbehy kolies, ktoré majú použitý "koberec" ako prémiové vozy, Mercedes, BMW…., aj preto do kabíny neprenikajú žiadne zbytočné hluky od kolies či podvozku pri prejazde nerovností. V spojení s tuhou karosériou, ktorá na rozbitých cestách neposkakuje, húpe sa minimálne a neobťažuje posádku vibráciami a rázmi od kolies je to príjemné vozenie.
Pri pohodlnej jazde je teda Tivoli Grand veľmi fajn autom. Pokiaľ sa ale za volantom trochu rozvášnite, čo je nepravdepodobné, ale pokiaľ predsa… Celkom skoro objavíte jeho limity. Tivoli Grand som jazdil na pneumatikách Hankook Dynapro HP2 s rozmerom 215/50 R18. Pri dynamickej jazde je cítiť zreteľnú a skorú nedotáčavosť, výraznejšie náklony karosérie či odskakovanie zadku na priečnych nerovnostiach, ktoré potom treba krotiť cez "nemé" menej presné riadenie.
Brzdná sústava využíva kotúčové brzdy na oboch nápravách. Brzdový pedál sa vyznačuje náhlejším nástupom brzdného účinku pri 35% jeho stlčenia, na čo si treba chvíľu zvykať. Brzdná sila je v poriadku, dostatočná aj pre zastavovanie v núdzových situáciách.
Na športovú jazdu toto auto proste nie je, má však iné prednosti.
Cena, konkurencia a záver
Na záver chcem povedať, prečo ma toto auto, ako nie práve fanúšika SUV tak zaujalo, a do veľkej miery to súvisí s jeho cenou.
Tivoli Grand začína na 16 190 EUR. Testované auto v plnej výbave so všetkými príplatkami zahŕňajúcimi aj bezpečnostné systémy, LED svietenie, tempomat a iné vyššie spomenuté vyjde na 21 420 EUR. Zopakujem to radšej ešte raz, 21 420 EUR. To je na dnešnú drahú dobu až neuveriteľne dobrá ponuka, keď si zoberiem, koľko miesta, akú výbavu a aké spracovanie klasických vecí, no aj detailov toto auto ponúka.
Osobne by som si ho zobral bez automatu, a do budúcna by to chcelo doplniť vychytávky pre zadných pasažierov. Inak, ako rodinné auto je Tivoli Grand prvotriedne.
A aby sa to dalo lepšie porovnať, Dacia Duster Prestige so všetkými príplatkovými prvkami, motorom TCe150 s pohonom predných kolies a automatom vyjde na 20 799 EUR. Nemám nič proti Dusteru, ale keď to triezvo porovnám, kvalitou a pocitom z auta sa Tivoli Grand nemôže rovnať.
A pokiaľ chcete Škodovku, tak Karoq s 1.5 TSI a automatom DSG začína na 24 120 EUR. Hyundai Tucson len v základe stojí 22 690 EUR. Dalo by sa pokračovať, ale je to zbytočné.
SsangYong Tivoli Grand je z pohľadu, čo za svoje peniaze dostanem výnimočnou ponukou. Oproti uvedenej konkurencii pridáva priestorovo ešte aj o kus auta naviac. To prečo som z neho taký vytešený je ale fakt, že som nenašiel nič, čo by jeho nižšiu cenu výrazne odôvodňovalo. Určite to poznáte, lacné veci väčšinou majú svoje nedostatky, no ja som skutočne žiadne veľké nenašiel.
Naopak sa mi páčilo, ako som sa v ňom cítil, aj ako jazdí keď sa neponáhľam, aj fakt, že na podbehoch má "kobercovú" izoláciu namiesto plastu. Jediné čo nemôžem ohodnotiť je spoľahlivosť, na to by som potreboval veľa času. No na základe stráveného času s ním ho musím odporúčiť, pokiaľ sa obzeráte po rodinnom aute a nemáte zbytočne vysoký budget, byť Vami, už ho objednávam.
Svoj Tivoli Grand si môžete zostaviť tu: