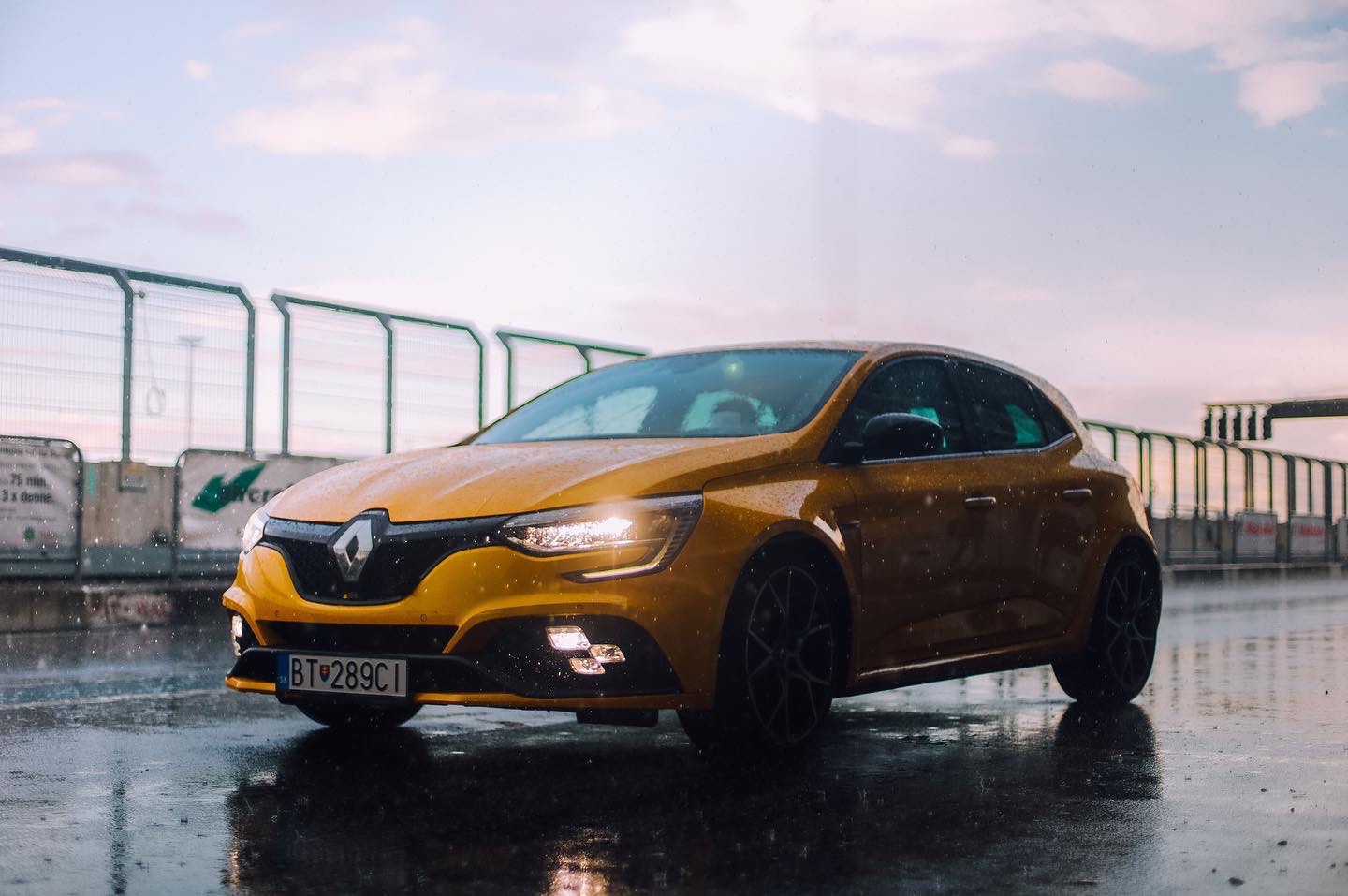 Aktuálny Renault Mégane RS Trophy je nesmierne výborným hot-hatchom. Elektrifikácia rozhodne nevytvorí tak charizmatické šoférske auto… snáď vodík.
UPSHIFTER RATING: 9.5/10
Čo sa nám páčilo:
ostré komunikatívne riadenie, stabilita vozidla, vysoká úroveň priľnavosti a prejazdové rýchlosti zákrutou vďaka riadeniu zadných kolies, veľmi živý motor so správnym zvukom ako má hot-hatch mať, skvelé pohodlné a oporné škrupiny Recaro vďaka ktorým je vzadu najviac miesta spomedzi rady Mégane
Čo chce vylepšiť:
dlhšie pádla smerom nadol
Renault robí najlepšie hot-hatchbacky. To je fakt, ktorý ich história len podporuje! Modely ako R5 GT Turbo, Clio Williams, Clio 182 Trophy, Clio F1 Team R27, Mégane R26.R, Mégane RS275 Trophy-R a posledne Renault Mégane RS300 Trophy-R, ktorý je aktuálne s časom 7:40,1´´ najrýchlejším hot-hatchom s predným náhonom na Nordschleife. Súčasťou posledného faceliftu, ktorým si Mégane RS prešiel bola výkonová unifikácia na 300 koní. Pri testovanom RS Trophy tu bolo 300 koní aj pred faceliftom, pretože Trophy je samozrejme ešte viac zameraným autom.
Jeho hlavným vylepšením je podvozok Cup. Ten využíva dvojité priečne ramená vpredu a polo-nezávislé zavesenie kolies s torznou tyčou vzadu. Podvozok má taktiež o 10% tuhšie pružiny a využíva hydraulické tlmiče. Tieto tlmiče inšpirované rally sú taktiež dôvodom, prečo Renault Sport nemal za potrebu vyvíjať adaptívny podvozok ako majú niektorí konkurenti. Ďalším komponentom, ktorý nemuseli vyvíjať je zadné krídlo. Dosiahli vďaka masívnemu zadnému difúzoru, ktorý generuje toľko prítlaku, že auto jednoducho dodatočné krídlo nepotrebuje.
Čo si k RS nekúpite?
Medzi komponenty, ktoré si nemožno pri verzii RS dopriať patria škrupinové sedadlá Recaro za 2200 EUR a 19 palcové disky Fuji Light z ľahkých zliatin za príplatok 1800 EUR. Tie spolu s prednými uhlíkovo-kompozitovými brzdovými kotúčmi znižujú neodpruženú hmotnosť. Tieto 355 mm veľké predné brzdové kotúče ušetria 3.6 kilogramu, sú vrúbkované a objaté červenými brzdovými strmeňmi Brembo.
Technologická špecialita v rámci triedy
Najzásadnejším rozdielom a špecialitou tohto auta, ktorú nemá nikto z konkurencie je systém 4Control, a teda natáčanie zadnej nápravy pomocou aktivátorov. Tie dokážu natočiť zadné kolesá do 2.7 stupňa v protismere alebo do 1 stupňa v smere jazdy predných kolies. Táto zmena sa odohráva pri rýchlosti 60 km/h. V najostrejšom móde Race sa posúva až na 100 km/h. Systém 4Control zlepšuje agilitu vozidla pri nižších rýchlostiach, takže auto rýchlejšie zatočí do apexu pri použití menšieho natočenia volantu. Vo vysokých rýchlostiach zase zlepšuje stabilitu a priľnavosť.
Najmenší objem, najviac krútiaceho momentu v motore z Alpine A110
Pod kapotou auta je jemne upravená verzia motoru 1.8 Turbo, ktorý zdieľa s Alpine A110. Produkuje výkon 300 koní a 420 Nm krútiaku, čím sa radí na vrcholné priečky medzi hot-hatchbackmi s predným náhonom. Na vrchole je Honda Civic Type R s 320 koňmi a 400 Nm. Krútiaci moment motora dostupný už odspodu, od 2300 otáčok. Vďaka použitiu dvojkomorového turba s keramickým guľovým ložiskom má motor len veľmi malú turbodieru a preto veľmi živo reaguje na každé stlačenie pedála. Použité guľové ložisko turba má okrem nižšej váhy ako klasické oceľové aj výrazne nižšie odstredivé sily, nižšie vibrácie a menej sa zahrieva, preto je odolnejšie z dlhodobého hľadiska. To najlepšie na tomto motore je to, ako miluje otáčky a má až bojovný pretekársky charakter.
Excelentne pracujúce je jeho spojenie s dvoj-spojkovou 6 stupňovou prevodovkou EDC. Tá sa v každom móde správa inak. Pri MySense a Save radí hladko ako v luxusnom aute. V Sport a najmä Race zase nádherne kope pri každom preradení. O prenos výkonu na predné kolesá sa stará samosvorný diferenciál Torsen.
Dynamika na papieri hovorí o zrýchlení 5.7 sekundy na 100 km/h a maximálnu rýchlosť 255 km/h. Dynamické údaje si možno v reálnom čase odmerať pomocou funkcie RS Monitor za príplatok 250 EUR. Ja som pomocou tohto merania spravili 0-100 za 5.25 sekundy! Čo je o 0.45 sekundy lepšie ako udáva výrobca. A nebola to náhoda, Mégane dokáže opakovane zrýchľovať v časoch medzi 5.3 – 5.6 sekundy.
Okresky
Pri jazde na okresných cestách som cítil tuhosť a rigiditu podvozku Cup. Mne ako 22 ročnému to absolútne nevadilo, práve naopak. Pre starších jedincov by mohol byť už pritvrdý, v takom prípade je lepšie siahnuť po klasickom RS s podvozkom Sport, ktorý má o niečo mäkšie naladenie. Zábava začína prepnutím módu na Race. Predná náprava je nesmierne ostrá s vysokými mierami mechanického gripu, miera dôvery v ňu je takmer nekonečná. Zadok je zase pricucávaný k zemi veľkým zadným difúzorom. Diferenciál Torsen funguje spoľahlivo a priťahuje auto k vnútru zákruty, umožňuje zošliapnuť plyn na výjazdoch so suchým povrchom takmer porovnateľne s autami s náhonom všetkých kolies.
Auto je vďaka systému 4Control v zákrutách výnimočne agilné, agilnejšie ako konkurencia a aj prechádzanie pomalých vracákov v kopcoch vyžaduje menší polomer zatočenia na prejazd zákrutou ako v konkurentoch. Keďže v móde Race sa prepína natáčanie zadnej nápravy do smeru kolies až pri 100 km/h, pri ostrej zmene smeru autu a odklone cesty vie autu miestami ustreliť zadok, ktorého kontrola je pochopiteľne veľmi zábavná. Pre pokojnejšie správanie zadočku auta si treba systém 4Control nastaviť na menej agresívne nastavenie Sport alebo Regular.
SlovakiaRing
Mégane RS Trophy je síce skvelý na okresnej ceste, výnimočná verzia Trophy so všetkými tými vylepšeniami však patrí na okruh a preto som ho vzal na jediné miesto na Slovensku, kde môže byť sám sebou. Majestátny rýchly okruh so 4 prevýšeniami na kolo, SlovakiaRing. Tu som prišiel pre jedno jediné, a to odmerať, aký čas dosiahne. Počasie ale nehralo so mnou. Doslova minúty pred vstupom na okruh lialo ako z krhly a ďalší dážď bol už na dohľad. Trať bola preto mokrá, naviac miestami zmiešaná aj s nahádzanou hlinou z predchádzajúceho podujatia rallycrossu. Aj napriek týmto podmienkam som si neodpustil prepnúť auto do najostrejšieho režimu Race, v ktorom je vypnutá stabilizačná aj trakčná kontrola vozidla, jediné čo funguje je ABS a auto je teda kompletne v mojich rukách a nie je tu nič čo my v prípade chyby alebo zaváhania zachráni. Tak to má byť.
Renault Mégane RS Trophy dosiahol čas 2:53,835´´.
Ukázalo sa tiež niekoľko podstatných poznatkov. Sila motora je výborná, na konci cieľovej rovinky som mal 211 km/h. Veľkou výhodou pri radení hore a podradení si do zákrut sú mohutné stabilne umiestnené kovové pádla za volantom. Takže šofér vždy vie kde ich nájde, na rozdiel od niektorých konkurentov, ktorý ich majú ako súčasť volantu.
Riadenie je takmer telepatické, skutočne som z neho cítil, že mám auto v rukách. Je ostré, komunikatívne, presne podľa predstáv. V rýchlych tiahlych zákrutách bolo cítiť pozitívny vplyv systému 4Control na stabilitu. Jediným problematickým miestom bolo brzdenie do úzkej ľavotočivej, kde som zároveň spomalil pod 100 km/h a teda sa tu prepína natáčanie kolies do protismeru jazdy predných kolies, čo na mokre spôsobilo náhle uletenie zadku. Bola to zábava, no pokazilo to rýchle kolo, tak som si na to v ďalšom už dal pozor. Podľa typu okruhu je však dobré si nastaviť agresivitu/intenzitu systému 4Control, dokáže to skutočne ovplyvniť časy na kolo.
Brzdy sú skvelé, viac ako dostatočne silné pre zastavenie 1501 kilogramov ťažkého auta na mokrom povrchu, na ktorom som ocenil aj výborne nastavené ABS. Aj v prípade, keď už boli navonok rýdzo oranžové od záťaže, vädli len minimálne.
Prevodovka reaguje na pokyn preradenia od pádiel bleskurýchlo, nahor aj nadol. Posed v príplatkových škrupinových sedadlách Recaro (+2 200 EUR) je o 20 mm nižší ako v Mégane RS a sú to jednoducho skvelé sedadlá. V tom ako kombinujú excelentnú oporu s pohodlnosťou.
Je to skutočne skvostný hot-hatch. Robí presne to, čo vodič plánuje na milimetre presne a každé preradenie je ako streľba na biatlonový terč. V rámci triedy pôsobí ako najviac okruhovo zamerané auto v ktorom je cítiť skúsenosti skúsenosti z F1. A na rozdiel od konkurentov, ktorí sa často len hrajú, že majú difúzor, tu je reálny, funkčný ako v pretekárskom špeciále.
Najpriestrannejší Mégane pre zadných pasažierov
Okrem naturálne športových jazdných vlastností však nestráca nič z každodennej praktickosti či komfortu. Vzadu je vďaka tenkým predným škrupinám najviac miesta spomedzi všetkých verzií Renault Mégane. Zadní pasažieri majú k dispozícii výduchy klimatizácie, dva nabíjacie konektory aj sklápateľnú lakťovú opierku s držiakmi na fľašky. Kufor s objemom 294 litrov a sklápateľnými operadlami je plne dostačujúci aj pre týždňový nákup potravín 4 člennej rodiny.
V interiéri dominujú dva displeje. Nastaviteľný digitálny prístrojový štít pred vodičom, aj 12.3 palcový vertikálne umiestnený hlavný stredový displej s už známym prostredím. Za príplatok bol vybavený už spomenutým systémom RS Monitor. V ňom je možné si okrem časov merania dynamiky zobrazovať aj čas na kolo, hodnoty preťaženia, využívanie výkonu a krútiaceho momentu na grafoch či aktuálnu teplotu vitálnych kvapalín, teda olej a chladiaca zmes.
Cena a Konkurencia
Renault Mégane RS začína na 36 550 EUR. Ešte viac zameraná testovaná verzia Trophy od 40 590 EUR. Testovaný kúsok vybavený príplatkovou charakteristickou žltou, ľahkými diskami, škrupinami Recaro či príplatkovým adaptívnym tempomatom a head-up displejom stojí 47 450 EUR.
Čo sa týka konkurencie? S 300 koňmi a automatom sú tu bratia od VW Group. Golf GTI Clubsport a Cupra Leon 300, obaja sa v podobnom vybavení pohybujú v okolí vyššom ako 50 000 EUR. Slabšou a výhodnejšou ponukou je tu Hyundai i30N Performance s 280 koňmi a 8 stupňovým DCT stojí 38 090 EUR. Honda Civic Type R dostupná výhradne s manuálom vyjde na 38 280 EUR. BMW 128ti ako jediným premiantom ponúka najviac príplatkovej výbavy, s podobne zvolenou výbavou však vyjde na 48 153 EUR.