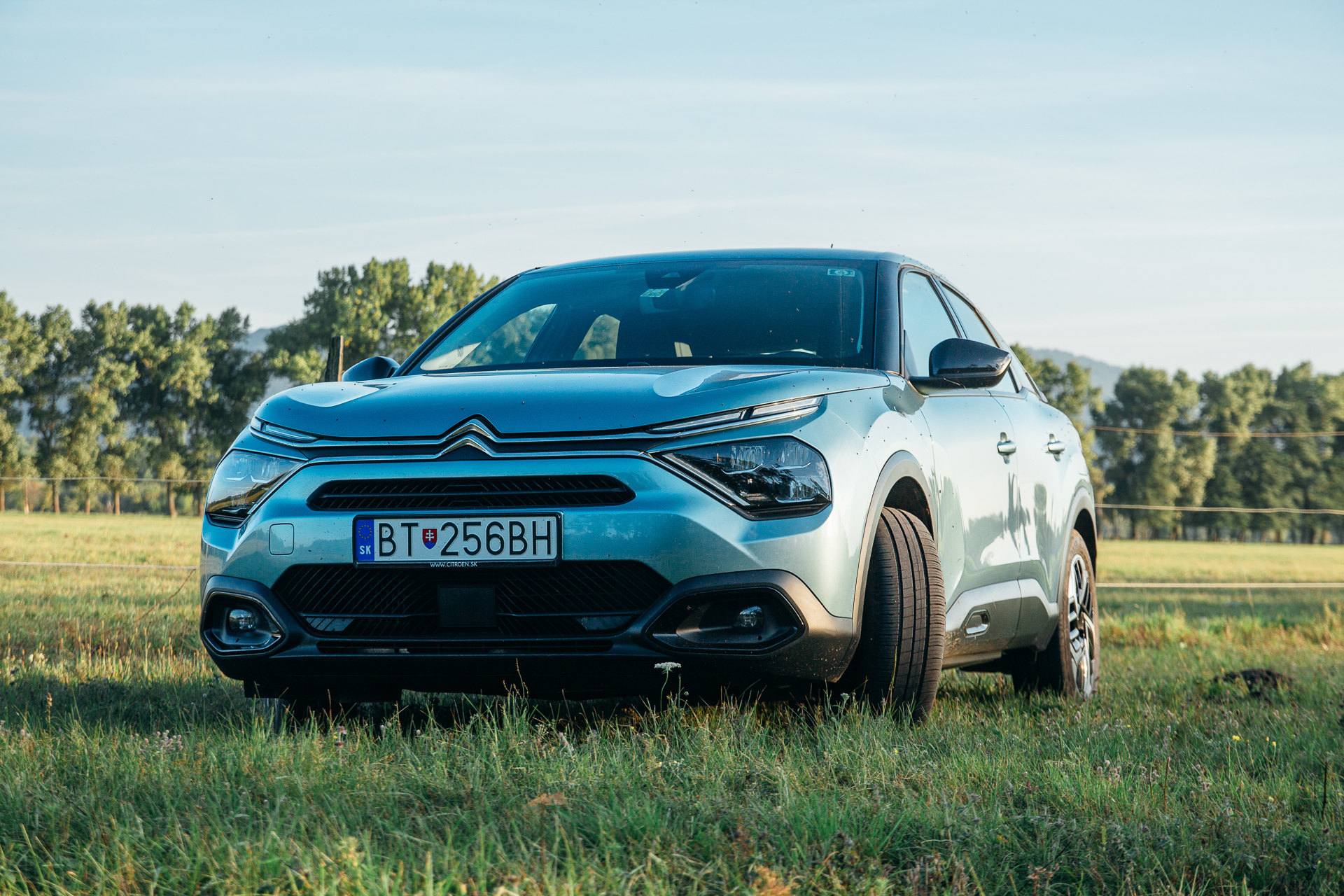 V oblasti maximálneho jazdného pohodlia nemá nový Citroën C4 konkurenciu, jeho podvozok je skutočne ako jazdiť na obláčiku. Čo sa zábavy týka, tak si ho vďaka mäkkej charakteristike WRC ako na Rally Fínska možno užiť na podobnej prašnej ceste so skokmi.
UPSHIFTER RATING: 7.5/10
Cena modelu od: 16 490 EUR
Čo sa nám páčilo:
výnimočne pohodlný podvozok, príjemný elegantný interiér, pocitovo najviac miesta pre zadných pasažierov v triede
Čo chce vylepšiť:
kvalita niektorých plastov v interiéri, ktoré mu dávajú lacnejší pocit
Citroën s novou C4 podľa ich vlastných slov znovuobjavuje kompaktný hatchback. Na prvý pohľad toto znovuobjavenie vyzerá ako zdvihnutie klasického kompaktu, čo z neho okamžite robí crossover, a vďaka línii kupé ho teda možno označiť za crossover kupé. Ale kto si pomyslí, že toto je len ďalší nový Citroën, ktorý chce zaujať len novým dizajnom a výškou, je na omyle, pretože toto auto je veľkým hodnotovým balíčkom na stále klasický kompakt.
Naše prvé stretnutie bolo so strednou benzínovou motorizáciou PureTech130 s 8 stupňovou automatickou prevodovkou. Na dizajn Citroënu možno povedať, že je svojský, excentrický ale jednoznačne zaujímavý. Pri C4 sa snaží do svetelného podpisu integrovať tvar písmena V, síce treba sa nad svetlami na chvíľu pozastaviť, aby si to človek všimol. Inak je ale silueta vozidla čistá s neveľa vyrušujúcimi prvkami, aké majú autá v šporotovo sa tváriacich výbavách. Na rozdiel od týchto vozidiel má ale Citroën dve pravé koncovky výfukov, jednu na každej strane.
Motor
Citroën C4 podobne ako jeho koncernoví súrodenci stavil na širokú paletu motorizácií. Benzín, Diesel aj Elektrina sú schopné poháňať Vašu novú C4. V našom prípade pod prednou kapotou ticho chilloval 1.2 litrový trojvalec s turbodúchadlom a priamym vstrekom paliva. V tejto verzii motor vydáva výkon 130 koní (pri 5500 ot.) a 230 Nm (od 1750 ot.). Motor 1.2 PureTech je príjemným trojvalcom, je tichý a živý, jeho kultúra chodu je výrazne trojvalcová, takže nie najjemnejšia, hlavne ráno po studenom štarte. Motor sa zo skúsenosti skutočne snaží výraznejšie zberať už od 1700 otáčok, výraznejšie ožíva pri 2600 a svoju živosť si drží až do 4200 otáčok za minútu, potom už postupne slabne.
K čo najlepšej dynamike aj úspornosti mu pomáha 8 stupňová automatická prevodovka AISIN, ktorá je skvelá, a pre ten pocit si možno povedať že sa dá nájsť aj v BMW 128ti. Radí veľmi rýchlo a hladko, a aj jej odozva pomáha efektívne využívať 130 koní. S touto špecifikáciou nová C4-ka zrýchli na 100-ku za 9.9 sekundy a poskytuje autu maximálnu rýchlosť 210 km/h.
Podvozok, kolesá a pneumatiky
Podvozok využíva vpredu zavesenie McPherson, vinuté pružiny a stabilizátor, zadná náprava sa spolieha na polo-nezávislé zavesenie kolies s vinutými pružinami a stabilizátorom. Citroën C4 v testovanej podobe jazdí na 18 palcových diskoch kolies s pneumatikami 195/60 R18, konkrétne použitými boli GoodYear EfficientGrip Performance. Tento rozmer je nezvyčajný a podľa nášho názoru na kompakt už priúzky, chcelo by to aspoň 215/55 R18. V tomto rozmere je už možné vyberať si z viacerých pneumatík, aj tých prémiovejších. Odporučili by sme Continental PremiumContact 6.
Obuté pneumatiky neboli vyslovene zlé. Je to samozrejme nižšia trieda, ktorej ide o úspornosť. Sú porovnateľné s Bridgestone Turanza T005, od ktorých sú chvála Bohu lepšie. Na prémiové lepivé Continentaly ale nemajú a kvôli nezvyčajnému rozmeru nie sú od nich ani výrazne lacnejšie. Takže takýto Upgrade stojí za to.
Výnimočný komfort na každý deň
Citroën má ale čo sa podvozku týka v rukáve niečo špecifické, čo iní nemajú a čo vytvára najmä v aspekte jazdného pohodlia výrazný rozdiel. Sú to dva progresívne hydraulické dorazy z jednej aj druhej strany tlmičov. Jeden funguje na rozpínanie a jeden na stláčanie. Tieto dorazy absorbujú a rozptyľujú nahromadenú energiu v prípade väčších stlačení a rozpínaní, keď koleso obrovskou energiou letí nahor od spomaľovača alebo nadol do masívnej jamy. Tým, že veľmi ladne spomalia tento pohyb s vysokou energetickou silou je obsadenstvo aj od prejazdu veľkých nerovností odizolované "ako by leteli na koberci".
A to nie je iba marketingový výraz. Je to reálny pocit, ktorý človek zažíva pri jazde na rozbitých Bratislavských cestách s C4. S Citroënom C4 sa jamám nevyhýbate, skorej ich vyhľadávate. Je jedno či poklopy, zlomy, bývalé alebo poľné cesty. Citroën C4 zvláda každú prekážku s ľahkosťou muchy a aj pri jame, pri ktorej prejazde už prižmúrite oko, či to nebolo moc, nadobudnete pocit, že tomuto podvozku sa prakticky nedá ublížiť.
Podvozok v Citroëne C4 je vďaka tlmičom v rámci triedy revolúciou, a ako auto pre každodenný život a pohodlné odvezenie sa je nekompromisne najlepší. V meste zase človek ocení extrémne ľahučké riadenie pre jednoduché manévrovanie, síce polomer otáčania nie je práve silnou stránkou Citroënov už od počiatku vekov. Čo sa ostatku pohodlnej jazdy týka, pri 130 km/h točí auto vďaka 8 stupňu len 2200 otáčok, takže motor si pokojne brble pod kapotou. Chcenie vylepšiť však možno vzniesť ku odhlučneniu v miestach A stĺpikov či od kolies. Od A stĺpikov ide pri vyšších rýchlostiach výraznejší aerodynamický šum. Od kolies prenikalo zase výraznejšie šumenie v daždi, ktoré sme v iných konkurenčných vozidlách zažili lepšie spracované.
Ideálny na Rally skúšku, na cestu až tak nie
V oblasti jazdnej dynamiky ľahko rozpoznať, že rezanie asfaltových zákrut nie je devízou C4. Charakteristikou podvozka viacej poukazuje že by sa jej páčilo niečo ako Rally Fínska. Pri doskokoch a prejazdoch cez horizonty dopadá jemne ako špeciál WRC a pri brzdení sa identicky nakláňa dopredu. Pri skokoch je auto tiež krásne vyvážené a letí rovno, škoda len, že s výkonom 130 koní sa nedajú spraviť skoky dlhé ako vo WRC. Takže pokiaľ máte možnosť vziať C4-ku na rýchlostnú skúšku, vrelo to odporúčame, podvozok je na to vyslovene stavaný. Na svoju mäkkosť ale dopláca na okresných cestách, kde pri vyšších dynamických nárokoch nechcete mäkkosť a náklony. Navyše úzke pneumatiky nedodávajú tiež veľa fyzikálneho a chemického gripu pneumatiky s povrchom.
Riadenie pôsobí preposilovane, a je vidno, že je stavané pre komfort. Posed je dostatočne nízky, čo je pozitívne. Sedadlá však znovu kvôli zameraniu na pohodlie neposkytujú výraznú podporu v zákrutách. Brzdový pedál je ostrý ale mäkký. Cit v ňom síce je, ale pre silnejšie brzdenie ho treba zatláčať poriadne hlboko, čím sa zbytočne predlžuje reakčný čas správania vozidla na vstupy, aké vodič chce.
Priestor a výbava
Po priestorovej stránke je kabína nového C4 vzdušným prekvapením. Sedenie vzadu je na pomery triedy bezkonkurenčné. Miesta na kolená je neúrekom, to isté možno povedať aj o mieste pre hlavu. Vďačiť za to môže hlbokému posedu (korýtku) v zadnom rade. Nechýbajú výduchy klimatizácie či dvojica konektorov, jeden USB-C a jeden klasický USB-A. Absentuje stredová lakťová opierka. Batožinový priestor má objem 380 litrov a dvojité dno. Dvere kufra sú ovládané manuálne a sú celkom masívne.
Životný priestor predných pasažierov je, čo sa tvarového dizajnu týka na úrovni za ktorú by sa nemuseli hanbiť ani prémioví výrobcovia. Čisté a elegantné plochy, neveľa tlačidiel, aj zaujímavé látkové vloženia v dverách. Nesmierne sa nám páčil minimalistický displej pred vodičom, v noci podsvietený akoby sa vznášal. Možno na ňom prepínať 4 módy a informácie zobrazuje spôsobom ako by šoféra nechcel otravovať, teda minimalisticky. Zaujímavým je aj kompaktný volant, ktorý je trojramenný, no spodné rameno je takmer ploché a tvári sa, že neexistuje. Sedadlá poskytujú síce málo podpory v zákrutách, sú zato nesmierne mäkučké a pohodlné, človeku by sa v nich chcelo aj zaspať.
Stredový širokouhlý displej vyzerá pekne, aj jeho prístup k základným funkciám ako Navigácia, Rádio, Nastavenia vozidla je veľmi dobrý. Pod displejom je aj samostatné hardvérové tlačidlo, ktoré je skratkou k nastaveniam vozidla. Týmto ako by inžinieri predpokladali, že po každom naštartovaní sa bude vypínať systém Štart&Stop, a veru dobre predpokladali. Klimatizácia sa dá ovládať tlačidlami a otočnými ovládačmi až na jednu jej funkcionalitu, a to smerovanie fúkania. Vtedy treba stlačiť klávesovú skratku k nastaveniam klimatizácie a prepnúť ju na displeji. A propo ku klimatizácii. Prišlo nám, že fúkala prihlasno aj na prvom stupni rýchlosti ventilácie.
Ďalej chceme pochváliť praktickosť pred spolujazdcom. Ten má okrem klasickej skrinky k dispozícii aj šuflík na papiere, ktorý sa niektorý novinár pred nami rozhodol použiť ako odkladacie miesto pre celozrnné žemle. Ďakujeme👌.
Nad ním je ešte integrovaný držiak na tablet. Celý čas sme nevedeli pochopiť ako funguje, až kým sme v deň odovzdávania vozidla nenašli v kufri ukrytý samotný držiak, ktorý sa namontuje k tej plastovej veci, ktorá sa vysunie.
Ostatne bol interiér aj napriek rozsiahlemu nepoužitiu mäkkých plastov kvalitne zhotovený, nič nevŕzgalo plastovým škrípaním. Jediným čo nám chýbalo bola "Citroëňáckosť", farebná živosť, akú sme od tejto francúzskej značky čakali. Namiesto toho pôsobil čierny interiér chladne.
Cena a konkurencia
Akciová cena testovaného vozidla bola 23 140 EUR. Z výbavy zaujalo vyhrievanie volantu aj predných sedadiel, head-up displej, predné LED hmlové svetlá s prisvecovaním do zákrut aj bezdrôtové nabíjanie telefónu. Pri manévrovaní nesmela chýbať cúvacia kamera s 360 stupňovým pohľadom zhora. Klasická cúvacia kamera však bola nižšej kvality, čo bolo citeľné najmä v nočných hodinách.
Citroën C4 začína na cene 15 990 EUR. V najvyššej výbave Shine s testovaným motorom a automatom potom od 23 490 EUR. Konkurencia je samozrejme široká, aj keď C4 nevyzerá ako čistokrvný kompakt. Podobne vybavený Hyundai i30 vyjde na 23 830 EUR, no veľmi blízky je mu aj nový crossover coupé Volkswagen Taigo. Ten vyjde v najvyššej výbave R Line s motorom 1.0 TSI (110 koní s DSG) a podobne zvolenými príplatkami na 25 520 EUR.
Citroën C4 sa jednoducho vydaril. Má znovu svojský, ale zaujímavý a nápaditý dizajn. Je elegantný a nesmierne priestranný v interiéri. Čo je však najdôležitejšie jazdí NEUVERTEĽNE pohodlne. Zaslúži si od nás označenie S-ko kompaktnej triedy. Oceníte ho v prípade ak oceňujete pohodlnú jazdu a tlmiče, ktoré vydržia mlátenie našich ciest aj vodičov. Užijete si ho v zase v prípade ak fandíte Rally. Jedná sa o podvozkovo unikátne auto na trhu.
Svoj Citroën C4 si môžete postaviť tu:
Foto: Redakcia