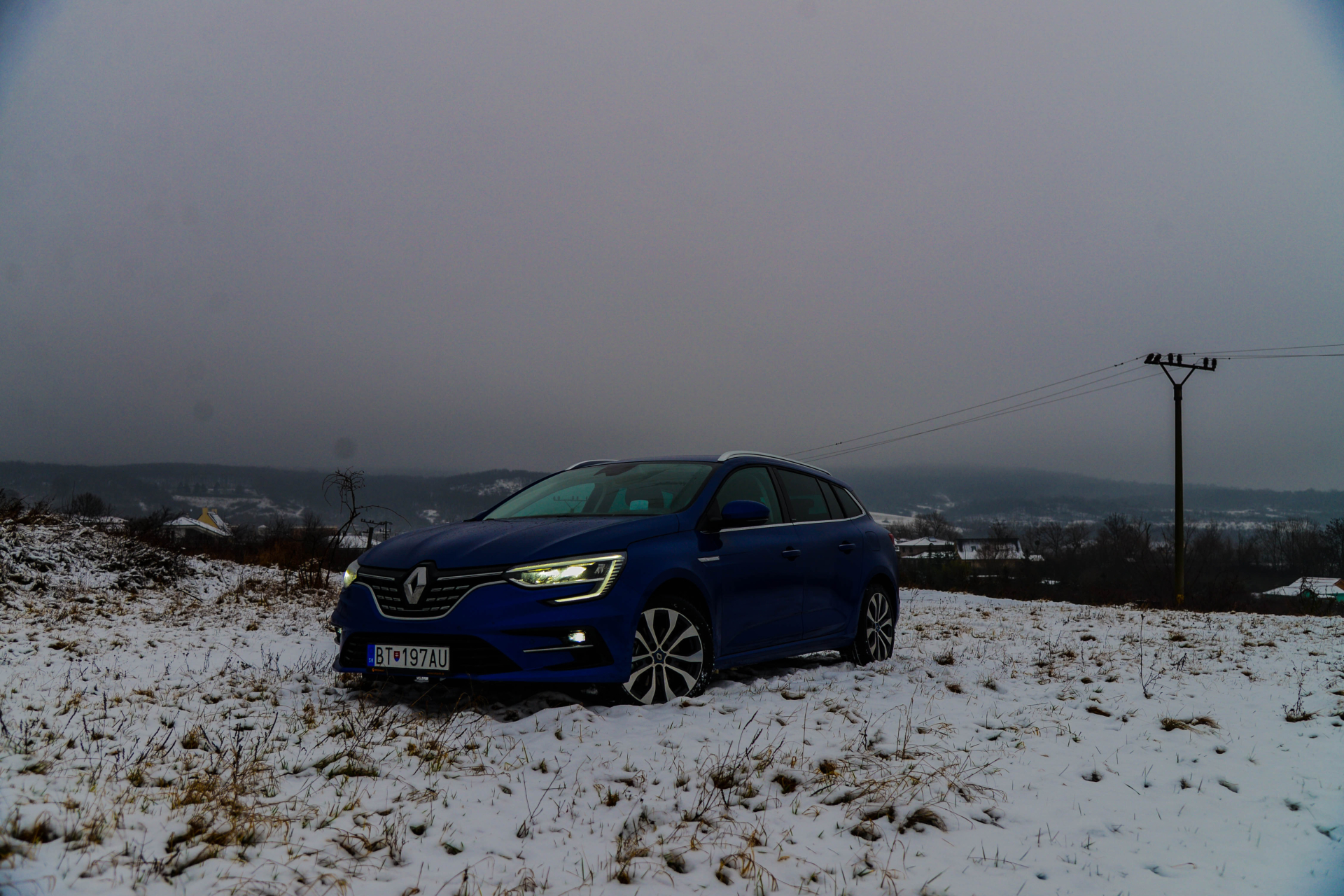 "Renault Mégane E-TECH spĺňa očakávania, no jazdné vlastnosti chcú malé vylepšenia."
---
UPSHIFT RATING: 7/10
+ príjemné a dostatočne tuhé riadenie, pohodlná a tichá jazda, dôveryhodné výsledky spotreby spolu s prispôsobovaním sa trase navigácie
– jemne oneskorený prenos hmotnosti pri prudkých zmenách smeru, pre lepšiu ovládateľnosť sú vhodné väčšie 18-palcové disky
---
Renault Mégane GrandTour je elegantnou a príjemnou ponukou v kategórii kompaktných kombíkov. Po novom je vybavený aj špecifickou plug-in hybridnou pohonnou technológiou, ktorá čerpá inšpiráciu zo sveta F1. Všetky modely pspoliehajúce sa na pohon E-TECH (Clio, Captur a Mégane GrandTour) sú vo svojej podstate elektromobilmi, pri ktorých je spaľovací agregát vo väčšine situácií generátorom. Najsilnejšou motorizáciou ku Mégane GrandTour je benzínová 1.3TCe so 160 koňmi. Keďže verzia s pohonom E-TECH produkuje rovnaký výkon 160 koní, je na mieste otázka, či jazdí podobne ako čisto benzínový súrodenec.
Zvonku sú autá takmer nerozoznateľné, rozpoznávacími znakmi sú: logo E-TECH na dverách kufru ako aj konektor na nabíjanie vozidla, umiestnený na pravej strane. Súčasťou faceliftu, s ktorým prichádza aj tento typ pohonu je taktiež vyspelejšia technológia svietenia s dynamickým blikaním vzadu.
Technika
Motor a Batéria
Pod kapotou sa teda skrýva poklad, na ktorý je Renault hrdý. Súčasťou vývoja bolo viac ako 150 nových patentov. Plug-In hybridný systém E-TECH sa skladá z batérie uloženej pod podlahou kufra, dvoma elektromotormi a pre európsky trh vyradenou benzínovou 1.6 SCe, ktorá je prispôsobená svojej novej misii.
Menším elektromotorom je integrovaný štartér-generátor(ISG), druhým je poriadny elektromotor starajúci sa o poháňanie kolies. Tento elektromotor má výkon 67 koní a krútiaci moment 205Nm samozrejme dostupných okamžite. Benzínová 1.6SCe sa pridáva do tohto duetu porciou 92 koní so 144Nm krútiaceho momentu. Celkový výkon je teda 160 konských síl a 349Nm.
Energia je čerpaná z batérie s kapacitou 9.8kWh. Tento "objem" ponúka dojazd 54 kilometrov pri spustení čisto elektrického režimu jazdy, podľa metodiky WLTP.
Podvozok
V oblasti súčasti zodpovednej za jazdný komfort a jazdnú agilitu sa Mégane GrandTour spolieha na nezávislé zavesenie typu McPherson s vinutými pružinami a priečnym stabilizátorom vpredu. Zadná náprava má polo-nezávislé zavesenie kolies s vinutými pružinami aj priečnym stabilizátorom.
Kolesá a Pneumatiky
K Renault Mégane GrandTour sú k dispozícii disky veľkosti 16, 17 a 18 palcov. Testované vozidlo stálo na 17 palcových diskoch s dizajnom piatich dvojlúčov. Použitým obutím boli pneumatiky Continental WinterContact TS850P s rozmerom 205/50 R17. Tieto pneumatiky ponúkajú vysokú mieru priľnavosti na mokrom aj zasneženom povrchu, ako aj spätnú väzbu.
Ďalšími kvalitnými zimnými pneu v tomto rozmere sú GoodYear UltraGrip Performance Plus alebo Michelin Alpin 6 (ktorá je momentálne najlepšou voľbou).
Na letnú sezónu odporúčame najmä Michelin Pilot Sport 4 a GoodYear Eagle Assymetric 5, ktoré kombinujú výbornú výdrž, priľnavosť na suchom či mokrom povrchu a spätnú odozvu. Na letnú sezónu by sme pre lepšiu jazdnú agilitu siahli pre rozmer s bočnicou 45, teda 205/45 R17. Táto voľba je odôvodnená nižšie v článku.
Brzdy a Hmotnosť
Testované vozidlo so slušnou výbavou a batériou váži 1678 kilogramov. Preto potrebuje silné brzdy. O zastavovanie sa preto starajú ventilované predné kotúče s veľkosťou 296x26mm, zadné brzdy sú osadené kotúčmi s rozmerom 290x13mm.
Brzdový pedál má prudký, citlivý nástup brzdného účinku, mohol by byť tvrdší. Pri brzdení súčasne s rekuperáciou treba pri konci jemne zvýšiť brzdnú silu.
Dynamika a Fungovanie pohonu
Systém E-TECH je vybavený aj multi-módovou prevodovkou bez spojky. Nie je to teda klasický automat ani CVT (aj keď častejším držaním motora vo vyšších otáčkach tak môže prísť), je to niečo nové, a špecifické pre Renault. Tento systém jednotlivé módy vyberá na základe rôznych faktorov. Napríklad niekedy dá prioritu menšiemu elektromotoru ISG (štartér-generátoru), takže vodič má k dispozícii okamžitý krútiaci moment z hlavného elektromotoru. Pri jazde zvolí kombináciu elektrickej aj tepelnej sily benzínového motoru pre lepšiu akceleráciu. Pri decelerácii zase využíva oba elektromotory, pre čo najefektívnejšiu rekuperáciu energie.
K dispozícii sú cez systém Multi-Sense tri jazdné režimy. My Sense, Sport a Pure.
MySense:
Tento režim je tým najslobodnejším. Možno si tu nastaviť okrem farby osvetlenia aj tuhosť riadenia (Comfort, Normal a Sport) podobne aj pohon. Vo svojom základe je to však základné fungovanie tejto hybridnej sústavy. Tento systém dokáže fungovať vo všetkých fázach tokov a regenerácie energie, aké možno kombinatorikou z trojuholníka vyčítať.
Sport:
V tomto móde chce vozidlo využiť všetok výkon, zapojí elektromotor aj benzínový motor. Batéria sa však spätne nedobíja.
Pure:
Už z prekladu, teda čistý, možno pochopiť, že označuje jazdu na čisto elektrický pohon. Tento režim možno vyvolať aj samostatným tlačidlom na stredovom paneli, samozrejme pri nadpolovičnej kapacite nabitia batérie.
V oblasti dynamiky auto zrýchli na stovku za 9.8 sekundy. Tento údaj nie je oslňujúci, keďže rovnako výkonný benzínový agregát 1.3TCe to trvá už živších 8.6 sekundy. Tento 1.2 sekundový deficit ide na vrub hlavne hmotnosti batérie. Ktorá pridáva približne 200 kilogramov.
Uvedená maximálna rýchlosť je 178 km/h, skutočná dosiahnutá bola 187 km/h, ale ani o kilometer viac, a to ani dole kopcom. Obmedzenie je tu najpravdepodobnejšie z dôvodu elektromotoru.
Jazdné vlastnosti a zážitok
Komfort:
Renault Mégane GrandTour E-TECH ponúka prevažne komfortnejšie nastavený podvozok. Veľmi pekne, plavne sa vyrovnáva s nerovnomerne rozloženými vlnami na povrchu, aj zlomami, pri ktorých prejazde ich je schopný slušne zvukovo odizolovať od kabíny. Na strane druhej je cítiť váhu auta, teda váhu, ktorou kolesá pôsobia na cestu. Pri jazde na diaľnici panuje v kabíne dostatočné ticho pre pokojnú komunikáciu. Ku komfortu prispievajú aj pneumatiky 205/50 R17.
Zábava:
Pri rýchlej jazde na obľúbených okreskách možno rozpoznať kombináciu vyššej hmotnosti v kombinácii s komfortnejším podvozkom. Na jednej strane krásne filtruje nerovnosti, takže aj pri vyšších rýchlostiach sa auto tak ľahko nerozhodí. Pokľaknutie predku pri brzdení do zákruty nie je tak výrazné, ako by človek čakal.
Avšak priľnavosť, rovnováha a agilita pri prejazde rýchlo nasledujúcich zákrut odhalí oneskorený prenos hmotnosti zo strany na stranu. Ako keby si Renault cez plece prehadzoval ťažké vrece. Toto je spôsobené kombináciou mäkších tlmičov aj pneumatík s vyšším profilovým číslom. Tento aspekt možno zlepšiť použitím pneu s menším profilovým rozmerom pneu. V tomto prípade teda 205/45,40 R17. Prípadne si priplatiť za väčšie, 18-palcové disky s pneu 225/40 R18.
Treba preto myslieť dopredu a dať autu vedieť čo nasleduje, na prudkú zmenu smeru inak zareaguje výraznejšou nedotáčavosťou. Na druhej strane treba povedať, že váha batérie vzadu napomáha prítlakom gravitácie na zadné kolesá, takže zadná náprava drží stabilnejší kontakt s vozovkou.
Riadenie je v komfortnom režime dôstojné. V tom športovom je zase príkladne tuhé, nemá ďaleko od BMW. Je priame a aj komunikatívne s výbornou spätnou väzbou, je teda možné dobre precítiť čo robia kolesá, a aký je povrch. Volant má hrubý veniec, je vyhrievaný, ponúka taktiež široké rozmedzie pozdĺžneho aj vertikálneho nastavenia. Pri vertikálnom nastavení by sme si priali, aby sa však dal nastaviť ešte nižšie.
Podobne ako volant by sme si priali aj nižší posed za ním. Teda nie je zlý, ale mohol by byť športovejší. Mali sme pocit že sedíme trochu nad prístrojovou doskou, pre predstavu trochu nižšie ako pri VW Passat. Sedadlá ponúkajú účelu primerané bočné vedenie, aj bedrovú opierku.
Spotreba a Nabíjanie
Dobíjanie 9.8kWh batérie prebieha prostredníctvom konektoru AC. Pri nabíjaní prostredníctvom rýchlonabíjačky alebo wallboxu nie je rozdiel. Auto sa nabíja rýchlosťou 3.7kW, cez konaktor AC sa vozidlo dobije za menej ako 3 hodiny, čo je stále dosť. Aj v prípade, že sa človek vyberie na nákup.
Ďalším scenárom je dobíjanie doma, cez klasickú zásuvku s výkonom 2.3kW, ktorá auto nabije za 5 hodín. K autu sú taktiež pribalené dva káble. Pre nabíjanie doma, aj pre pripojenie sa k verejnej nabíjačke.
Pri nabitej batérii je reálne možné dosiahnuť aj výrobcom uvádzaných 1.3l/100km. Postupným vybíjaním batérie sa však zvyšuje aj priemerná spotreba. Pri poctivom dobíjaní možno jazdiť priemerne za 2.9 – 3.5l/100km. Pri jazde s vybitou batériou sa však dá stále jazdiť za veľmi slušných 6.3l/100km E10 naturalu. Palivová nádrž má objem 39 litrov.
Priestor
Priestorové podmienky v Mégane GrandTour sú slušné. Dozadu sa bez problémov posadia aj vyšší jedinci. K dispozícii majú LED stropné lampy, výduchy klimatizácie, dva USB konektory pre nabíjanie zariadení, pod nimi aj dodatočnú 12V zásuvku.
Batožinový priestor ponúka 389 litrov priestoru. Pod dnom je len plytký ukladací priestor v tvare L, pravdepodobne určený pre nabíjacie káble. Na oboch stenách kufra sa nachádzajú páčky na sklopenie zadných operadiel v pomere 2:1. Po sklopení priestor narastie na 1372 litrov. Priestor poteší veľkým nakladacím otvorom, dvere kufra pôsobia skutočne masívne.
Interiér a Vybavenie
Interiéru dominuje 9.3-palcový vertikálny displej aj s digitálnym nastaviteľným prístrojovým štítom. Zhotovený je vcelku pevne, vytknúť možno tvrdý plast na stredovej konzole, o ktorý sa počas jazdy opiera koleno, alebo volič radiacej páky, ktorého tlačidlo potrebné na preraďovanie pôsobí uvoľnené. Na elegancii pridáva ambientné osvetlenie na dverách a stredovej konzole. Možno si nakonfigurovať rozličné farby ku každému jazdnému módu.
Testované vozidlo s výbavou Intens a niekoľkými príplatkovými prvkami vyšlo na 35 200€. Výbava zahŕňala LED svetlomety so svetelným podpisom C, vyhrievané predné sedadlá aj volant. Taktiež head-up displej, parkovaciu kameru aj asistent automatického parkovania Easy Park Assist. Spomedzi systémov je tu asistent pre jazdu v kolóne a po diaľnici, adaptívny tempomat alebo upozornenie na prichádzajúce vozidlá pri cúvaní. Modrá metalíza Iron stojí 900€, 17-palcové disky s diamantovým efektom vyjdú na 400€.
Konkurencia a Zhrnutie
Plug-In hybridnými konkurentmi sú momentálne "len" tri autá. Prvým je Kia Ceed SW Plug-In, ktorá má nižsí výkon 141 koní, na stovku zrýchli až za 10.8 sekundy. Ďalšími dvoma sú Škoda Octavia Combi iV a Seat Leon SportTourer Plug-In. Dvojičky od koncernu ponúkajú rovnaký systémový výkon, teda 204 koní. Skombinované sú so 6-stupňovým DSG. Kým Leon v porovnateľnej výbave Méganu je o neveľa drahší, Škoda Octavia v podobnej výbave atakuje 40 tisíc eur, je teda predražená.
Renault Mégane GrandTour E-TECH je vhodným prímestským rodinným autom. Na rozdiel od konkurencie má originálne vyriešený pohon, o ktorom možno konštatovať, že funguje. Na klasické jazdenie je príjemný. Vnútri nájsť aj prémiové dotyky, ktoré navodzujú elegantnejší pocit. Z dlhodobého hľadiska dokáže ušetriť a finančné náklady.
Dynamická jazda nie je jeho úmyslom, preto na základe vyššie spomenutého, ak má byť Mégane autom pre otecka, ktorý sa stále rád dynamicky prebehne, Mégane GrandTour TCe 160 bude lepšou voľbou, ako E-TECH.
Svoj Renault Mégane GrandTour E-TECH si môžete nakonfigurovať tu:
Konfigurátor | Nový MEGANE Grandtour | Renault Slovensko