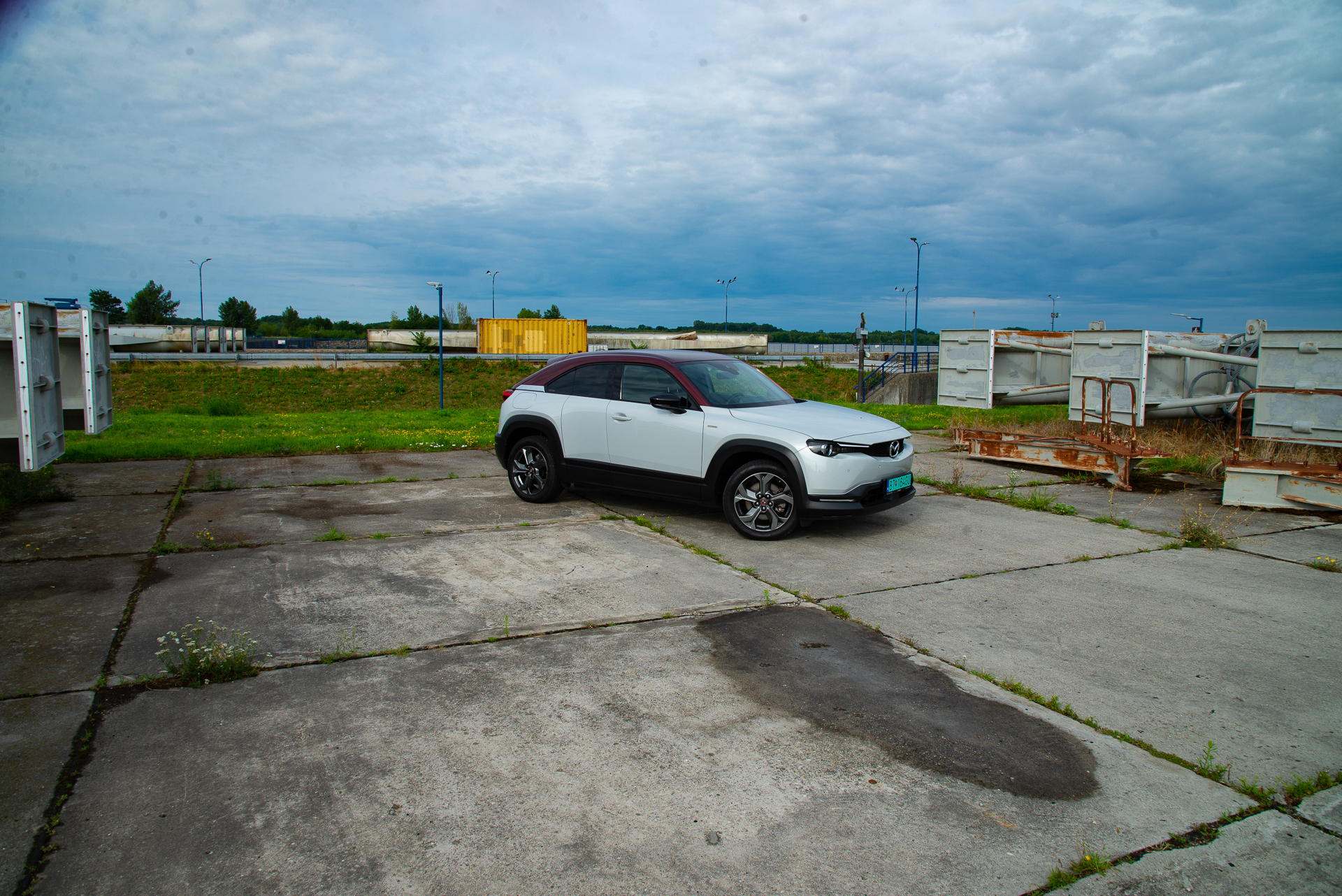 Mazda je so svojím prvým a zatiaľ jediným elektromobilom úprimná. Je to druhé auto do rodiny na vybavovačky po meste, nie náhrada auta na všetko. Tomu je aj prispôsobená, no stále jazdí ako Mazda, čo je dobré.
UPSHIFTER RACING: 8.5/10
+ dizajn, prémiový interiér, skvelý podvozok v kombinácii s vyvážením 50:50, netlačí sa do garáže namiesto spaľováku
– pre tých ktorí nepochopia zmysel auta to bude dojazd, viac mestské riadenie ako iné Mazdy, na mestský crossover horší polomer otáčania, miesto na sedenie vzadu
Keď som Mazdu MX-30 prvýkrát videl naživo, prišla mi zbytočným autom, ktoré Mazda spravila len preto, lebo musela. Po jej vyskúšaní musím však povedať, že sa mi jej existencia náramne páči, a značka ako taká v mojich očiach stúpla ešte viac, a mám na to niekoľko dôvodov. Pre prvý dôvod si stačilo otvoriť produktovú stránku tohto modelu, ktorá ma privítala so slovami "Prívítajte svoju druhú Mazdu do rodiny". Druhú! Presne taký ešte stále je zmysel elektrických áut. Nedokážu plne nahradiť spaľovacie, a Mazda si to ako značka, ktorá sa snaží vnútorné spaľovanie udržať pri živote najviac zo všetkých, uvedomuje. Uprimnosť veľmi cením, a keď sa ešte stotožňuje s mojím názorom, puto je silnejšie.
Druhým dôvodom je fakt, že tento elektromobil pomáha udržať spaľovacie motory pri živote, pretože znižuje celkové emisie v rámci ponuky značky. Takže pomáha k životu MX-5, ostatných modelov s benzínom a dieslom ako aj vývoju nových motorizácií s vnútorným spaľovaním. Tým tretím je, že Mazda sa presne držala toho, aký účel vidí pre toto auto a neodflákli ho.
Motor a batéria
V podlahe 4.395 m dlhého vozidla sa skrýva batéria s kapacitou 35.5 kWh (reálne využiteľných je 30 kWh). Akumulátor poskytuje vozidlu dojazd do 200 kilometrov, a keď si niekto myslí, že je to málo, mýli sa. Je to rozumné, a to preto, lebo Mazda neponúka MX-30 ako náhradu auta s klasickým motorom, no ako vozidlo "do práce/mesta a naspäť". Na tieto účely dojazd do 200 kilometrov plne postačuje, pretože v meste je dostatok nabíjacích staníc a aj z hľadiska parkovania na nich v blízkosti centra poteší mať elektrické auto, keď si tam človek niečo vybavuje.
V realite som dosiahol pri plnom nabití maximálny dojazd 181 kilometrov. Na rýchlonabíjacej stanici s káblom CCS sa nabíja výkonom 37 kW. Do plna sa dokáže nabiť za menej ako hodinu. Čas nabitia z 21% na 100% mi zabral 44 minút a nejaké drobné. Možno vecou, ktorú by som ocenil pri nabíjaní samotnom je zobrazovanie teploty batérie a aktuálny výkon nabíjania na prístrojovom štíte. Ten zobrazoval minimalisticky zostávajúci čas a dojazd.
Vozidlo poháňa dopredu jeden elektromotor s výkonom 143 koní a krútiacim momentom 264 Nm. S týmito hodnotami zrýchli na stovku za 9.7 sekundy a maximálna rýchlosť je 148 km/h, čo na krátke diaľničné trasy plne postačuje. Elektrických 143 koní a 264 Nm dokážu s 1754 kilogramov ťažkou Mazdou celkom slušne hýbať. Dynamika MX-30 je slušná aj na športovejšiu jazdu či predbiehanie.
Čo sa spotreby týka, po meste sa dá pokojne jazdiť za 15.5 kWh/100km. Dynamická jazda si vypýtala 18 kWh/100 kilometrov.
Podvozok
Mazda MX-30, tak ako aj iní veľkostne podobní súrodenci stojí na podvozku využívajúcom nezávislé zavesenie McPherson vpredu a polonezávislé zavesenie kolies so stabilizátorom na zadnej náprave. Riadenie má elektrický posilňovač. Rozloženie hmotnosti vo vozidle má pomer 50:50.
Testovaná Mazda MX-30 jazdila na 18-palcových diskoch kolies s rozmerom pneumatík 215/55 R18. Obuté boli pneumatiky Bridgestone Turanza T005. Kým v suchu ponúkali pneumatiky dostatok priľnavosti, aj slušnú odozvu na riadenie. V daždi bol ich výkon horší, čo môže byť ale do veľkej miery spojené aj s relatívne úzkym rozmerom pneumatiky s ohľadom na váhu vozidla.
Preto odporúčame zvoliť buď to najlepšie v triede, čo sa daného rozmeru týka, teda Continental PremiumContact 6, alebo prejsť na nižšie profilové číslo, ku ktorému sú v danej šírke dostupné aj vysokovýkonné plášte ako Michelin Pilot Sport 4 alebo Bridgestone Potenza Sport. Najideálnejšie by však bolo zvoliť aj širšie pneumatiky teda rozmer 225/45 R18, a tie osadiť vysokovýkonnými pneu. Okrem vyššie spomenutých sú v tomto rozmere dostupné aj nové Continental ExtremeContact Sport alebo GoodYear Eagle F1 Assymetric 5.
Na zastavovanie slúžia ventilované brzdové kotúče veľkosti 295 mm vpredu a klasické plné 265 mm kotúče na zadnej náprave. Brzdná sila je vzhľadom k autu dostatočná, brzdy sú slušne odolné voči vädnutiu pri väčšom namáhaní. Pocit na pedáli je pevný, no nie najostrejší aký sme vo vozidlách Mazda cítili, predsa len je stavaná do mesta.
Komfort
Na podvozku Mazdy MX-30 prekvapí ako pohodlný je na našich rozbitých cestách. Aj jazdu po skutočne rozbitom povrchu zvláda výborne, až som nadobudol z podvozku pocit, že mu nemôžem ublížiť. Aj napriek svojej pohodlnosti však stále poskytuje dobrú spätnú väzbu pre vodiča, aj pocit dobrej štrukturálnej tuhosti. Akustický komfort v kabíne je veľmi dobrý, jediné čo je počuť je odvaľovanie od kolies, aj to je však možné "vypnúť" pomocou funkcie audiosystému, ktorá tento šum potláča.
Za volantom sa nachádzajú aj pádla, ktorými sa nastavuje intenzita rekuperačného brzdenia. Disponuje 5 módmi, pričom je pri štarte prednastavená na strednú intenzitu. Používal som ich často, pretože aspoň nemusím brzdiť nohou a zároveň si naškriabem nejakých tých pár kilometrov späť. V meste sa ukáže riadenie, ktoré je pocitovo ľahšie ako v iných vozidlách Mazda, aby sa s ním jednoducho manévrovalo. Výbornou kvalitou disponuje aj parkovacia kamera aj s vonkajším 360 stupňovým pohľadom.
Jazdný zážitok
Kde ulice mesta skončia a cesta sa začne "uhliť" je čas pridať elektrinu. Samozrejme športový mód tu nie je, no 143 koníkov je možné plne uvoľniť vypnutím systému trakčnej kontroly, ktorá sa vypína stlačením tlačidla naľavo od volantu. Okamžitý trhavý záťah je veľmi príjemný, dokonca MX-30-ka dokáže produkovať aj torque steer, najvýraznejší samozrejme v daždi. Riadenie je tiež vybavené systémom G Vectoring Control Plus, ktorý sa stará o citlivejšie reakcie aj vstupy.
Za volantom sa sedí dostatočne nízko a sedadlo vodiča, okrem toho že je elektricky nastaviteľné, ponúka aj pevnú, slušne vyrysovanú bočnú oporu. Volant má užší veniec z kvalitne roztiahnutej a zošitej kože z koženého tvora. Je taktiež vyhrievaný a jeho multifunkčné tlačidlá sú rozumne usporiadané.
To spojené s ideálnym vyvážením 50:50 a nízkym ťažiskom vytvára aj v tomto mestskom elektropresúvadle životaschopný jazdný zážitok. Auto pôsobí skutočne krásne vyvážene a vyrovnane. Je agilné, aj pri prudkých smerových zmenách pôsobí že má všetko pod kontrolou. Vplyv hmotnosti na náklony karosérie pri jej presunoch sú minimálne. S Mazdou MX-30 som sa mohol cestou z mesta pekne vyšantiť. Jej dynamika je až po maximálku 148 km/h dosť slušná, na brzdách je stabilná a síce je to elektromobil, no ponúka aj zvuk. Ten pripomína osemvalec, ale niekde v údolí, asi 2 kilometre ďaleko. Je to nezvyčajný a príjemný zvuk, ktorý sa mi páčil. Aspoň trochu pripomína auto, a nie sci-fi vesmírnu loď.
Priestor
Aj pre nezvyčajnú koncepciu otvárania dverí, podobnú Mazde RX-8, alebo z aktuálnych vozidiel konkurentovi od BMW, i3 je nastupovanie dozadu až veľmi pohodlné. Rovnaké však už nemôže byť povedané o vystupovaní, keďže najskôr musí dvere otvoriť vodič, až potom človek vzadu. Čo sa môže zísť únoscom alebo tak… Každopádne, vyzerá to skvelo. Samotný priestor vzadu je prekvapivo malý. Za seba si sadnem len so sebazaprením, miesto je tu skorej pre vozenie detí do školy. Človek alebo teda deti sa vzadu budú cítiť ako v lietadle, keďže jedno z dvojice malých okien disponuje takým tvarom. Táto "okennosť" vzadu okrem iného vytvára pocit omnoho väčšieho súkromia, je to tam také tmavé, inkognito. Nechýba skladacia lakťová opierka s držiakmi na fľašky. Čo však absentuje sú výduchy klimatizácie a konektory na nabíjanie pre zadných pasažierov.
Batožinový priestor ponúka 366 litrov úložnej kapacity. Tú je možné sklopením operadiel navýšiť na 1146 litrov. Batožinový priestor tiež obsahuje dvojicu káblov na nabíjanie. Provizórny odkladací priestor sa nachádza aj pod prednou kapotou, pretože v živote som v žiadnom inom aute nevidel toľko voľného miesta, vidieť bolo snáď až pod prístrojovú dosku, tak kompaktný je elektromotor. Takže, ak už nie je miesto, alebo treba niekde skryť drogy, prípadne utečenca, miesto sa nájde.
Dizajn
Po dizajnovej stránke sa jedná o veľmi zaujímavé auto. Koncepcia otvárania dverí, minimalistické predné svetlomety s výraznými lícami, organické 3D zadné svetlá alebo lišty s nápisom Mazda na zadných C-stĺpikoch a k tomu kombinácia bielej s červenou burgundy strechou. Vyzerá ako štýlová kabelka do mesta. Vzadu má síce len čierny plastový nárazník, má ho však z logických dôvodov, keďže po nehode je lacnejšie vymeniť čistý plast.
Interiér
Interiér Mazdy MX-30 je tak ako sa od modernej Mazdy očakáva, výborný. Má krásny dizajn, čisté línie, príjemne mäkké koženkové a kožené povrchy na miestach, kde iné autá nie, to všetko spojené pevne ako tradície v britskej kráľovskej rodine. Keďže je však ekologickým autom, poukazuje aj na túto svoju stránku, a to použitím šedivej látky na vrchnej línii dverí, či bledým korkom na stredovej konzole. Pod rozľahlou lakťovou opierkou sa nachádza podobne vzdušný priestor. Opomenúť a znovu pochváliť nechcem ani ovládanie infotainmentu ovládačom namiesto dotyku rukou, pretože to milujem, a tak by to malo byť v každom aute.
Okrem toho bolo testované auto vo výbave 100 Years, ktorý okrem niekoľkých plakiet vonku zahŕňa aj červeno-čierne koženo-látkové sedadlá, no najmä aj burgundy červený koberec vnútri ladiaci so strechou. Ani si nepamätám, kedy som naposledy v aute videl koberce tejto prémiovej farby aj kvality. Ponúkajú ich len totálne prémiovky ako Maserati alebo Aston Martin, ani v Mercedesoch som ich nejaký čas nevidel. Pre mňa osobne je to pocitovo veľké plus.
Konkurencia a ceny
Mazda MX-30 štartuje na cene 33 990 EUR. Testovaný model v limitovanej edícii 100 Years s plaketami, koženo-látkovými sedadlami a červenými kobercami vyjde na 39 990 EUR. Konkurovať Mazde môže Peugeot 2008. Ten má väčšiu kapacitu batérie aj dojazd, no čo sa pocitu prémiovosti, kvality spracovania a naladenia podvozku týka, Mazda hrá vyššiu ligu.
Mazda MX-30 je zaujímavý elektromobil. Nezvyčajné tvary a riešenia zakomponované v príťažlivom balení. Navrhnutá a propagovaná ako druhé auto do rodiny, no stále mysliaca na jazdné vlastnosti. Prístup značky či auto samotné, oboje veľmi sympatické.