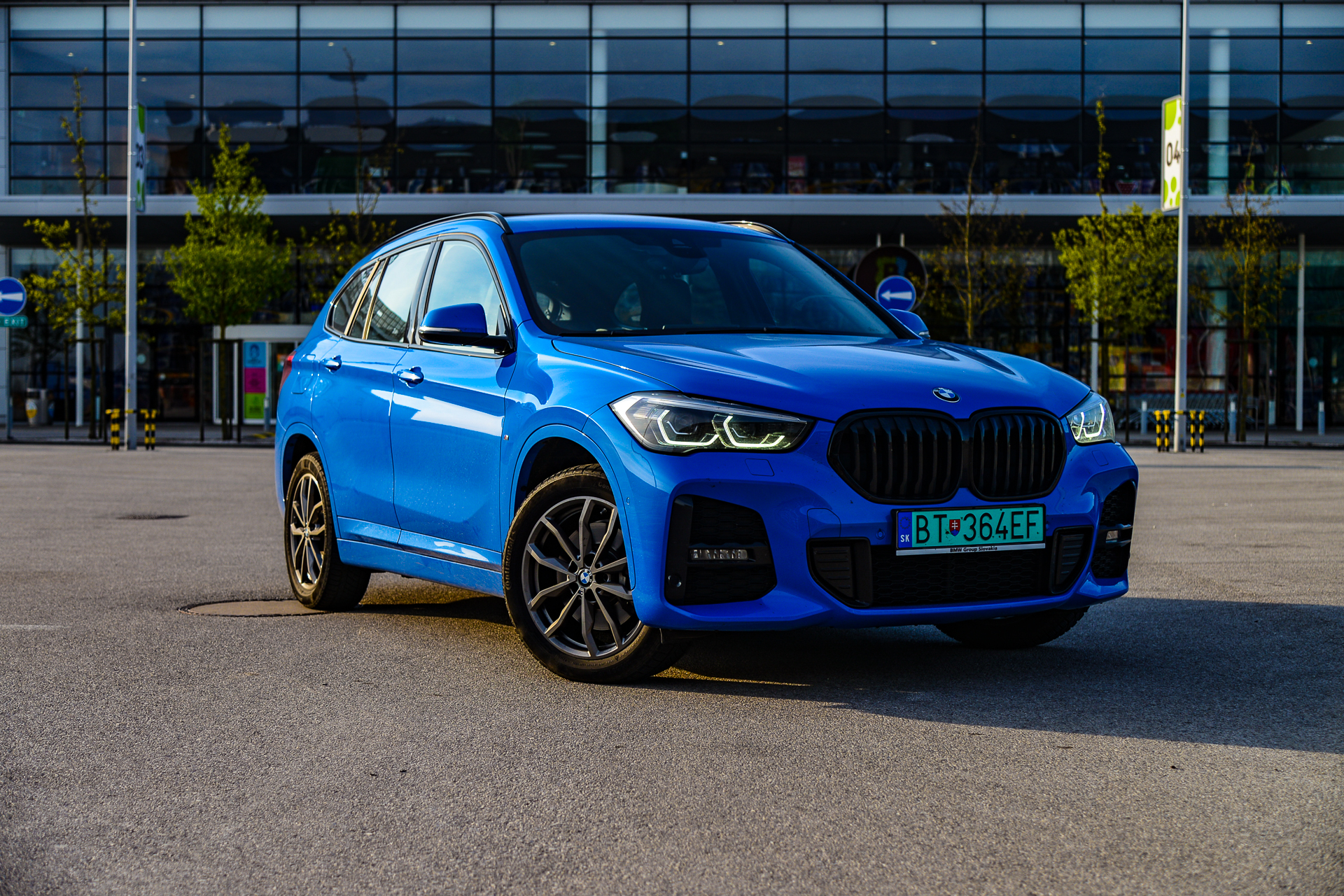 BMW X1 xDrive 25e je aj napriek svojmu veku podvozkovo jeden z, ak nie najlepšie jazdiaci nešportový crossover.
UPSHIFTER RATING: 8.5/10
+ pekná kombinácia riadenia a dostatočnej dynamiky vozidla, klasicky rýchla ZF prevodovka, aj na užších zimných pneumatikách dobrá agilita, držanie stopy a stabilita aj pri vyšších rýchlostiach, dostatočne silné brzdy, zvukový komfort, dobíjanie jazdením vďaka funkcii Save (prakticky netreba nabíjať zo siete)
– zbytočne vyššie vytáčanie prevodovky pri kľudnej jazde v režime Comfort (ku 2 500-2 700 ot./min.), počet prevodových stupňov aj nemožnosť úplne manuálneho radenia (radí sa pákou, nie pádlami; prevodovka sama preradí pri 6 500 ot.), nemožnosť vypnúť kontrolu trakcie, pomaly starnúci dizajn prístrojovej dosky oproti novším modelom značky
BMW X1 je už vcelku dlho pôsobiacim modelom bavorskej značky (od roku 2015). Posledným faceliftom si prešlo v roku 2019. Jeho súčasťou bolo aj pridanie plug-in hybridného pohonného ústrojenstva 25e s pohonom všetkých kolies xDrive.
Na aute už možno miestami vidieť jeho vek. Zvonku bol testovaný kus oblečený do M paketu, ktorý zahŕňa najmä M aerodynamický balík. Vynikli taktiež Individual čierne lišty Shadow Line s rozšíreným obsahom.
Motor, batéria a prevodovka
Sústava pohonného ústrojenstva BMW X1 xDrive 25e sa skladá z trojvalcového benzínového motoru prepĺňaného BMW TwinPower turbodúchadlom, elektromotoru umiestneného vzadu a 10 kWh hodinovej batérie. Prepĺňaný trojvalec s priamym vstrekovaním paliva vyvíja výkon 125 koní a 220 Nm krútiaceho momentu. Disponuje kompresným pomerom 11:1 a dvanástimi ventilmi.
Elektromotor, priečne uložený na zadnej náprave dokáže vyvinúť výkon 95 koní a 165 Nm krútiaceho momentu. Vozidlo zvládne poháňať do rýchlosti 140 km/h. Celková sústava teda vyvíja výkon 220 koní a 385 Nm krútiaceho momentu.
Celý pohon je spojený so 6-stupňovou automatickou prevodovkou Steptronic od AISIN. Tento krok sme úplne nepochopili, keďže aj ostatné plug-in hybridné vozidlá značky, rovnako ako ďalšie motorizácie modelu X1 sú už vybavené novším 7 alebo 8-stupňom. Prevodovka je to však stále vynikajúca disponujúca najlepším "kick-down-om" v rámci triedy, ako aj využívaním výkonu. Pri rýchlosti 140 km/h točí motor na 6-prevodovom stupni 3000 ot./min.
Samostatný prejav trojvalca sa nám páčil. Jeho krútiaci moment je využiteľný v širokom rozsahu. Slušný je aj jeho zvukový prejav, ktorý pri vytáčaní na mieste sprevádza medzi 3000-4000 jemné brblanie z výfuku.
Na výber sú tri jazdné režimy: Eco Pro, Comfort a Sport voliteľné prepínačom. Tieto módy zmenia najmä charakteristiku motora. Tlačidlom eDrive sa zase mení spôsob využívania elektrickej energie, ktorý podobne disponuje tromi voľbami: Max eDrive (čisto elektrická jazda), Auto(automatické rozdeľovanie podľa podmienok) a Save (dobíjanie energie jazdením).
Podvozok
Podvozok BMW X1 25e využíva vpredu zavesenie McPherson s vinutými pružinami a pasívnymi tlmičmi. Zadná náprava má zase k dispozícii viacprvkové zavesenie kolies, ktoré zabezpečuje vyšší komfort aj lepšiu stabilitu zadnej časti vozidla pri vyšších rýchlostiach
Vozidlo síce disponuje voľbou jazdných režimov, tie však v tomto prípade nie sú pre podvozok, ale motor. Pasívne tlmiče BMW plnia svoju úlohu tak, ako sa od BMW očakáva. Na rozdiel od konkurentov sú tuhšie, a preto je jazda pevnejšia, no aj napriek tomu je však celkový jazdný komfort podvozku stále príjemný.
Veľmi dobre sa vysporiadáva aj s väčšími nerovnosťami, a poskytuje dobré vyváženie medzi tuhosťou aj udržiavaním kontaktu kolies s povrchom.
Kolesá a pneumatiky
Testovacie vozidlo jazdilo na 18-palcových diskoch kolies so zimnými pneumatikami Continental WinterContact TS 830P s rozmerom 205/55 R18. Treba povedať, že tento rozmer aj disky nekorešpondujú s obutím počas letnej sezóny. Tieto pneumatiky už vo výraznejších plusových teplotách posúvali hranicu limitu schopností vozidla o stupienok nižšie, stále však ponúkali dostatok priľnavosti na vyskúšanie podvozku vozidla.
Vozidlu by sa však hodili širšie pneumatiky s nižším profilovým číslom, ktoré by inak boli súčasťou letného obutia aj rozličných diskov testovacieho vozidla. Zvolili by sme rozmer 225/45 R18.
Pri testovanom rozmere pneumatík preto prichádza na letné obdobie len jediná voľba, ktorou sú plášte Pirelli P Zero Nero GT.
Brzdy a hmotnosť
Testované BMW X1 xDrive 25e vážilo cez 1820 kilogramov. Na ubrzdenie tejto hmoty disponuje vozidlo vnútorne vetranými kotúčovými brzdami na oboch nápravách. Predné kotúče majú rozmer 330x24mm, kým tie zadné 300×20 mm.
Brzdový pedál je mäkkší ako pri vyšších sériách modelového radu BMW. Brzdná sila je však viac ako dostatočná pre všetky účely. Brzdy majú taktiež dobrú výdrž, aj pri dynamickej jazde nestrácajú brzdný účinok priskoro. Vozidlo taktiež pri prudkom brzdení nestráca smerovú stabilitu, správa sa sebaisto.
Dynamika
Výkon 220 koní je pre "X1-ku" dostatočný. Aj vďaka rýchlej a efektívnej prevodovke ZF zrýchli na 100 km/h za svižných 6.9 sekundy. Šofér málokedy nadobudne pocit nedostatku výkonu, pohonná sústava dokáže s autom slušne hýbať. Prevodovka ZF poteší pri predbiehaní, pretože jej "kick-down" je skutočne rýchly, podobne aj radenie jednotlivých stupňov. Ešte viac, keď ju šofér posunutím páky naľavo prepne do športového režimu.
Maximálna rýchlosť vozidla je 193 kilometrov za hodinu. V realite sa dá prejsť za hranicu 200 km/h, na ďalšie zrýchľovanie už však treba vyšší výkon.
Jazdné vlastnosti
BMW síce model X1 označuje ako crossover, svojou veľkosťou sa však pomerne približuje ku stredne veľkým SUV. Na pomery crossoveru teda ale čerpá z viacprvkovej zadnej nápravy. Tá je prirodzene lepšia pre celkovú jazdnú stabilitu vozidla.
Podvozok zvláda odvádza svoju prácu pri rýchlej jazde skutočne dobre. Auto disponuje na pomery triedy pekne chytľavou prednou nápravou, ktorá sa rada oprie do asfaltu. Vďaka pohonu xDrive disponuje vozidlo celkovo vysokou priľnavosťou pri samostatnom prejazde zákrut. Aj na vytlčenej ceste auto neposkakuje. Na limite má tendenciu prechádzať do jemnej nedotáčavosti, v niektorých situáciách je aj stabilizačný systém možno prekabátiť a skorigovať vozidlo prišliapnutím akcelerátoru.
Riadenie od BMW má už typicky športovejší prevod, je príjemne tuhé s dobrou spätnou väzbou, človek má cez neho pocit že je elementom, ktorý auto ovláda, pri korekcii v strede zákruty však príde ľahšie ako by sme si želali. Informácie o laterálnych pohyboch vozidla vodičovi pekne sprostredkúva podvozok cez športové sedadlá s výraznejším bočným vedením aj prifukovaním bočníc, aby držali telo pri jazde v zákrutách. Posed je príjemný, aj na pomery SUV sa sedí nízko, podobne nízko sa dá nastaviť aj volant. Napriek nižšiemu posedu je výhľad z vozidla bezproblémový.
Čo sa jazdných negatív týka, "X1ka" dokáže síce pri zvyčajnej jazde pekne maskovať hmotnosť plug-in hybridného ústrojenstva. Vplyv hmoty pri tej rýchlej je tu už citeľnejší, ako pri verziách s čisto spaľovacím agregátom. Nezakryje ani fakt, že je SUV, a teda má vyššie položené ťažisko, preto je atletickosť pri zmenách smeru v porovnaní s "neixkovou" jednotkou prirodzene horšia. Taktiež sme nenašli tlačidlo či už fyzické, alebo v menu (snáď sme ho neprehliadli) na vypnutie trakčného systému, a tak pri jazde na limite prichádzali zásahy tohto systému.
Výkon je aj na dynamickú jazdu uspokojivý. Ako sme už spomenuli, prevodovka podraďuje aj radí rýchlosti rýchlo, preto sú prevodovky Steptronic sú naše obľúbené. Vytknúť jej možno manuálne radenie pákou, aj fakt, že v manuálnom móde nenechá šoféra vytočiť a podržať agregát na hranici červeného pásma (7 000 ot./min.), ale pri jemne nižších 6 500 ot./min. si sama preradí vyššie.
Spotreba a nabíjanie
Spotreba vozidla udávaná nemeckým výrobcom je 2 l/100 km, pri prevažnej jazde na elektrinu je tento údaj aj dosiahnuteľný. Počas nášho týždňa, v ktorom sme vozidlo dobíjali najmä jazdením pomocou funkcie Save sa priemer ustálil na 6.7 l/100km, čo vôbec nie je zlé. Pri šantení sa nemá problém priemer vyskočiť ku 9 litrom benzínu. Benzínová nádrž pojme 36 litrov paliva.
Batériu vozidla o veľkosti 10 kWh (8.8 kWh použiteľných), ktorá poskytuje maximálny čisto elektrický dojazd do 57 kilometrov sme zo siete dobili počas týždňa len raz. Keďže nabíjanie prebieha cez konektor AC, rýchlosťou 3.7 kW, doba potrebná na jej nabitie bola okolo 3 hodín. Efektívnejšie nám prišlo dobíjanie jazdením, pomocou funkcie Save a vôbec nám nevadilo , že si preto spaľovací agregát "cucol" trochu viac paliva.
Priestor
Miesto na zadných sedadlách je dostatočné aj pre jedincov 1.9 m vysokých. Vadili nám však plastové kryty zadnej strany sedadiel, o ktoré si pasažier opiera kolená. Zadní cestujúci majú k dispozícii výduchy klimatizácie spolu s dvomi konektormi USB-C na nabíjanie. Okrem toho stredovú sklápateľnú lakťovú opierku s držiakmi na poháre, ako aj rozšírené ambientné osvetlenie líšt zadných dverí.
Batožinový priestor ponúka v základnom usporiadaní 450 litrov. Dvere kufra sú otvárateľné elektricky aj kľúčom alebo z miesta vodiča. Nakladací otvor je rozsiahly s dnom v jednej rovine s nakladacou hranou. Každé z troch operadiel zadného radu sa dá sklopiť samostatne. Sklopením priestor narastie na 1 470 litrov s podlahou bez schodu.
Interiér a výbavy
Na palubnej doske "ixjednotky" je už možno bádať vek. Je tu aj staršia verzia športového M volantu. Aj napriek veku je však jeho ergonómia, ovládateľnosť aj použitie materiálov na uspokojiteľnej úrovni. Nájdu sa aj tvrdšie plasty, avšak len na miestach, kam vodič často nesiaha.
Príplatkovou výbavou je aj automatický parkovací asistent, ktorého súčasťou je aj kvalitná parkovacia kamera. Testované auto taktiež disponovalo head-up displejom, Hi-Fi audiosystémom, Full LED svetlometmi aj rozšíreným vnútorným osvetlením.
Testovaný kus vyšiel na 57 846 EUR s DPH.
Konkurenti a zhrnutie
Hlavnými konkurentmi sú Volvo XC40 T5 Twin Engine (51 600 EUR výbava R Design), Jaguar E-Pace Plug-In Hybrid (od 63 600 EUR) alebo Range Rover Evoque PHEV (od 55 224 EUR). Spomedzi neprémiovej konkurencie to je Renault Captur E-TECH (v plnej výbave za 33 070 EUR), ten však vzadu využíva len jednoduchšie polo-nezávislé zavesenie kolies.
BMW X1 je podľa našej skúsenosti z ciest prevažne ženským modelom značky. Preto samozrejme po väčšinu času nebude hnaný na svoje možnosti. My sme si ho však preverili a je dobre vedieť, že mu to ide vcelku dobre. Určite si zachováva športového ducha značky, ktorú nesie na kapote. Okrem toho plug-in hybridný pohon funguje dobre. Škoda len prevodovky s menším počtom stupňov, aktuálne 8 stupňové "ZF-ko" by bolo lepšie pre spotrebu, keď sa práve nejazdí na elektrinu.
Nová verzia, ktorej predpokladaný príchod je v roku 2023 sa už zamaskovaná testuje, a my budeme zvedaví, čo nové prinesie.