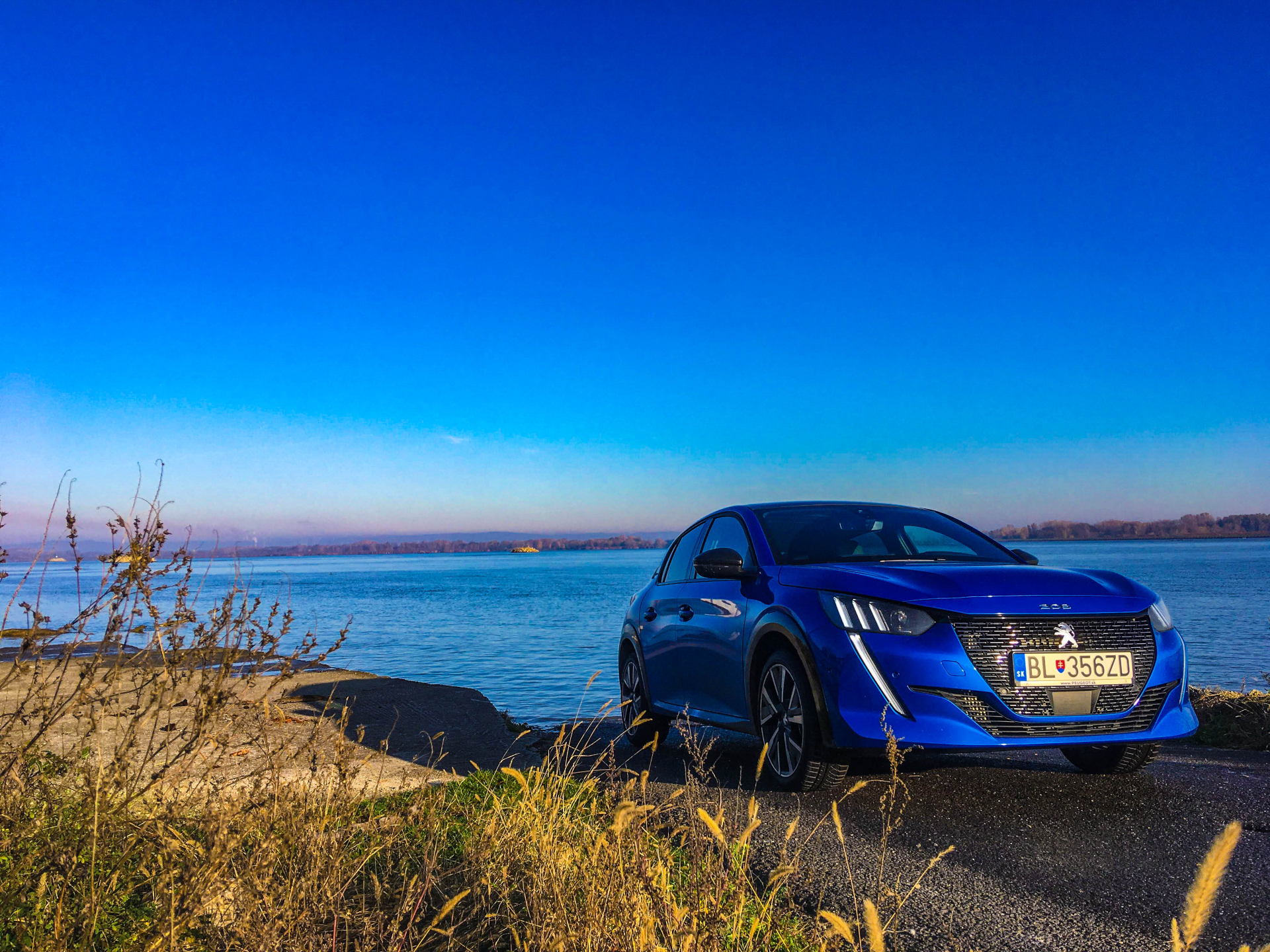 "Auto roka zaslúžene, vďaka kombinácii tých správnych prvkov, zaručujúcich dobrý jazdný zážitok, no pri tom všetkom aj schopnosť udržať aj vysokú mieru komfortu."
---
UPSHIFT RATING: 8.5/10
+ dizajn, komfort aj radosť z jazdy, dostupná výbava
– veľkosť batožinového priestoru
---
Nová generáciu Peugeot 208, ktorá je vyrábaná v Trnave, je aj najlepším autom roka 2020. Už na prvý pohľad to je veľmi sympatické vozidlo. Nás preto zaujímalo či má toto auto roka skutočne vlastnosti, ktoré ho týmto autom robia. To sme zisťovali počas týždňa s vrcholnou verziou kombinujúcou benzínový motor a 8-stupňovú automatickú prevodovku.
---
Motor, pohon a prevodovka
Jedným z vlastností, vďaka ktorým získal Peugeot 208 miesto na tróne je jeho univerzálnosť pohonov. Nakoľko ponúka na výber benzínovú, dieslovú, aj čisto elektrickú verziu.
Predná kapota 208-ky skrýva turbom preplňovaný trojvalec 1.2 PureTech, vo svojej vrcholnej verzii naladený na 130 konských síl. Ponúka 205Nm krútiaceho momentu, ktorý je dostupný už od 1750 ot/min. Motor sa pri prenose sily na predné kolesá spolieha na 8-stupňovú automatickú prevodovku.
Na výber je stlačením tlačidla z troch dostupných režimov jazdy. Eco, Normal a Sport. V športovom režime ponúka trojvalec aj prekvapivo pekný zvukový prejav.
Automatický 8-stupeň je jedným slovom výborný. Stupne hádže jemne a rýchlo, hladké je aj rozbiehanie. Na výber je taktiež aj manuálny mód, ovládaný pevne umiestnenými pádlami. Ich odozva je dobrá, len výnimočne neuposlúchnu pokyn na preradenie. Prítomnosť tak vysokého počtu prevodových stupňov robí z mestského auta aj veľmi dobré diaľničné presúvadlo. Pri 130km/h točí tento levík pod 2400 ot/min.
---
Zrýchlenie a maximálna rýchlosť
S testovanou kombináciou zrýchli 208ka na stovku za 8.7 sekundy a maximálna rýchlosť uvedená výrobcom je 208km/h. Počas nášho testu sme v rámci podmienok vymaxovali z levíka 215km/h. Predbiehanie s ním je radosť, najmä v športovom móde. Rýchly kickdown zabezpečí výbornú prvotnú reakciu na začatie manévru a výkon, ktorý je v tomto prípade on-point sa postará o zvyšok, prevodovka taktiež nechá auto pekne vytočiť až do červeného pásma.
---
Technické a jazdné vlastnosti
Peugeot 208 sa spolieha na kombináciu prednej nápravy typu McPherson, so zadnou nápravou typu elastic beam. Tento set-up samozrejme využívajú aj súrodenci, Citroen C3 a Opel Corsa. Aj napriek tomu však Peugeot 208 pôsobí kompletne inak, vyspelejšie, najmä v oblasti komfortu.
Pri jazde po nerovnostiach, trhlinách, rázoch aj vlnách pôsobí 208ka inak ako väčšina malých vozidiel. Cestu dá dostatočne pocítiť, je podvozok je však príjemne odtlmený, takže do kabíny neprenikajú hlasité rázy. Hlavne na spádoch však cítiť správanie, pri ktorom vodič pocíti, aký je povrch, auto však krásne hladko dopadne o niekoľko stotín sekundy neskôr. Pôsobí, ako by cestu krásne žehlil. Dovolíme si povedať trochu Mercedesácky elegantne. Niečo podobné sme nečakali.
Pri zapnutí športového módu a prevezení sa po obľúbených okreskách sa zase správa veľmi sebavedomo, krásne drží stopu, ide za plynom a aj napriek veľmi jemne nastavenému posilňovaču šofér dostáva správu o tom, ako sa vozidlo správa. Odskakovanie zadočku tu možno nájsť, zažili sme však už aj horšie. Snáď jedinou kritikou k zadnej náprave, je nižšia stabilita pri prudkom brzdení, ktorú sme zažili aj na diaľnici, kedy si jazda v priamom smere vyžaduje jemné korekcie.
Riadenie je veľmi ľahučké, možno ho ovládať aj jedným prstom. Aj napriek tomu sme boli spokojní s jeho priamosťou, dostatočne strmým prevodom aj spätnou väzbou. Vyzdvihnúť musíme aj hranatý dvojramenný volant. Aktuálne volanty od Peugeot sme si veľmi obľúbili, vďaka ich kompaktnosti, tvaru a výzoru, ktorý dodáva pocit že človek sedí v športovom aute. A výborne vyzerá aj pri pohľade z exteriéru.
Posed v 208ke možno tiež pochváliť. Sedí sa nízko s dobrým dosahom na všetky potrebné ovládacie prvky aj dobrým výhľadom. Kritiku však možno zniesť k polohovaniu volantu. Aspoň z našej skúsenosti nám vrchná plochá časť volantu pri akomkoľvek nastavení volantu aj sedala prekrývala stred prístrojového štítu, takže nebolo vidno, ako rýchlo ideme. Predstavte si toto ako výhovorku polícii, nuž nech si teda skúsia…
Sedadlá malí príjemný Alcantara poťah, boli rozumne mäkké a primerane tvarované. Aj pri dlhých trasách poskytovali dobrú oporu, človek nevystúpi z auta omámený únavou.
---
Spotreba a obutie
S váhou jemne cez 1200 kilogramov nie je Peugeot priťažký, a v kombinácii s výborným automatom je veľmi dobrá aj spotreba. V meste si vypýtal z nádrže 5.7l/100km. Mimo mesta to dokáže aj pod 4l/100km. Kým diaľnica si vypýtala 5.9l/100km.
Auto bolo obuté na pneumatikách 205/45 R17 s naozaj vkusnými diskami pod nimi. Vybranými pneu už boli už zimné plášte Continental WinterContact TS860. V lete by sme siahli po Michelin Pilot Sport 4.
---
Priestor
Miesto v 208ke možno porovnať s Opel Corsa. Interiér pôsobí podobne útulným a tmavým dojmom. Rozdielom medzi nimi je v tomto prípade strešné okno (neotvárateľné), ktoré po jeho odhalení zásobuje svetlom, ktoré vytvára dojem lepšej vzdušnosti.
Kufor ponúka neveľký objem 265 litrov, na klasické nákupy však postačí, a má aj rozumne široký nakladací otvor.
---
Interiér a výbava
Súčasné interiéry Peugeot i-Cockpit, sa nám veľmi páčia. Ich zreteľný hranatý dizajn, niekoľko vizuálnych úrovní. Kvalitou použitých materálov aj zhotovenia je naozaj na vysokej úrovni. Páči sa nám aj umiestnenie ukazovateľov smeroviek, na oddelenú plochu, tvoriacu akoby mostík. Zaujme aj digitálny prístrojový štít s 3D grafikou, niekoľkými nastavenia rozloženia, respektíve vlastného prispôsobenia, čo chce šofér vidieť pred sebou. Pocit luxusu dotvára aj ambientné osvetlene, ktorého farbu žiaľ nemožno meniť.
Ďalšia výbava zahŕňala adaptívny tempomat, vyhrievané sedadlá, bezdrôtové nabíjanie. Chýbať vo vrcholnej verzii nesmú Full LED dynamické svetlá s automatickým prepínaním, ktoré fungovalo bezchybne. Taktiež panoramatická strecha aj parkovací asistent, ktorý samostatne zvládne pozdĺžne aj kolmé parkovanie.
---
Cena, príplatky a rivali
Nami testovaný model vyjde na 24 540 eur. A treba povedať že jeho cena, aj titul auto roka je opodstatnený. Nie je síce dokonalý vo všetkých ohľadoch (napríklad kufor). Ale spĺňa všetky, ktoré hrajú u malého auta hlavnú rolu. Vyzerá neskutočne príťažlivo, zvnútra aj zvonku. Je kvalitne zhotovený. A čo je hlavné, jazdí neskutočne chutne.
Inžinierom z Peugeot sa podarilo spraviť auto, ktoré vie človeka za volantom príjemne zabaviť, no pri tom si zachováva nevídanú a charakteristikou totálne odlišnú úroveň komfortu jazdy. A počuli sme aj informáciu o príchode ostrej verzie. Bola by obrovská chyba, keby neprišla! Zatiaľ takto, jedno výborné auto na každý deň.
---
Svoj Peugeot 208 si nakonfigurujte tu:
Konfigurátor pre Nový Peugeot 208 5 dv.| Prispôsobte si Vaše mestské vozidlo