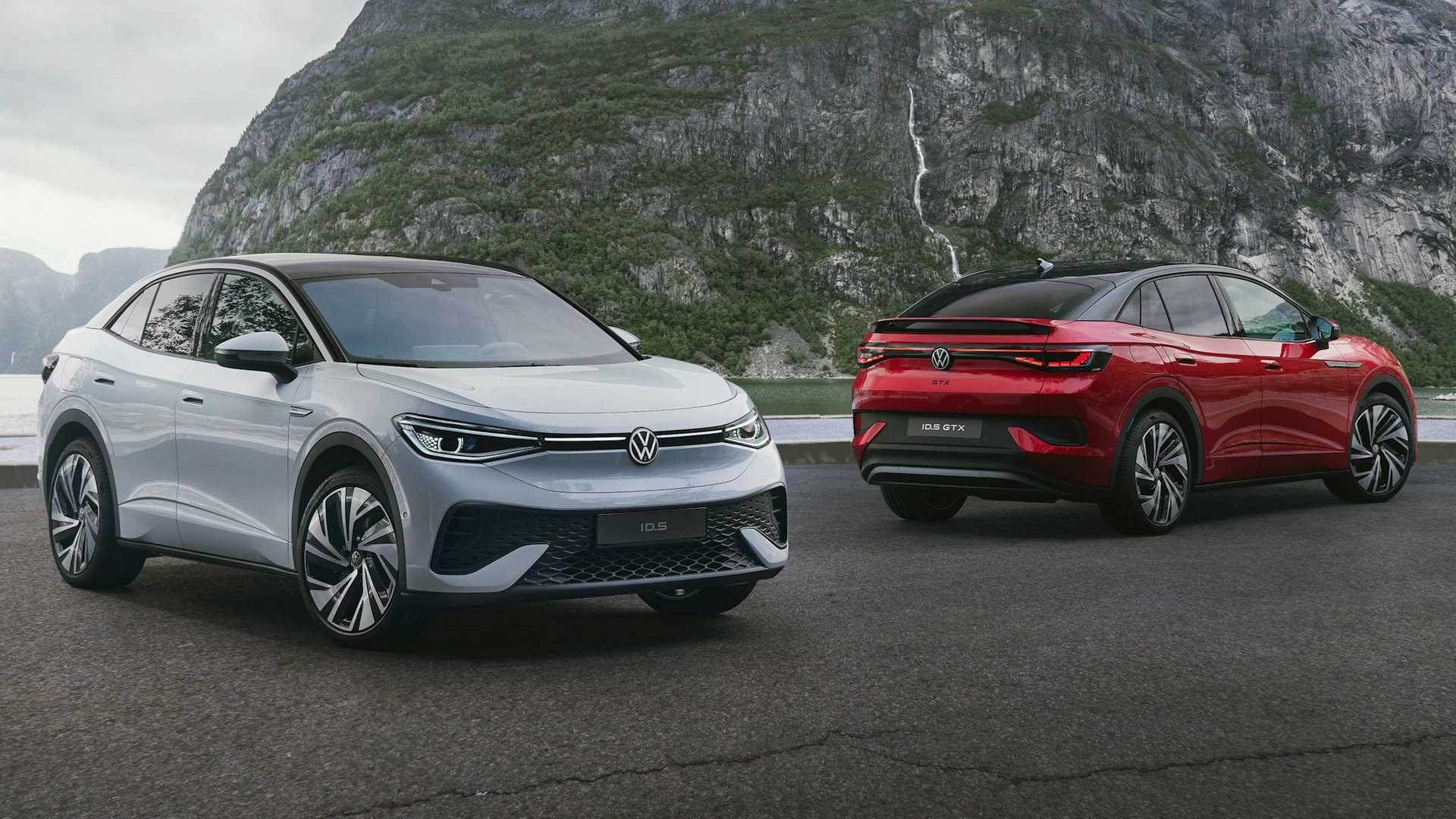 Volkswagen iD.5 prichádza ako SUV kupé verzia elektrického SUV iD.4. Chýbať nebude ani rýchlejšia verzia GTX.
Volkswagen pokračuje vo svojej elektrickej ofenzíve predstavením nového SUV iD.5. Už zo vzhľadu je možné vyčítať, že je to iD.4 premenené na SUV kupé. Príde vo dvoch príchutiach, troch výbavách a troch výkonových verziách.
Volkswagen iD.5 stojí na platforme MEB, tak ako iD.4. Na rozdiel od neho má však len jednu veľkosť batérie, a to 77 kWh. Tá dodáva energiu jednému až trom elektromotorom na základe vybranej špecifikácie : buď iD.5 Pro, iD.5 Pro Performance alebo najvýkonnejšia iD.5 GTX.
Verzie Pro a Pro Performance majú vzadu umiestnené motory a maximálnu rýchlosť limitovanú na 160 km/h.
Verzia iD.5 Pro disponuje výkonom 174 koní. Na stovku zrýchli za nie oslnivých 10.4 sekundy.
iD.5 Pro Performance už má 204 koní a na stovku už zrýchli za dynamicky postačujúcich 8.4 sekundy.
Vrchol iD.5 GTX má dva motory, pohon všetkých kolies, ktorý na cestu dodáva výkon 300 koní. Na stovku vystrelí toto SUV-kupé za hot-hatchových 6.3 sekundy s maximálkou zvýšenou na 180 km/h.
Podľa údajov výrobcu má mať verzia Performance Pro dojazd do 520 kilometrov. GTX má na úkor vysokého výkonu o niečo menej, do 480 kilometrov. Ku dosiahnutiu týchto čísel iD.5 dopomáha aj odpor vzduchu len 0.26 cd, čo je o 0.2 lepšie ako iD.4.
Čo je lepšie pre aerodynamiku je však horšie pre kufor, aj preto ma iD.5 objem "len" 549 litrov, 1561 litrov so sklopenými sedadlami.
Kabína je rovnaká ako pri iD.4. Ceny iD.5 ešte bližšie zverejnené neboli, na naše trhy má prísť niekedy v roku 2022.
Foto: Volkswagen