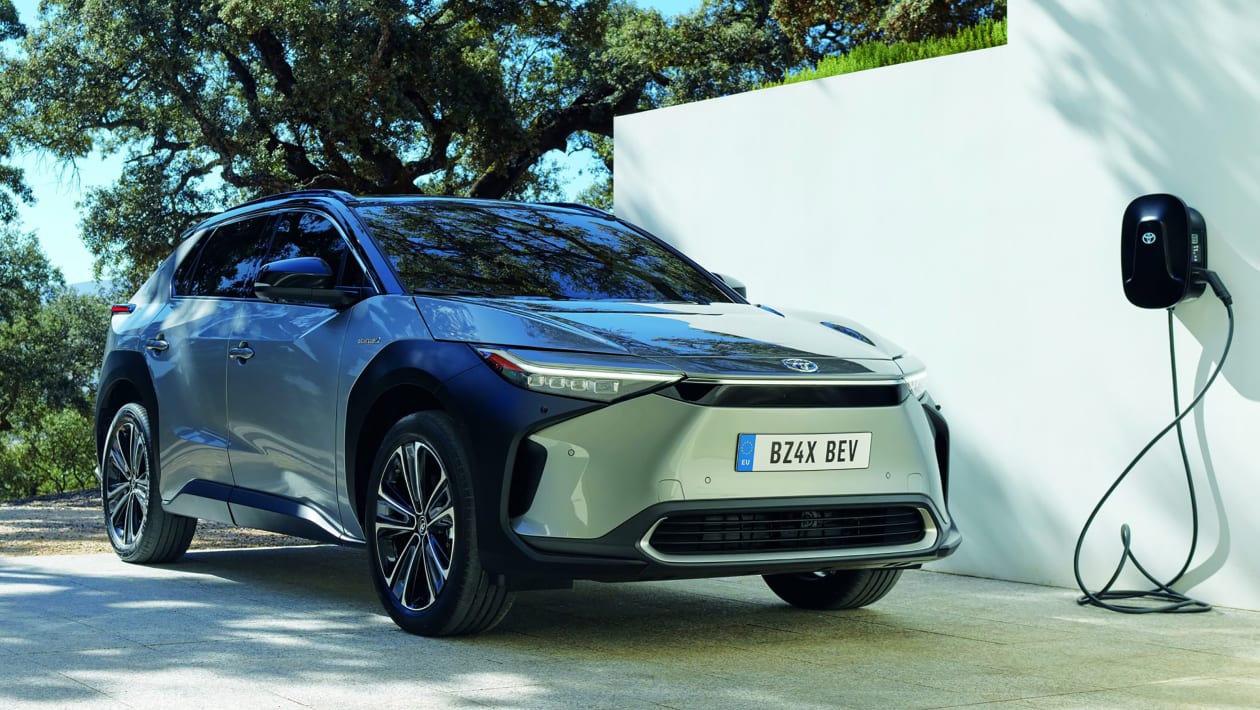 Toyota bZ4x bude dôstojným rivalom pre Kia EV6 alebo vintage vyzerajúci Hyundai Ioniq 5.
Na spoločnosť, ktorá prišla ako prvá s masívne predávaným hybridným vozidlom bolo až doteraz čudné, ako sa nezaujímali o čisto elektrické vozidlá. To sa však mení s crossoverom bZ4x, ktorý je prvým z niekoľkých čisto elektrických modelov, ktoré prídu v blízkej budúcnosti.
Nové bZ4x stojí na platforme e-TNGA, ktorú vyvíjali spolu so Subaru. Neprináša však žiadnu revolúciu, čo sa rozloženia batérie týka, ako by človek od Toyoty možno očakával. Batériový balík teda leží v podlahe medzi nápravami. Batéria má kapacitu 71.4 kWh, vďaka ktorému prejde bZ4x na jedno nabitie do 450 kilometrov.
Toyota si dala záležať na tepelnom manažmente batérie. K dispozícii má kvapalné chladenie v plusových teplotách, v zime jej životnosti zase bude napomáhať tepelná pumpa. Batéria je schopná nabíjať sa výkonom 150 kW s konektorom CCS2.
bZ4x bude mať dve výkonové verzie
Kúpiť sa bude dať dve výkonové verzie. Základná disponuje jedným motorom s výkonom 204 koní a krútiacim momentom 265 Nm. Elektromotor poháňa predné kolesá, ktoré zrýchlia auto na 100 km/h za 8.4 sekundy. Maximálna rýchlosť je obmedzená na 160 km/h.
Výkonnejšia verzia disponuje pohonom všetkých kolies, v ktorom pomohlo Subaru. Nie je to pridanie druhého rovnakého veľkého elektromotoru, namiesto toho sú tu dva menšie elektromotory. Vďaka tomuto riešeniu je dosiahnutá lepšia rovnováha medzi poháňaním kolies a minimálnym spotrebovávaním energie.
Veľkou špecialitou je možnosť použitia riadenia kolies by-wire, teda tu nie je mechanické prepojenie s kolesami. Súčasťou tohto systému je aj jeho spojenie s novým volantom, ktorý Toyota volá One Motion Grip-Control. Tento malinký volantík je vcelku podobný ku Peugeoťáckym, dokáže dosiahnuť maximálne zatočenie v 150 stupňovom uhle. Vďaka tomu je možné sa dostať medzi maximálnymi zatočeniami bez potreby zmeny polohy rúk.
Toyota bZ4x vyzerá podobne ako jej konkurenti Kia EV6 či Hyundai Ioniq 5 trochu uletene, ostro a mimozemsky. Obdobné sa dá povedať o interiéri, v ktorom samozrejme nesmú chýbať eco-friendly materiály a jeho orientovanie na priestrannosť.
Ceny ešte nie sú známe, Toyota bZ4x sa však bude dať predobjednať už v Decembri tohto roku.
Foto: Toyota