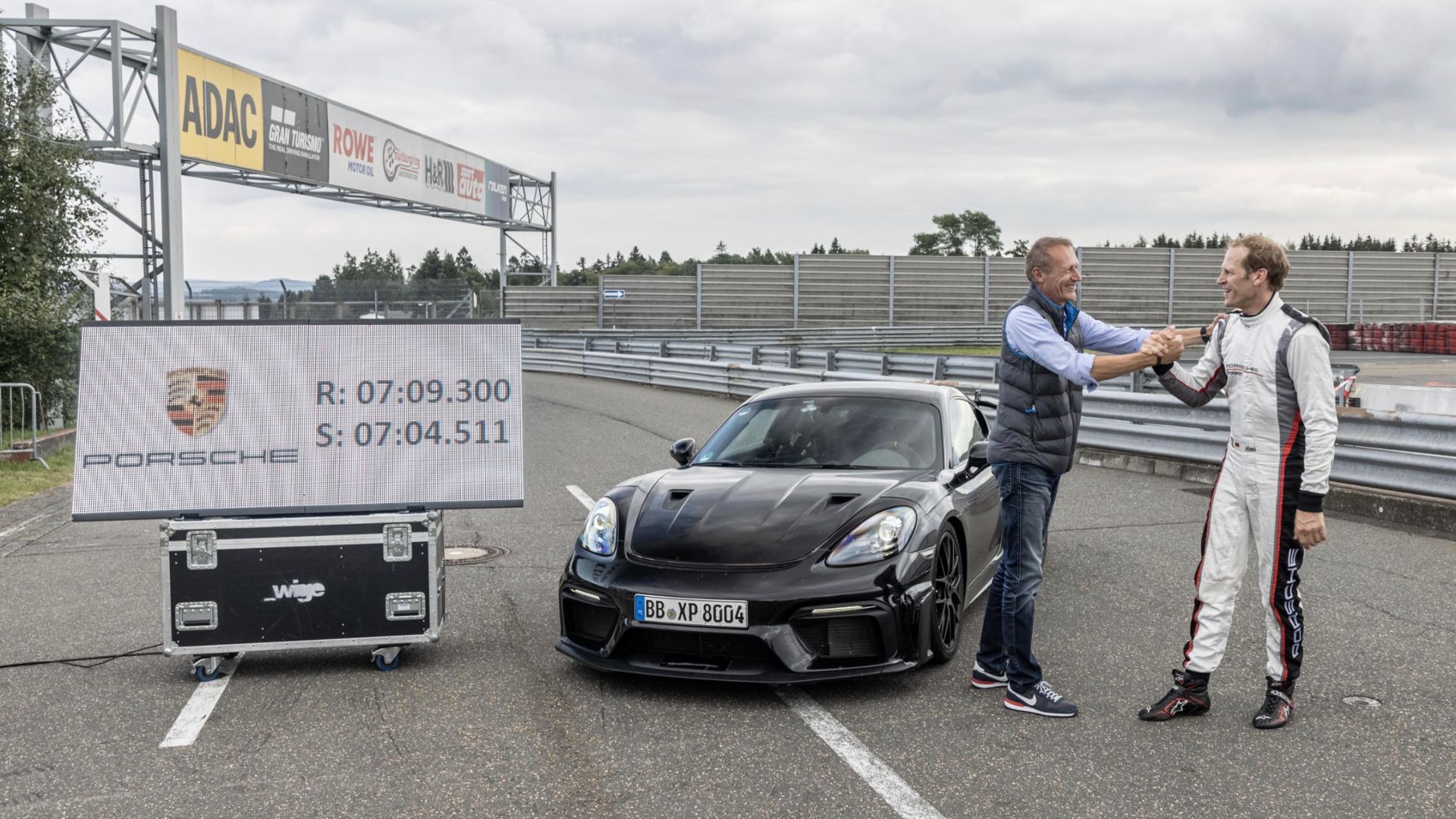 Nový Cayman GT4 RS bude nesmierne skvelým náradím na okruhy.
Vo svete Porsche boli doteraz časy na Nürburgringu v blízkom okolí 7 minút záležitosťou len tých najdrahších áut v ponuke, ako 911 GT3, GT3 RS, GT2 RS a 918 Spyder. Teraz sa k nim pridáva aj 718 Cayman GT4 RS. Je to vrcholná a najdrahšia verzia Caymanu súčasnej generácie a pravdepodobne aj posledná.
Porsche zatiaľ nezverejnilo presnú špecifikáciu nového GT4 RS ale vieme, že je neskutočne rýchle. Severnú slučku zdolá za 7:04.5´´! To je o 23 sekúnd rýchlejšie ako klasické GT4. Porsche zverejnilo aj video z okruhu. Z videa samotného sa dá vyčítať pár vecí ako napríklad výmena manuálnej prevodovky z GT4 za dvojspojkový automat PDK, ktorý bol príplatkový pri bežnej GT4.
Ďalším zaujímavým detailom sú otáčky. Ako je vidieť na grafike vo videu, maximálne otáčky sú na hranici 9000 ot/min. To je o 1000 viac ako v prípade GT4, ktoré točilo do už tak dosť vysokých 8-tisíc. Motor samotný je upravená verzia existujúceho plochého 4-litra so šiestimi valcami ako sa patrí. Ale dobrá otázka je, či vychádza z jednotky v GT4 alebo má bližšie k tomu v 911 GT3.
Na prvý pohľad je vidieť, že zmenami si prešla najmä aerodynamika, veľa prvkov prevzala GT4 RS od svojich väčších súrodencov. Zadné krídlo, výduchy na kapote a aj kolesá s centrálnym uchytením. Celé auto pôsobí agresívnejším dojmom. Novinkou sú sacie otvory namiesto malých okienok pri C-stĺpiku. To ešte žiadny Cayman nemal.
20 palcové magnéziové disky majú obuté pneumatiky Michelin Pilot Sport Cup 2R. Rozmer zatiaľ nepoznáme. Keďže je to Cayman, tak samozrejmosťou sú výborné jazdné vlastnosti a komunikatívne riadenie ako je pri Caymanoch zvykom.
Foto: Porsche