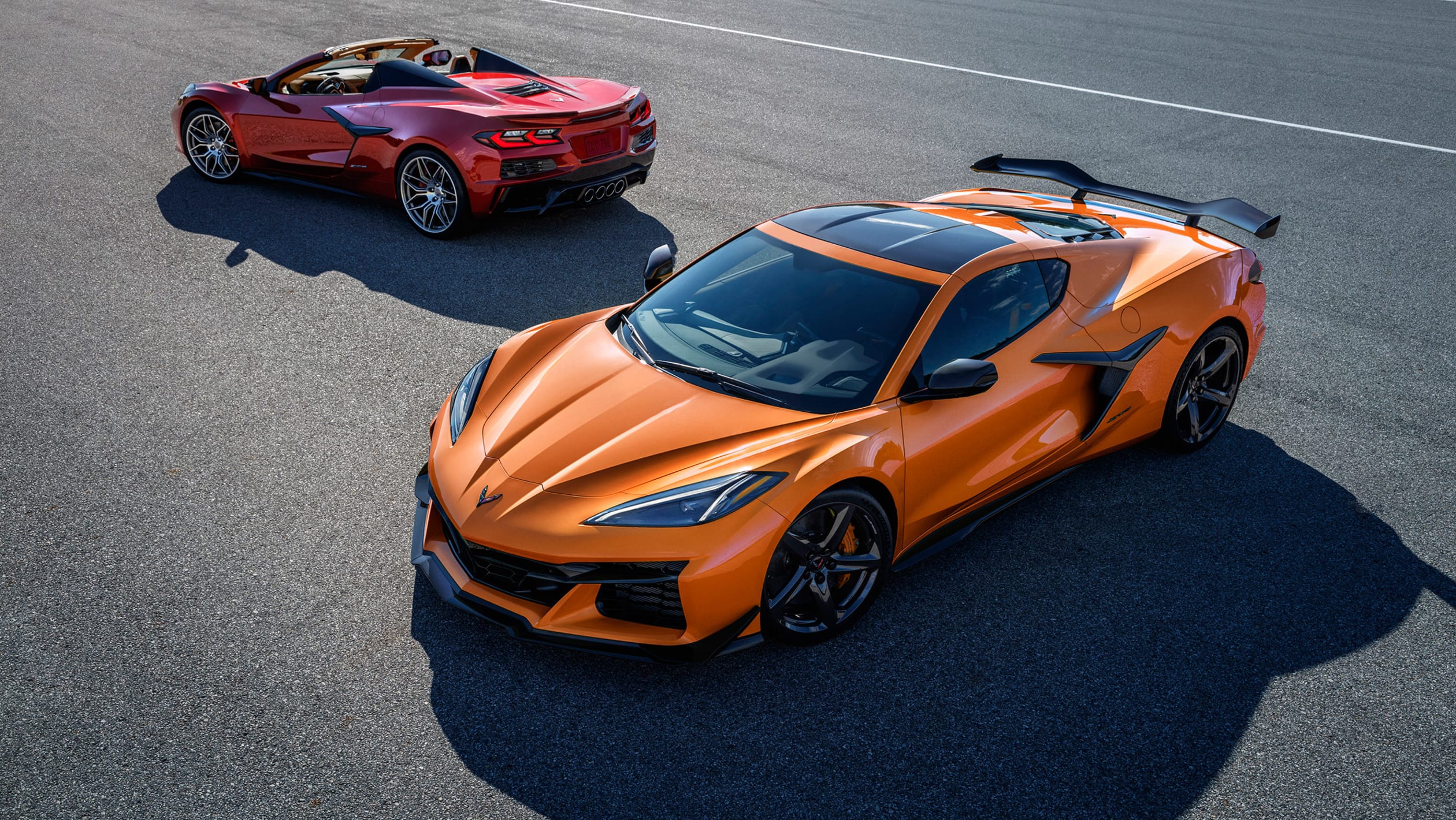 Chevrolet Corvette Z06 je Americkým Ferrari, ktoré je Ferrari bližšie ako kedykoľvek predtým.
Prvá vec čo Vám možno prišla na um je, že nadpis je nezmysel. Corvette bola vždy veľká a príliš hulvátska na to, aby sa len pri nej skloňovalo meno Ferrari. Keď prišla nová C8 s motorom umiestneným uprostred, už sa začala svojim dizajnom tváriť ako taliansky žrebec, len trochu pribratý, ako je za mlákou zvykom. S touto novou verziou Z06 už tak aj znie.
O Corvette Z06 sa hovorilo dávno predtým než bola včera predstavená, vlastne sa o nej hovorilo ešte pred príchodom súčasnej ôsmej generácie Corvetty. Internetom sa šírili rôzne špekulácie o parametroch, ale hlavne o motore. Mal vychádzať z pohonnej jednotky, ktorú Chevrolet používa vo svojich závodných špeciáloch C8-R na LeMans a IMSA. Tie sú práve Corvetty. A šepkané sa naplnilo.
Nové srdce
Nová Corvette Z06 má atmosférický 5.5 litrový osemvalec s prívlastkom LT6, ten je menší ako V8 v bežnej Corvette, ktorá má objem 6.2l. A na rozdiel od predchádzajúcej generácie Z06 už nemá preplňovanie kompresorom, ale má vyšší výkon. Ako to mohli dosiahnuť? Jednoducho. Nepoužili tradičný a účinný recept amerických "tuningáčov" kde na motor len nalepia veľký kompresor a hotovo.
Tentokrát sa inšpirovali európskou a aj vlastnou americkou konkurenciou. Po tom ako Ford použil pri Shelby Mustangu GT350 osemvalec s plochým kľukovým hriadeľom tak aj Chevrolet musel skúsiť čo to dá. Takýto kľukový hriadeľ je prevažne doménou talianskych superšportov. Okrem toho má aj titánové ojnice, kované piesty, titánové sacie ventily, sodíkom plenené výfukové ventily a DOHC rozvod namiesto OHV ktorý mali doteraz asi takmer všetky Corvetty. A to v skratke znamená vyššie otáčky. Z06 sa vytáča ako rýchly taliani a to až do 8600 ot/min! Kto by to bol povedal o americkom osemvalci?
S výkonom 670 koní je to aj najsilnejší sériovo vyrábaný atmosférický motor V8. A krútiaci moment je síce vysoký, no stále nižší, ako mal predchodca. Nová Z06 prenáša na mohutné zadné kolesá 623Nm, kým staršia preplňovaná mala 880Nm. Nová Z06 má aj novú prevodovku, automatickú 8-stupňovú dvojspojkovú od firmy Tremec. Stará mala 8st. automat ale s hydromeničom od GM a aj 7st. manuál Tremec.
Závodné auto na cestu
Jasnou zmenou je agresívnejšia karoséria navrhnutá na maximálny prítlak. V prednej časti je karoséria širšia o 30mm a vzadu o 40mm. Aj brzdy sú väčšie, v základe dostane Corvette oceľové kotúče s priemerom 370 resp. 380mm na prednej a zadnej náprave so 6-piestikovými strmeňmi Brembo. Ale ak je Corvette Z06 doplnená o Z07 handling package, tak sú brzdy upgradeované na 398 a 391mm karbon-keramické kotúče. Bez ohľadu na výbavu má Z06 dvojité lichobežníky na oboch nápravách.
V tomto balíku sú zahrnuté aj karbonóvé disky kolies ktoré znižujú hmotnosť vozidla o 18kg oproti zliatinovým. S poriadnou dávkou výkonu sa musia vysporiadať zadné pneumatiky Michelin Pilot Sport Cup 2R s rozmerom 345/25 na 21" diskoch. Predné majú rozmer 275/30 ZR20. Ak sa jedná o Z07 handling balík, ak ho auto nemá tak pneumatiky sú Pilot Sport 4S. Súčasťou Z07 balíka sú aj karbónové detaily na karosérii.
Suchá hmotnosť 1561kg je nižšia ako na základnej C8, ale stále prekvapivo veľa na okruhovo zamerané auto. Ak niekoho zaujíma infotainment systém tak aj ten si prešiel jemnou modernizáciou. Napríklad telemetria jazdy pokrýva viac parametrov ako základná Corvette. K autu patrí aj odnímateľný strešný panel u verzie kupé, a bude aj verzia kabriolet.
Vysoké ciele
Chevrolet týmto kúskom mieri do sféry tých najlepších superšportov. Dynamicky tam patrí a má aj veľkú výhodu, ktorou je nižšia cena. Predbežne odhadovaná cena je 90 000 amerických dolárov, to je tretina ceny konkurencie. Už minulá Corvette Z06 ukázala, že sa nebojí zákrut a zdolala Nurburgring za 7:13´´, tak táto nová rafinovanejšia určite mieri pod hranicu 7 minút.
Ako sa dalo čakať u nás sa oficiálne Corvette Z06 nebude predávať. Ale s pomocou importérov ako Todos by sa sem pár kúskov mohlo dostať, a na to prípadné stretnutie sa veľmi tešíme.
Foto: Chevrolet